EV2785 27″ 4K Frameless Monitor with USB Type-C Connectivity - FlexScan | EIZO


27" (68 cm) LCD Monitor
Redefining the workspace.
The generous 27-inch screen holds a 4K resolution giving images great sharpness and clarity. With its sleek, frameless design and USB Type-C connectivity, the EV2785 helps you make the most of your workspace.
Features
Specifications
Documents Compatibility
Accessories
Awards & Reviews

A 4K Monitor for Maximum Work Efficiency
Fit Four Times More Information on Your Desktop
Monitors with higher resolutions greatly improve work-efficiency, simply because they can fit more applications on screen. The EV2785 supports 4K (3840 x 2160) resolution, displaying four times the amount of information than standard Full HD (1920 x 1080) , and more than two times the amount than WQHD (2560 x 1440 pixel) monitors. With 4K, you can display more applications simultaneously on a single screen, greatly reducing the need to scroll or switch windows frequently.

Text, Icons and Images in Crisp Detail
The 27-inch monitor has a pixel density of 163 ppi, which is almost twice the number of concentrated pixels compared to a Full HD monitor of similar size. This high pixel density ensures even the smallest text and icons are displayed in crisp detail.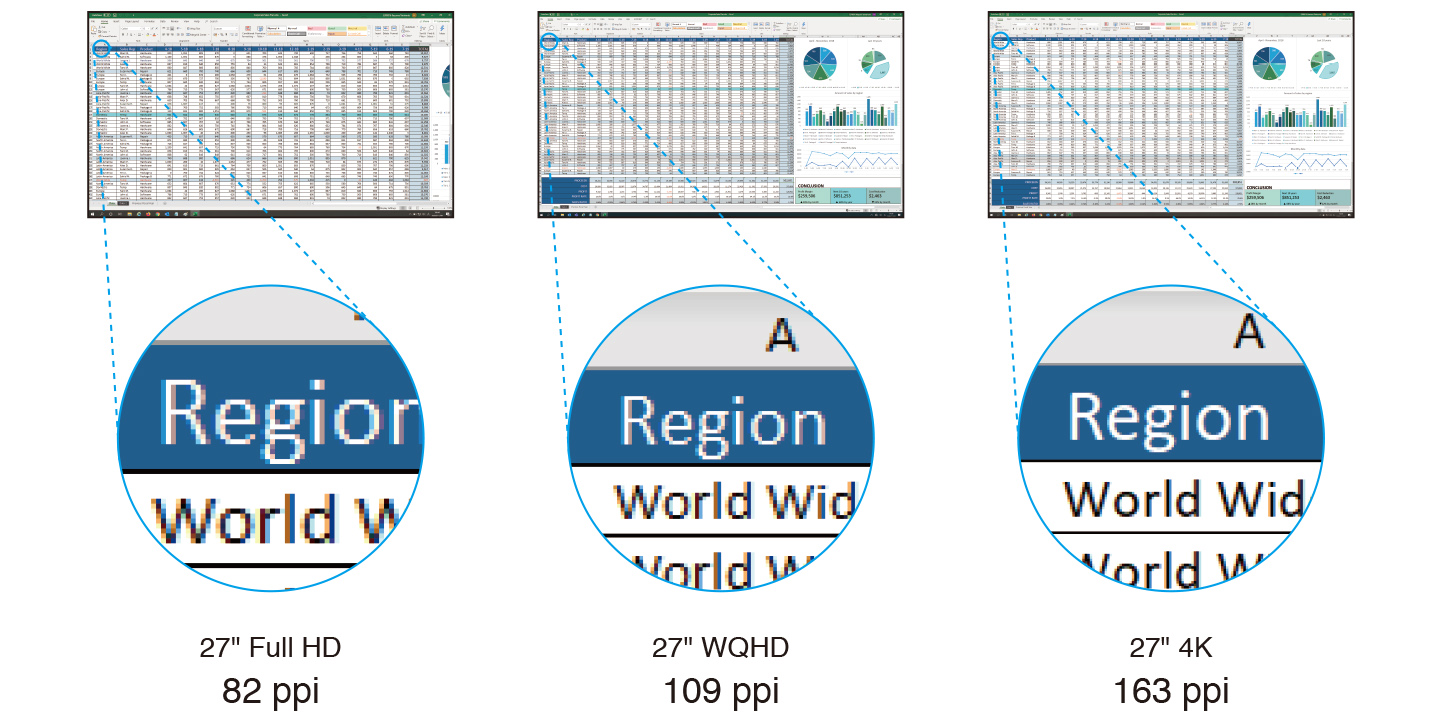 The Perfect Fit for the Home Office
The EV2785's connectivity options make it ideal for users that work from home on either a temporary or permanent basis. The monitor boasts a small footprint thanks to its built-in power supply and its shallow stand depth of 23 cm, allowing it to fit comfortably on smaller desks and tables. It has HDMI and DisplayPort inputs for connecting to a desktop computer, and a USB Type-C port for quick and easy connection to laptop.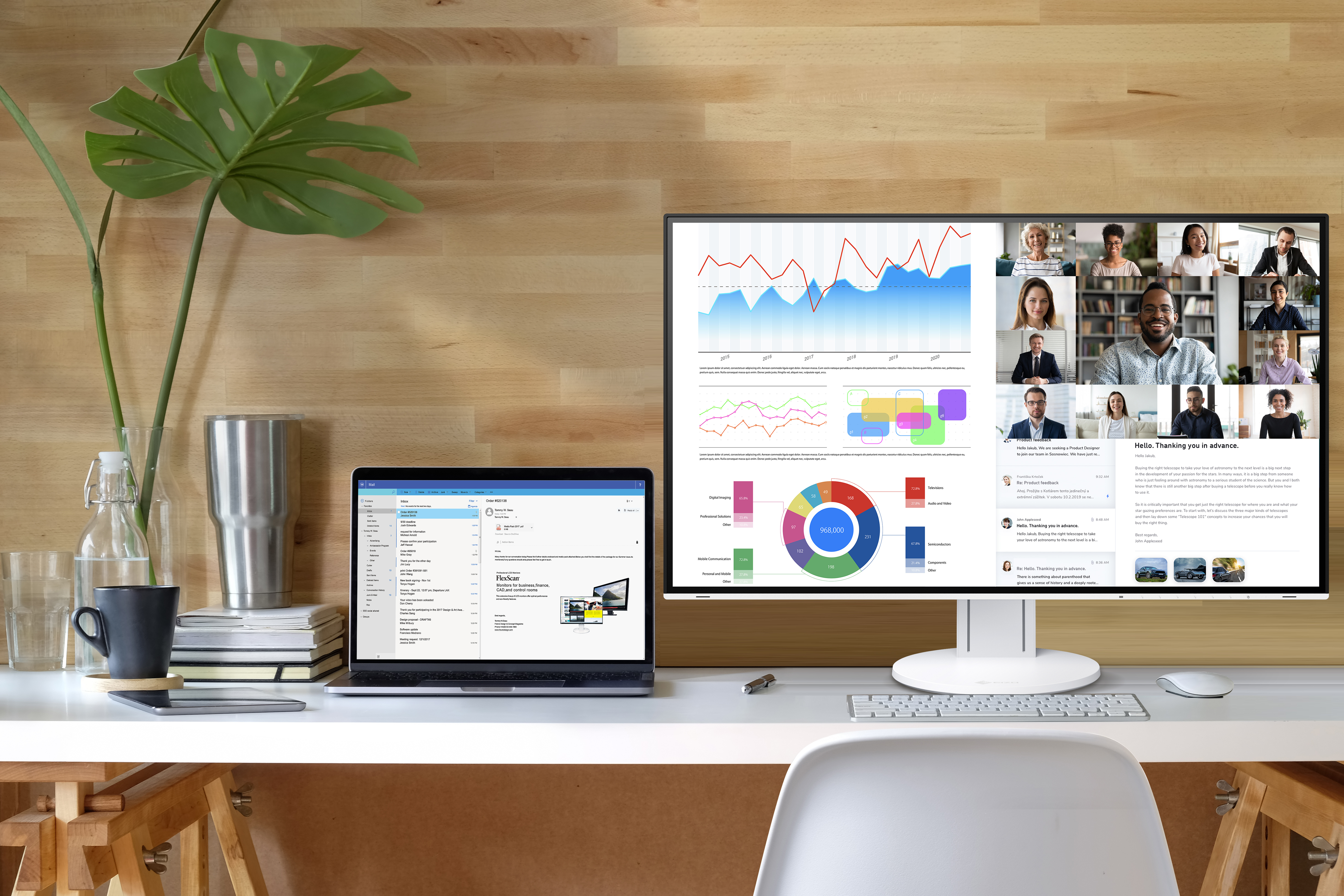 Efficient Telecommuting with a Laptop and Monitor
 
Make the Most of Your Meetings
| | | |
| --- | --- | --- |
| The monitor's Picture-by-Picture (PbyP) capability helps to streamline your presentations and save valuable meeting time by removing the need to switch input sources. This convenient function makes it possible to compare data with a coworker side-by-side, as well as share information from multiple sources during presentations. |   | |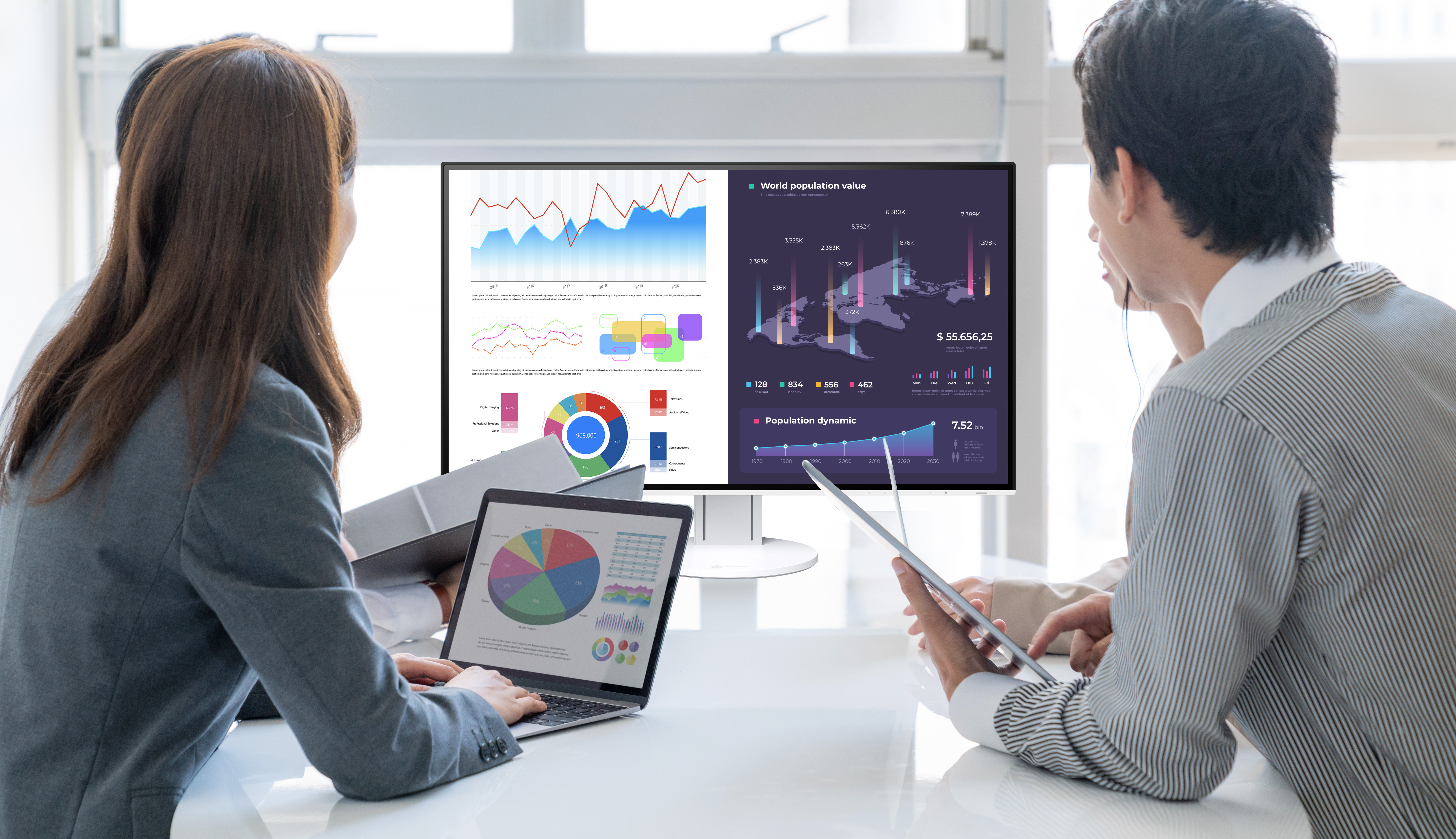 Tap below to see how EIZO fits into your workspace with augmented reality.
Support Models: iPhone 6s, iPad (5th generation) or later
Supported Browsers: Safari, Chrome

Scan the QR code using your iPhone or iPad
to see how EIZO fits into your workspace with augmented reality.

Support Models: iPhone 6s, iPad (5th generation) or later
Supported Browsers: Safari, Chrome
One Cable Connection
Single Cable Connection with USB Type-C
The FlexScan EV2785 comes with a USB Type-C port. With a single USB Type-C cable you can display video, playback audio, transmit USB signals, and supply up to 60W of power to attached devices such as smartphones and notebooks. What's more, it has an internal power unit so no external AC adapter is required.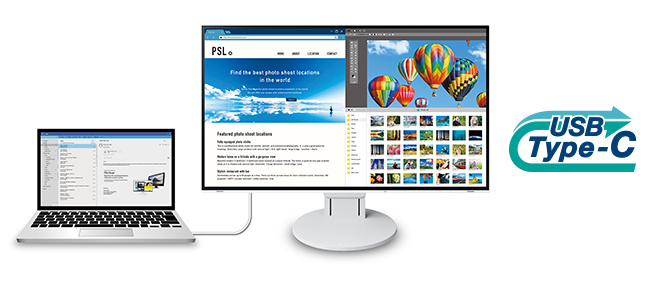 60 W Power Delivery
The 60 W power delivery via USB Type-C reliably charges laptop computers supporting 4K video output, such as a Dell XPS or Microsoft Surface.
Compatibility between FlexScan EV2785 and devices equipped with USB Type-C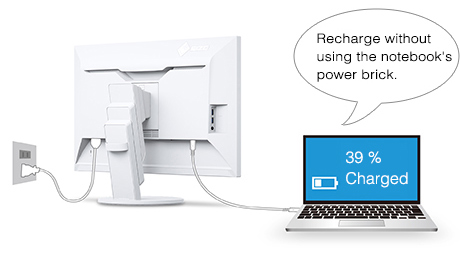 Reference Articles
Could your poor work efficiency be because of your notebook PC? Improve efficiency by working with a USB Type-C compatible Monitor.
Improve Work Efficiency by Combining an External Monitor with your Notebook PC
Function and Beauty
Frameless Design
With a bezel width of only 1 mm on the top and sides, the EV2785 is virtually frameless. Even with the 6.4 mm black borders along the perimeter of the LCD, there is only 14.8 mm between the display area of each screen in a multi-monitor configuration, which makes for almost seamless viewing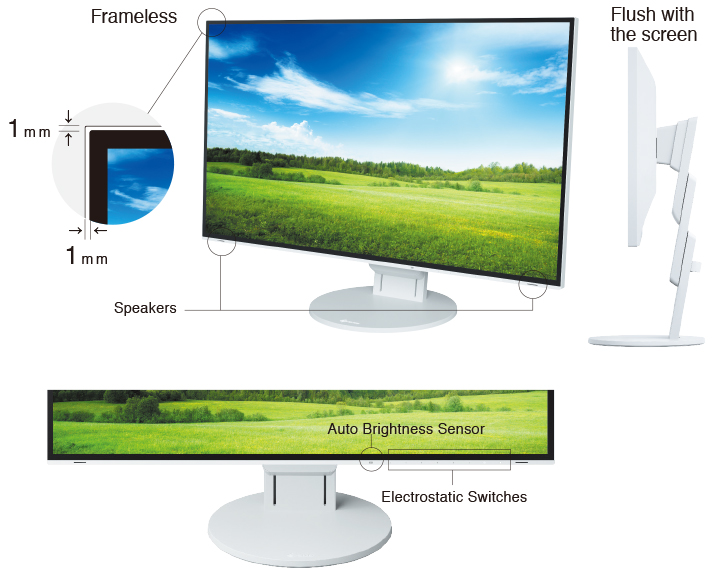 Beautiful from Front to Back

Say Goodbye to Tired Eyes
Auto Brightness Control
To prevent eye fatigue, a brightness sensor called Auto EcoView detects the changes in the ambient brightness that occurs throughout the day and automatically adjusts the screen to the ideal brightness level.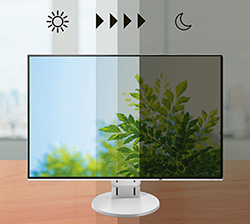 Reduce Blue Light by 80%
In the visible light spectrum, blue light has wavelengths adjacent to ultraviolet light. Compared to the factory preset setting of 6,500 K of typical LCD monitors, Paper Mode is closer to the spectral distribution with long reddish wavelengths so it reduces the amount of blue light, a cause of eye fatigue, and helps prevent eyestrain when reading documents. When used in conjunction with Auto EcoView dimming function, blue light can be reduced by as much as 80%.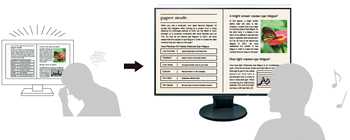 1% – 100% Brightness Range
In a dimly-lit work environment, a monitor with low brightness settings is more comfortable to use. With its LED backlight, the monitor is adjustable to approximately 1 cd/m² which is less than 1% of the maximum.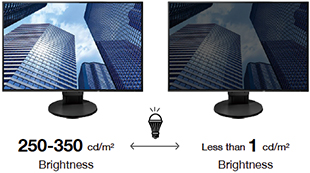 Versatile Stand
The stand features height adjustment, tilt, and swivel, while saving space and remaining stylish. Quickly and smoothly adjust your monitor to the perfect position.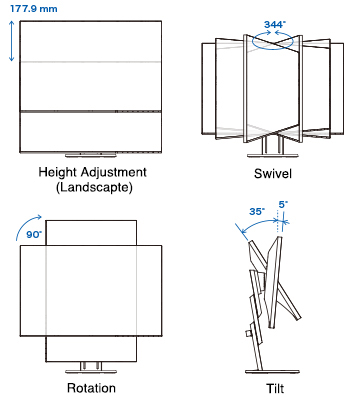 Clear View from All Angles
The monitor uses an LED-backlit IPS (in-plane switching) LCD panel with 178° viewing angle that minimizes color shift and contrast changes when viewing the screen at an angle. This means that two people sitting at the one computer can easily see the screen – and it also makes the EV2785 perfect for multi-monitor configurations.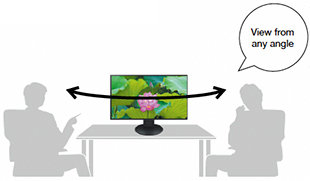 Flicker-Free Viewing
Due to the way brightness is controlled on LED backlights, a small number of people perceive flicker on their screen which causes eye fatigue. The FlexScan EV2785 utilizes a hybrid solution to regulate brightness and make flicker unperceivable without any drawbacks like compromising color stability – even on low brightness settings.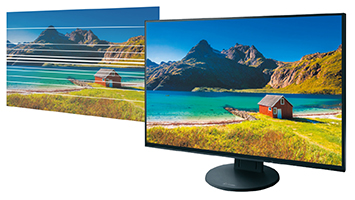 Front-Facing Speakers
The EV2785 has speakers incorporated into the minimalist front bezel, ensuring that sound is focused on the user and not on people behind the monitor.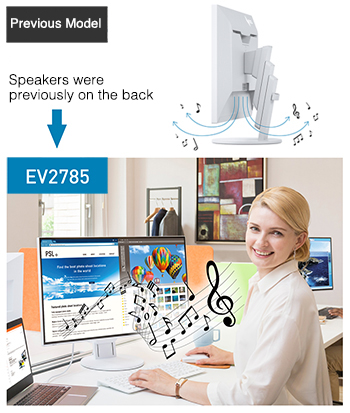 Intelligent Software to Work Better

EIZO's Screen InStyle is a free software that allows you to easily manage monitor settings such as power, color, brightness and gamma by using your mouse instead of monitor control buttons.
Auto Color Mode
Use the Auto Color Mode to assign a color mode to turn on when using specific applications such as those for writing documents, photo viewing, creating illustrations or watching movies. When an application is opened the screen will automatically switch to the assigned color mode, making manual switching unnecessary.
Hotkey Assignment
When you have two PCs connected to your monitor, switch between them with just your keyboard. Even when using picture by picture, signals can be switched quickly and easily.
Sleep Better with Automatic Blue Light Control
The Circadian Dimming function automatically changes the color temperature of your monitor as the day progresses. Maintain your body's natural circadian rhythm by setting the monitor to gradually reduce blue light during the evening, helping you sleep easier
Multi-Monitor Convenience
When using multiple monitors, save time by synchronizing all the monitors with each other. If you change the color mode, brightness or color temperature of one monitor, the rest will automatically change to the same. In addition, when one monitor's power is turned off, all the other monitors will also turn off.

Effectively Monitor Asset Management
With Screen InStyle Server receive information such as the model name and serial number of any monitor connected to your network. Additionally, see information from the computer that each monitor is connected to, such as the OS, IP address and computer name.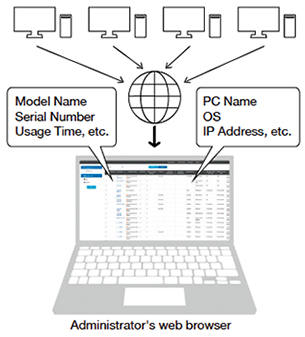 Manage Multiple Monitors from One Location
Control multiple monitors' settings such as color mode, brightness, and eco functions from a remote location. Furthermore, prevent unintended setting changes by locking the operation switch.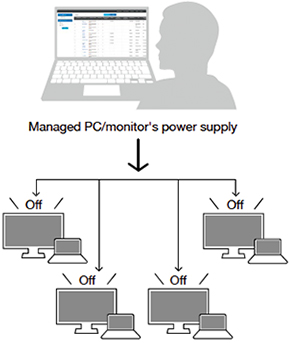 Additional Convenience
USB Type-C, DisplayPort, HDMI x 2
One USB Type-C terminal, one DisplayPort input and two HDMI inputs compatible with 4K / 60p are installed. The USB Type-C terminal is convenient for connecting a notebook computer because it is easy to attach and detach the cable and can also supply power. All input terminals support 4K / 60p, and animation is displayed smoothly.
Compatibility between FlexScan EV2785 and Devices Equipped with HDMI
Free Up Your Workspace with a Stand Bracket
The PCSK-03 is a VESA-compliant bracket for easily mounting a client terminal such as a thin client or mini PC to the back of the monitor's stand. The space the client terminal previously occupied is now freed up so you can make better use of your desktop. Even with the client terminal attached you can adjust the monitor's stand freely.

5-Year Warranty

A manufacturer's 5-year warranty covers all components including the LCD panel to ensure a long service life. This warranty is 2-years or 67% longer than the standard 3-year warranty of most monitor brands for significantly lower running costs.
Zero Bright Pixels

EIZO guarantees this product will be free from bright sub-pixels for six months from purchase date.
See our Bright Pixel Policy for details.
Compliance with International Labels
Meets the most stringent international labels for ergonomics and energy savings.
Our Contribution to SDGs
| | |
| --- | --- |
| As part of its corporate social responsibility (CSR) activities, EIZO is contributing towards the United Nations' Sustainable Development Goals (SDGs). | |
■Environmentally Friendly

This contribution extends to our FlexScan Monitors; environmentally friendly monitors made with ever improving energy efficiency, using recycled plastics and sustainably procured materials, boxed in recyclable packaging, and with a responsible after-service recycling system. 

 

■Higher Work Efficiency

Furthermore, with innovate technology and software, we aim to improve the working conditions and work efficiency of users. Through these features and more, FlexScan monitors are upholding the values of the UN's Sustainable Development Goals, toward a brighter and more sustainable tomorrow.

 
Read about our recent activities in our annual CSR report.

Model Variations
EV2785-BK: with FlexStand, black
EV2785-WT: with FlexStand, white
EV2785-FBK: without stand, black
EV2785-FWT: without stand, white

Note: FlexStand is removable
Panel
 
Type
IPS
Backlight
LED
Size
27" / 68.5 cm
Native Resolution
3840 x 2160 (16:9 aspect ratio)
Viewable Image Size (H x V)
596.7 x 335.7 mm
Pixel Pitch
0.155 x 0.155 mm
Pixel Density
163 ppi
Display Colors
16.77 million
Viewing Angles (H / V, typical)
178° / 178°
Brightness (typical)
350 cd/m2
Contrast Ratio (typical)
1300:1
Response Time (typical)
5 ms (gray-to-gray)
Color Gamut (typical)
sRGB
Video Signals
 
Input Terminals
USB Type-C (DisplayPort Alt Mode, HDCP 1.3), DisplayPort (HDCP 1.3), HDMI (HDCP 2.2 / 1.4) x 2
Digital Scanning Frequency (H / V)
USB Type-C: 31 - 134 kHz / 29 - 31 Hz, 59 - 61 Hz
DisplayPort: 31 - 134 kHz / 29 - 31 Hz, 59 - 61 Hz
HDMI: 31 - 135 kHz / 29 - 31 Hz, 49 - 61 Hz
USB
 
Upstream
USB 3.1 Gen 1: Type-C (DisplayPort Alt Mode, Power Delivery Source 60 W max.)
Downstream
USB 3.1 Gen 1: Type-A x 2
(Battery Charging 10.5 W max. x 1)
Audio
 
Speakers
1.0 W + 1.0 W
Input Terminals
USB Type-C, DisplayPort, HDMI x 2
Output Terminals
Headphones (Stereo mini jack)
Power
 
Power Requirements
AC 100 - 240 V, 50 / 60 Hz
Typical Power Consumption
31 W
Maximum Power Consumption
163 W
Power Save Mode
0.5 W or less
Features & Functions
 
Preset Modes
User1, User2, sRGB, Paper, Movie, DICOM
Auto EcoView
Yes
OSD Languages
English, German, French, Italian, Japanese, Simplified Chinese, Spanish, Swedish, Traditional Chinese
Physical Specifications
 
Dimensions (Landscape, W x H x D)
611.4 x 367.3 - 545.2 x 230 mm
Dimensions (Without Stand, W x H x D)
611.4 x 356.3 x 50 mm
Net Weight
8.2 kg
Net Weight (Without Stand)
4.9 kg
Height Adjustment Range
177.9 mm
Tilt
35° Up, 5° Down
Swivel
344°
Pivot
90° (clockwise)
Hole Spacing (VESA Standard)
100 x 100 mm
Environmental Requirements
 
Operating Temperature
5 - 35 °C
Operating Humidity (R.H., non condensing)
20 - 80 %
Certifications & Standards (Please contact EIZO for the latest information.)
TCO Certified Generation 8, EPEAT 2018 (US), TUV/Ergonomics, TUV/Low blue light content, TUV/Flicker Free, TUV/GS, RCM, CE, CB, cTUVus, FCC-B, CAN ICES-3 (B), TUV/S, VCCI-B, EPA Energy Star, RoHS, WEEE, China RoHS, CCC, China Energy Label Grade2, EAC
Dedicated Software
 
Monitor Control Utility Screen InStyle
Supported
Supplied Accessories (May vary by country. Please contact EIZO for details.)
 
Signal Cables
USB Type-C (2 m), DisplayPort (2 m), HDMI (2 m)
Others
AC power cord (2 m), cable cover (EV2785), VESA mounting screw x 4, setup guide
Warranty
Five Years
Zero bright sub-pixels for six months from date of purchase.
Dimension Drawing
PDF
2  With current LCD / OLED technology, a panel may contain a limited number of missing or flickering pixels.
5  If the monitor is left on continuously over a long period of time, dark smudges or burn-in may appear. To maximize the life of the monitor, we recommend the monitor be turned off periodically.
Brochures
Manuals
Document
Language
Size
Download
Screen InStyle Server User's manual
English
354 KB
EV2785 Setup guide
English
Chinese-Simplified
Chinese-Traditional
French
German
Russian
2.33 MB
EV2785 User's manual
English
2.49 MB
EV2785 / EV2430 / S1703-A / S1503-A LIMITED WARRANTY
English
Chinese-Simplified
Chinese-Traditional
French
German
Russian
602 KB
Screen InStyle Installation Guide
English
238 KB
EV2785 User's manual
Chinese-Simplified
2.97 MB
EV2785 User's manual
Chinese-Traditional
3.12 MB
EV2785 User's manual
Czech
954 KB
EV2785 User's manual
French
2.53 MB
EV2785 User's manual
German
2.5 MB
EV2785 User's manual
Russian
2.52 MB
Compatibility
| Date | Subject |
| --- | --- |
| December 15, 2020 | Microsoft Surface and FlexScan EV2785, EV2451 Compatibility |
| December 10, 2020 | Apple M1 Chip Equipped Mac Computer and EIZO Monitor Compatibility |
| November 26, 2020 | Microsoft Windows 10 October 2020 Update (20H2) and EIZO Software Compatibility |
| November 5, 2020 | Microsoft Windows 10 May 2020 Update (2004) and EIZO Software Compatibility |
| November 5, 2020 | Microsoft Windows 10 November 2019 Update (1909) and EIZO Software Compatibility |
| October 27, 2020 | Mac mini 2018 Model and FlexScan, ColorEdge Compatibility |
| May 26, 2020 | Microsoft Windows 10 May 2019 Update (1903) and EIZO Software Compatibility |
| March 31, 2020 | EIZO 4K Monitor Compatibility with Graphics Boards |
| September 6, 2019 | Microsoft Surface Laptop 2 and FlexScan Compatibility |
| September 6, 2019 | Microsoft Surface Pro 6 and FlexScan Compatibility |
| July 30, 2019 | Abnormal Display Issue on Microsoft Windows 10 May 2019 Update (1903) |
| July 24, 2019 | Booting Issue with Mac mini 2018 (macOS Mojave 10.14.5) when Connecting Monitor via USB Type-C or DisplayPort |
| June 4, 2019 | Microsoft Windows 10 October 2018 Update (1809) Compatibility with EIZO Software |
| February 21, 2019 | Microsoft Windows 10 April 2018 Update (1803) Compatibility with EIZO Software |
| December 4, 2018 | DPI scaling settings on Windows (HiDPI display) |
| November 29, 2018 | HP Z2 Mini G4 Workstation and FlexScan, ColorEdge Compatibility |
| October 9, 2018 | HP Z2 SFF G4, Z2 Tower G4 and FlexScan, ColorEdge Compatibility |
| October 1, 2018 | Problem with blurring and strange screen colors when connecting external monitor to MacBook Pro (2018) |
| September 20, 2018 | Panasonic Toughbook CF-SV7 and FlexScan Compatibility |
| September 20, 2018 | Compatibility between FlexScan EV2785/EV3285 and Devices Equipped with HDMI |
| September 20, 2018 | Compatibility between FlexScan EV2785/EV3285 and Devices Equipped with USB Type-C |
| August 23, 2018 | Lenovo ThinkStation P320 Tiny and FlexScan Compatibility |
| July 5, 2018 | Microsoft Surface Book 2 Compatibility with EIZO Monitors |
| July 5, 2018 | Microsoft Surface Laptop Compatibility with EIZO Monitors |
| July 5, 2018 | Microsoft Surface Pro Compatibility with EIZO Monitors |
| June 13, 2018 | Microsoft Surface Pro 4 Compatibility with EIZO Monitors |
| June 13, 2018 | HP EliteBook x360 1030 G2 and FlexScan Compatibility |
| June 13, 2018 | HP Z240SFF, Z240, Z4, Z6, and Z8 Compatibility |
| June 13, 2018 | GIGABYTE GB-BKi7HT-7500 Compatibility with EIZO Monitors |
| June 13, 2018 | Mac 2017 Models Compatibility with EIZO Monitors |
Arms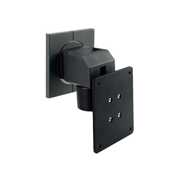 35° up tilt and 180° swivel wide adjustment range

Mounting Bracket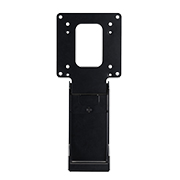 Dedicated bracket for attaching a client to the back of the FlexScan Frameless models

Mounting Bracket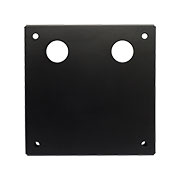 VESA mounting plate for attaching an IP decoding box to certain FlexScan monitors using VOP-01

For FlexScan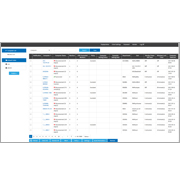 - Asset management and monitor control software
- Automatic acquisition of monitor and PC device information
- Collective adjustment of monitor color and power settings
For FlexScan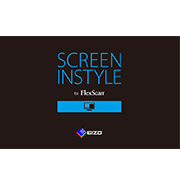 - Monitor control utility
- Multi-monitor power management
- Blue light reduction

Cable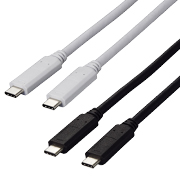 Short 1m USB Type-C Cable
Cable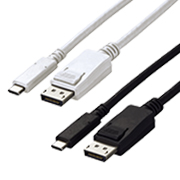 2m USB Type‐C to DisplayPort Cable

Monitor Cleaning Kit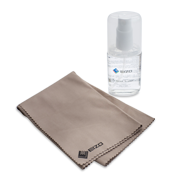 - Keep your screen free from dust and fingerprints
- Includes pump spray and cloth
winmag pro (Netherlands)

MKB Proof Awards 2019

July 19, 2019


"If a company is looking for quality with a view to accessibility, quality and satisfaction of staff, then the EV2785 makes its contribution."

Dutch
Google Translation
PCtipp (Switzerland)

May 11, 2018

5 out of 5 stars

"Full sRGB coverage, strong contrast and near-perfect color accuracy make the EV2785 a great monitor for anyone serious about their work."

German
Google Translation
Contact EIZO
EIZO Inc.
Address:
5710 Warland Drive, Cypress, California 90630
Telephone:
(+1) 562 431 5011