Monitor Basics in Plain English
3 Reasons to Choose EIZO for Your Home Office

Social change has led to a diversification of work arrangements. Although new work styles, such as telecommuting, are on the rise, some people say that working remotely has had a negative impact on their working efficiency.

Did you know that working on a small screen is often one of causes of a decrease in productivity? Combining a notebook PC with an external monitor will bring comfort into your home office. Here are three reasons to choose an EIZO monitor for your remote working environment.
No. 1
Exceptional Image Quality
Designed to Protect Your Eyes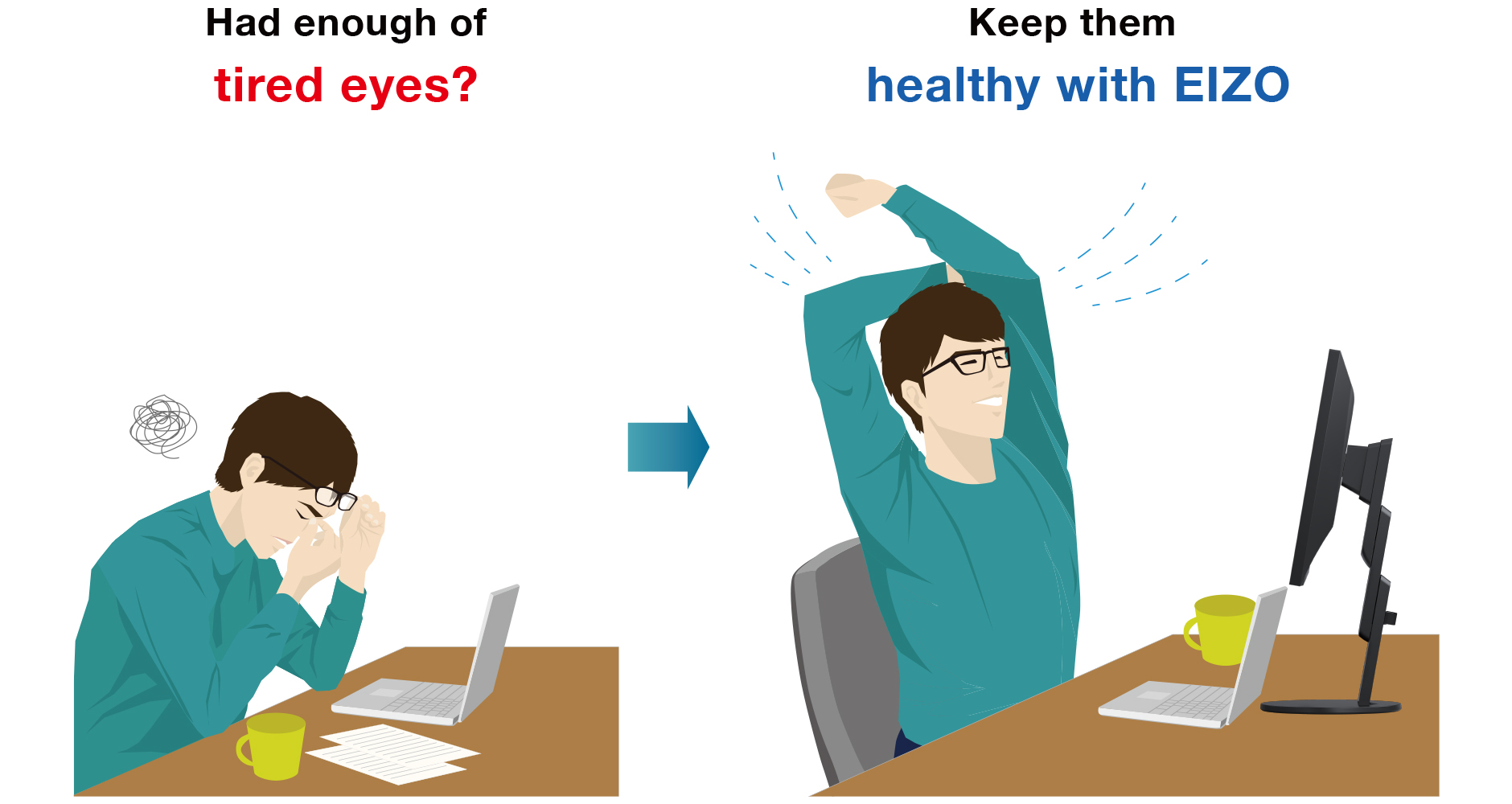 Have you been keeping your eyes healthy while working from home? Screen brightness, color temperature, and flickering have a significant impact on eye fatigue. Many notebook PCs and conventional monitors are not capable of reducing screen brightness sufficiently to a level that is easy on the eyes, and many don't have color temperature setting options. Furthermore, many notebook PCs tend to flicker when the screen brightness is reduced.

EIZO monitors receive a visual inspection and color adjustment at the factory in Japan to ensure the highest image quality. The brightness level of the monitors can be reduced to about 1 cd/m2. EIZO monitors stay stable even at low brightness thanks to their exceptional image quality.
 


EIZO monitors are treated with a anti-glare (non-glare) coating to prevent ambient light from reflecting off the screen. This coating reduces eye fatigue from working in a home office environment where light filters in from windows, for example. Furthermore, the monitors are equipped  with many features designed to prevent eye-fatigue for users who work in front of their computer for extended periods.




No. 2
More Work Space to
Get More Things Done
Working on a notebook PCs with a small screen size and a narrow display area significantly limits the number of windows that can be displayed simultaneously. This limitation forces users to frequently switch between windows when working with multiple, resulting in reduced work efficiency.

You can easily expand a notebook PC's screen by connecting an external monitor. For example, connecting a typical 14-inch notebook PC to a 23.8-inch monitor will triple the amount of useable screen space. Such an expansion improves work efficiency by allowing users to divide multiple open windows over the screen.

Furthermore, EIZO's free software Screen InStyle neatly arranges each window, maximizing the useable screen space. It has become more common to conduct meetings online and remotely. An external monitor helps meetings run a lot smoother because they give users the screen space to display meeting materials and to see the other members' facial expression over the camera feed at the same time.

But it doesn't stop there! EIZO monitors are equipped with a versatile stand which allows you to use the available space more efficiently. The monitors can be comfortably placed next to, or even above the notebook PC's screen even in the most limited workspaces.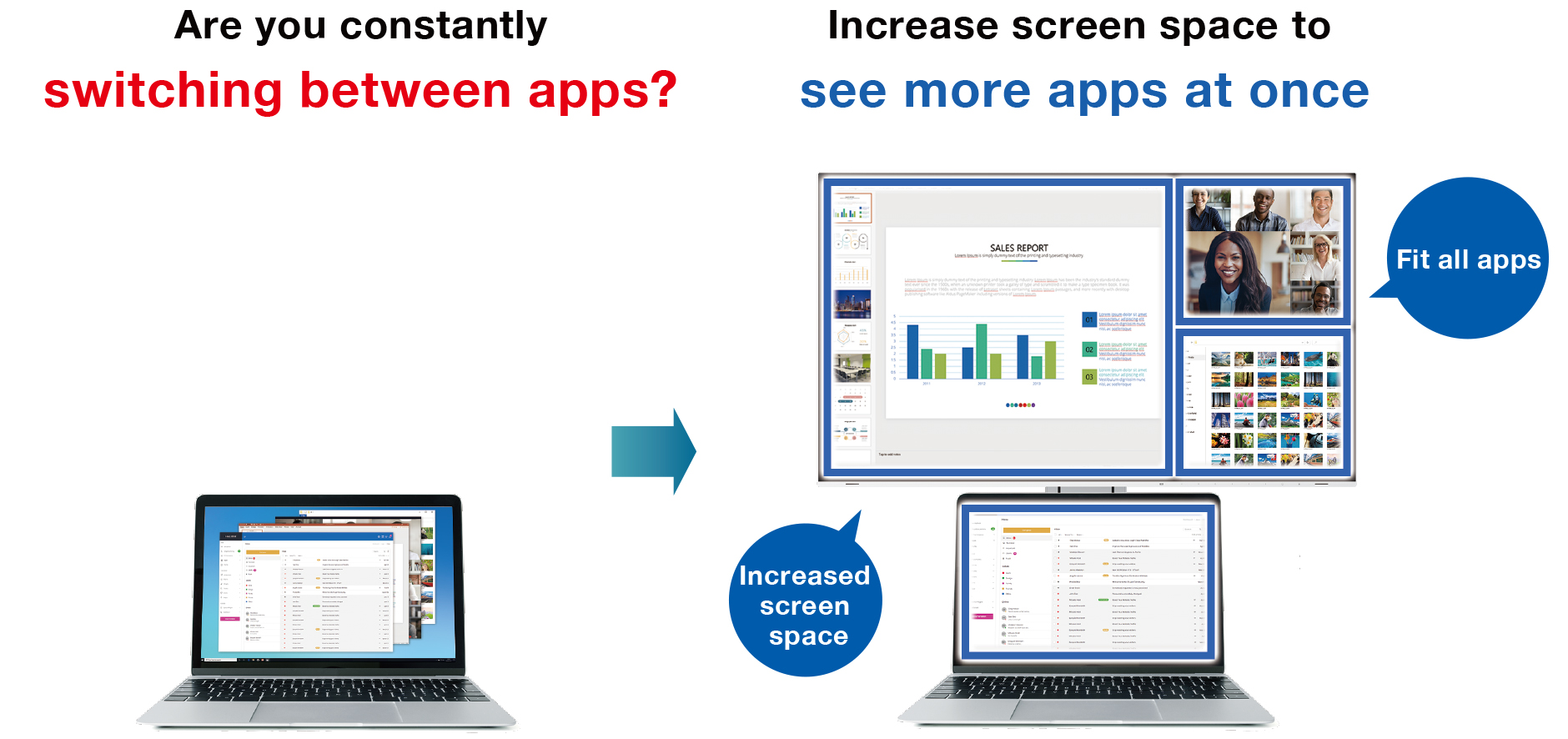 No. 3
The One-Stop Cable Solution for
Video, Audio, USB, Power, and More
Notebook PCs don't have many USB ports to connect peripherals to. Are you tired of having to unplug one peripheral in order to plug in another, or of having to reconnect all your peripherals every time you change workspaces?

EIZO's wide range of USB Type-C equipped monitors are designed to fit  every workstyle.This monitor lineup provides power, extended screen space, access to USB, audio playback, and more via a single cable connection. Connecting to a FlexScan monitor with a 4-port USB hub will give enough flexibility to connect a mouse, keyboard, web camera, and  headphones at the same time. One single USB Type-C connection allows the monitors to act as docking stations with connection ports conveniently positioned within arm's reach on the back for easy access.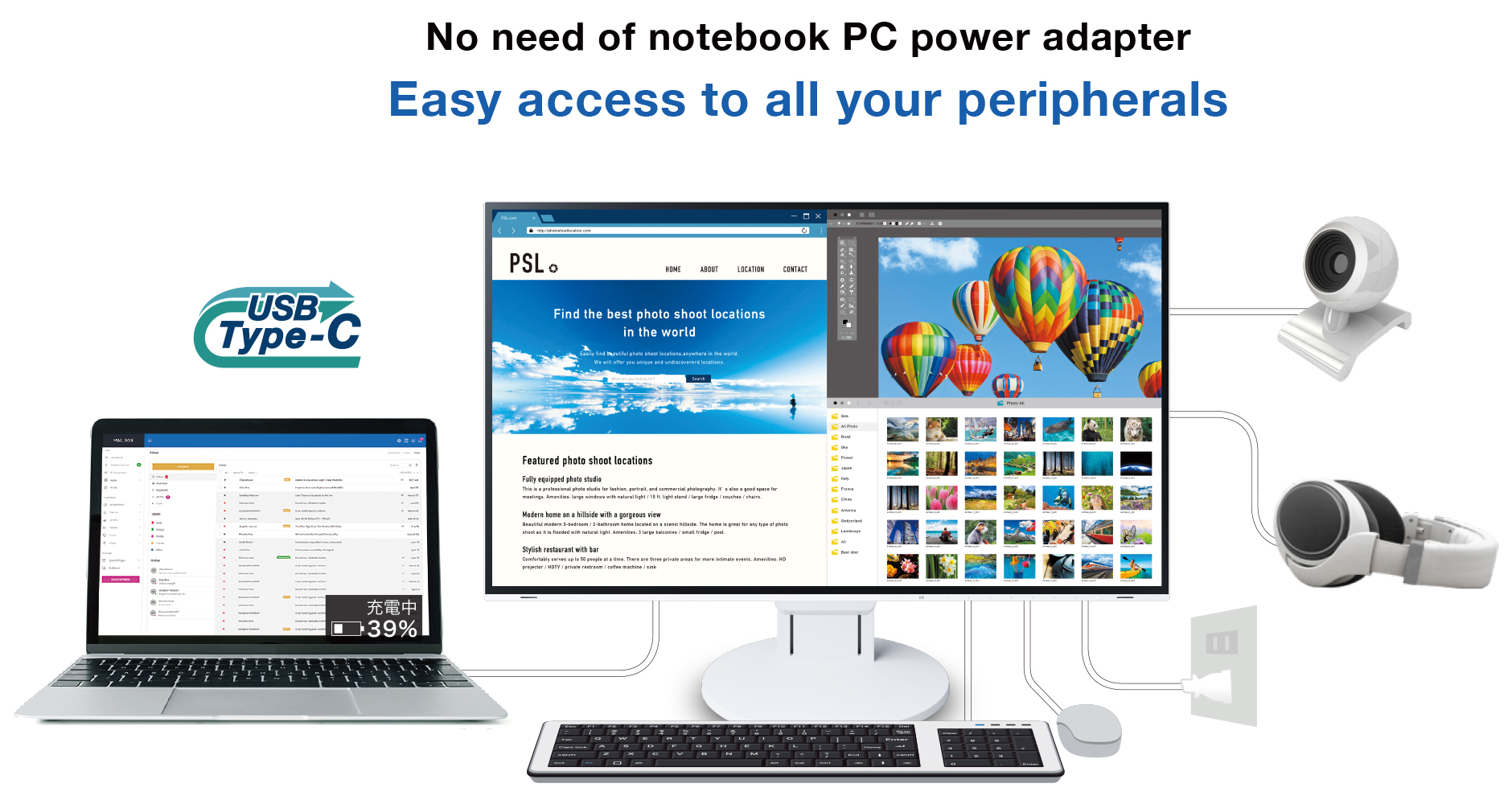 Recommended Models
USB Type-C for daisy chaining
and docking capabilities

USB Type-C connectivity
and 4K resolution for high detail

Ultrawide, USB-C daisy chain, built-in KVM & LAN port

USB Type-C connectivity
and color accuracy for creatives