S1934 19" 1280 x 1024 Square IPS Monitor - FlexScan | EIZO
FlexScan S1934Square IPS Monitor
19" (48 cm) 1280 x 1024 Monitor
19" Square Monitor with IPS Panel for Offices and Control Rooms
Features
Specifications
Documents Compatibility
Accessories
Awards & Reviews
Optimized Brightness with Auto EcoView
The Auto EcoView function is a sensor on the front of the monitor that measures ambient light and optimizes the screen's brightness to a level akin to viewing a sheet of paper under typical office lighting conditions. Since the screen is never too bright, eye strain is reduced while power consumption is cut by up to 50% compared to operating the monitor with Auto EcoView turned off and set to the default factory brightness of 100%.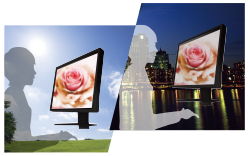 Three Inputs Including DisplayPort 
DisplayPort, DVI-D 24-pin, and D-Sub mini 15-pin inputs are included for connection with various graphics boards.


Reduced Blue Light
A preset mode called "Paper" adjusts the brightness, contrast ratio, and color temperature to simulate those of printed paper. Paper mode significantly reduces the amount of blue light emitted from the screen for more comfortable viewing.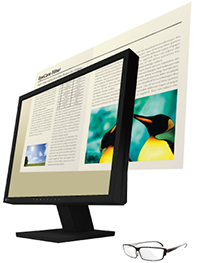 IPS Panel with Wide Viewing Angles
The IPS (in-plane switching) panel offers 178° viewing angles to minimize color shift and contrast when viewing the screen at an angle. This ensures stable and consistent display when two or more people view the screen at once or in a multi-monitor environment.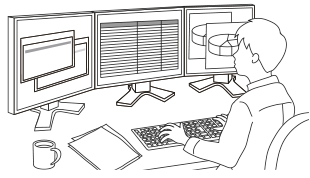 Viewing Comfort with an Ergonomic Stand
Adjust the screen to the most comfortable position with 100 mm height adjustment, 30° tilt, 70° swivel, and 90° rotation for portrait mode. A stand with 30° tilt only is available as an option.


Built to Last Five Years

EIZO's five-year warranty is two years or 67% longer than the standard three-year warranty of most brands. Even if the initial purchase price of the FlexScan S1934 is higher than another 19-inch monitor, the TCO (total cost of ownership) will likely be lower due to the significantly longer buying cycle and less need for repair.
Optional LCD Panel Protector
The FP-1901 protector fits easily between the LCD screen and bezel, has a light transmission rate of more than 90%, and includes both an anti-glare coating side to reduce light reflection and a glossy side for crisper, more vibrant images.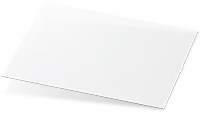 Model Variations
S1934-HBK: With Height Adjustable Stand, Black
S1934-HGY: With Height Adjustable Stand, Gray
S1934-TBK: With Tilt Stand, Black
S1934-TGY: With Tilt Stand, Gray
S1934-FBK: Without Stand, Black
S1934-FGY: Without Stand, Gray

Note: The stand can be removed
Cabinet Color
Gray, Black
Panel
 
Type
IPS
Backlight
LED
Size
19" / 48 cm
Native Resolution
1280 x 1024 (5:4 aspect ratio)
Viewable Image Size (H x V)
374.8 x 299.8 mm
Pixel Pitch
0.293 x 0.293 mm
Display Colors
16.77 million from a palette of 1.06 billion
Viewing Angles (H / V, typical)
178° / 178°
Brightness (typical)
250 cd/m2
Contrast Ratio (typical)
1000:1
Response Time (typical)
14 ms (Gray-to-Gray)
Color Gamut (typical)
sRGB
Video Signals
 
Input Terminals
DisplayPort (HDCP 1.3), DVI-D (HDCP 1.4), D-Sub mini 15 pin
Digital Scanning Frequency (H / V)
31 - 64 kHz / 59 - 61 Hz
Analog Scanning Frequency (H / V)
31 - 64 kHz / 55 - 61 Hz
Sync Formats
Separate
Audio
 
Speakers
0.5 W + 0.5 W
Input Terminals
Stereo mini jack, DisplayPort
Output Terminals
Headphones (Stereo mini jack)
Power
 
Power Requirements
AC 100 - 240 V, 50 / 60 Hz
Typical Power Consumption
9 W
Maximum Power Consumption
21 W
Power Save Mode
0.5 W or less
Features & Functions
 
Preset Modes
Color mode (User1, User2, sRGB, Paper, DICOM)
Auto EcoView
Yes
OSD Languages
English, French, German, Italian, Japanese, Simplified and Traditional Chinese, Spanish, Swedish
Physical Specifications
 
Dimensions (Landscape, W x H x D)
With Height Adjustable Stand: 405 x 406.5 - 506.5 x 205 mm
With Tilt Stand: 405 x 414 x 205 mm
Dimensions (Portrait, W x H x D)
334 x 442 - 542 x 205 mm
Dimensions (Without Stand, W x H x D)
405 x 334 x 61.5 mm
Net Weight
With Height Adjustable Stand: 5.6 kg
With Tilt Stand: 4.6 kg
Net Weight (Without Stand)
3.8 kg
Height Adjustment Range
With Height Adjustable Stand: 100 mm
With Tilt Stand: -
Tilt
With Height Adjustable Stand: 30° Up, 0° Down
With Tilt Stand: 30° Up, 5° Down
Swivel
With Height Adjustable Stand: 35° Right / 35° Left
With Tilt Stand: -
Pivot
With Height Adjustable Stand: 90°
With Tilt Stand: -
Hole Spacing (VESA Standard)
100 x 100 mm
Environmental Requirements
 
Operating Temperature
5 - 35 °C
Operating Humidity (R.H., non condensing)
20 - 80 %
Certifications & Standards (Please contact EIZO for the latest information.)
TCO Certified Generation 8, TUV/Ergonomics, TUV/GS, RCM, CE, CB, cTUVus, FCC-B, CAN ICES-3 (B), TUV/S, VCCI-B, EPA Energy Star, RoHS, WEEE, China RoHS, CCC, EAC
Supplied Accessories (May vary by country. Please contact EIZO for details.)
 
Signal Cables
DVI-D (2 m) , D-Sub mini 15 pin (1.8 m)
Others
AC power cord (2 m), audio cable (2.1 m), Screw for VESA mount x4, CD-ROM (PDF user's manual), setup guide
Warranty
Five Years
Dimension Drawing
PDF
2  With current LCD technology, a panel may contain a limited number of missing or flickering pixels.
5  If the monitor is left on continuously over a long period of time, dark smudges or burn-in may appear. To maximize the life of the monitor, we recommend the monitor be turned off periodically.
Brochures
Manuals
Document
Language
Size
Download
S1934 User's manual
English
2.44 MB
S1934 Setup guide
English
Chinese-Simplified
Chinese-Traditional
French
German
Russian
2.35 MB
S1934 Setup guide
Arabic
873 KB
S1934 User's manual
Chinese-Simplified
2.88 MB
S1934 User's manual
Chinese-Traditional
2.8 MB
S1934 Setup guide
Czech
1.66 MB
S1934 User's manual
Czech
1.33 MB
S1934 Setup guide
Danish
1.64 MB
S1934 Setup guide
Dutch
1.65 MB
S1934 Setup guide
Finnish
1.65 MB
S1934 User's manual
French
2.47 MB
S1934 User's manual
German
2.44 MB
S1934 Setup guide
Greek
1.65 MB
S1934 Setup guide
Italian
1.64 MB
S1934 Setup guide
Korean
1.77 MB
S1934 Setup guide
Norwegian
1.64 MB
S1934 Setup guide
Polish
1.65 MB
S1934 Setup guide
Portuguese
1.83 MB
S1934 User's manual
Russian
2.46 MB
S1934 Setup guide
Spanish
1.82 MB
S1934 Setup guide
Swedish
1.64 MB
S1934 Setup guide
Turkish
1.65 MB
Compatibility
Stand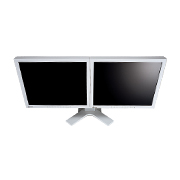 Supports two LCD monitors.
Height adjustable in six increments

Panel Protector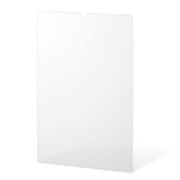 - Protect against dust and scratches
- Fit between screen and bezel

Monitor Cleaning Kit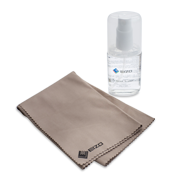 - Keep your screen free from dust and fingerprints
- Includes pump spray and cloth