Case Studies
Streamline Your Workflow with EIZO USB Type-C Monitors | EIZO

EIZO monitors equipped with the latest USB Type-C terminal provide flexibility
to suit the needs of new workstyles for office employees, creators, and more.
Benefits of EIZO USB Type-C Monitors
No. 1
All-in-One Cable

Simple connect your notebook PC to the monitor with a single USB Type-C cable
to display video, playback audio, transmit USB signals, and more.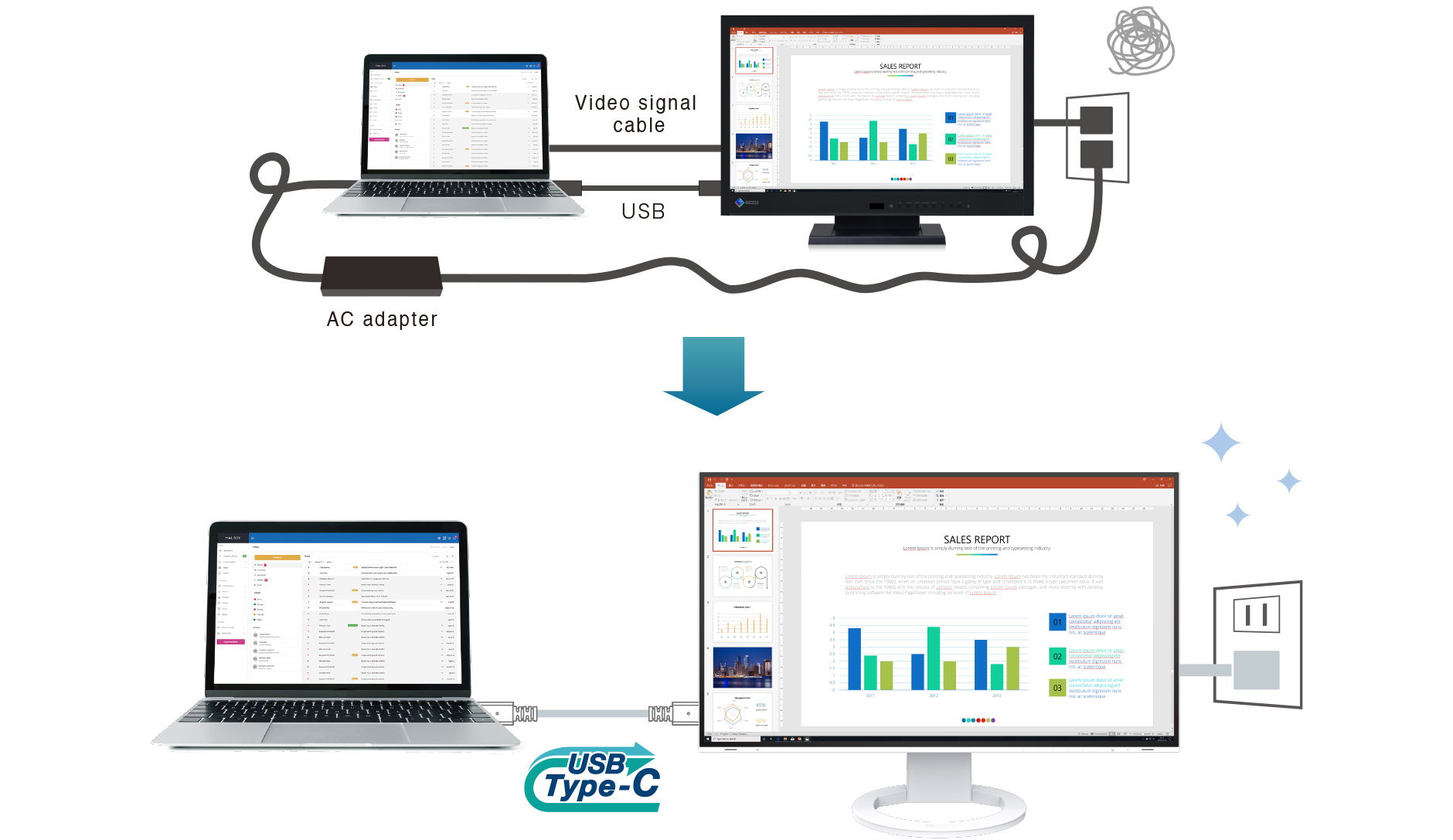 No. 2
Charge Your Notebook PC

EIZO's USB Type-C monitors provide power to your notebook PC with a single USB Type-C cable.
No need to carry around a bulky power supply when working remotely or in shared office environments.

No. 3
Easily Access Peripherals

USB Type-C provides access to a hub with multiple USB ports for easily connecting devices,
such as a keyboard and mouse,  without the need for a docking station.

Stable Network Connection

EIZO's Premium FlexScan monitors have a built-in LAN port.
Connect notebook PC to the monitor via USB Type-C to access a stable network connection,
even for notebook PCs without a dedicated LAN port.
 

Get More Done with EIZO USB Type-C Monitor!
EIZO's USB Type-C Monitor Lineup
Recommended for the office or telecommuting:
FlexScan Business Monitors
| Size / Resolution | Power Delivery | USB Ports | LAN Port |   |
| --- | --- | --- | --- | --- |
| 37.5", 3840 x 1600 | 85 W | 4 | Yes | |
| 31.5", 3840 x 2160 | 60 W | 2 | - | |
| 27.0", 2560 x 1440 | 70 W | 4 | Yes | |
| 27.0", 3840 x 2160 | 60 W | 2 | - | |
| 24.1", 1920 x 1200 | 70 W | 4 | Yes | |
USB Type-C Equipped PCs and FlexScan Compatibility
Recommended for creative work:
ColorEdge Color Management Monitors
| Size / Resolution | Power Delivery | USB Ports | LAN Port |   |
| --- | --- | --- | --- | --- |
| 27", 3840 x 2160 | 60 W | 4 | - | |
| 27.0", 2560 x 1440 | 60 W | 4 | - | |
USB Type-C Equipped PCs and ColorEdge CS2740 Compatibility
USB Type-C Equipped PCs and ColorEdge CS2731 Compatibility

 
Case Studies
 
Recommended Content