Color Management Resources
Academy Award Winning Calibration Sensor Technology - Color Management
How ColorEdge Monitors Achieve Industry-Leading Precision
EIZO's ColorEdge monitors with built-in calibration sensors are developed and manufactured entirely in-house. See how they achieve the color precision and consistent image display needed for creative fields.
 

Color Management According to Studio-Defined Parameters
1.Correlation with External Sensors
Many post production, VFX, and broadcasting studios define a specific spectrophotometer as the master sensor for their internal color management framework. This ensures each project meets certain international standards and achieves expected levels of accuracy. EIZO's CG Series built-in calibration sensor can be correlated to any high-end spectrophotometer using EIZO's propriety ColorNavigator color management software.

See a list of compatible measurement devices here.
| | |
| --- | --- |
| | |
| | | |
| --- | --- | --- |
| |   | |
EIZO tested its ColorEdge CG Series built-in sensor after correlating it to a Konica Minolta CS-2000 spectroradiometer. The below graph shows the measurement results. Using the EBU Tech 3320 requirements as the benchmark, the built-in sensor shows a delta u' v' of less than 1.3. This low variance means that post production studios can rest assured that correlating to their preferred sensor will produce accurate results, allowing them to take full advantage of the convenience and savings afforded by a built-in solution.

Results of ColorEdge PROMINENCE CG3146 correlated to Konica Minolta CS-2000
White Point Measurement Results
(Brightness: 1000 cd/m2 / Color Temperature: D65 / Color Space: Native)
 
Lv
x
y
ColorEdge CG3146 Built-In Sensor
998.4
0.3127
0.3290
Konica Minolta CS-2000
1003.4
0.3133
0.3295
Difference(⊿)
0.5%
0.0006
0.0005
 
⊿u*v* = 0.63
The tested CG3146 monitor was measured at 0 used hours after initial calibration via EIZO's built-in sensor and correlation with CS-2000.

2.Centralized Quality Control of Remote Locations
In the post production workflow, image and video data is handed off to several editors and artists as it passes through each stage of production. It is imperative that at each stage – be it motion graphics, VFX (visual effects), color grading, mastering, etc. – the editor's eyes can trust the project as it appears on screen in the way the editor before them intended. This need extends to not only in-house creators, but external and remote locations as well.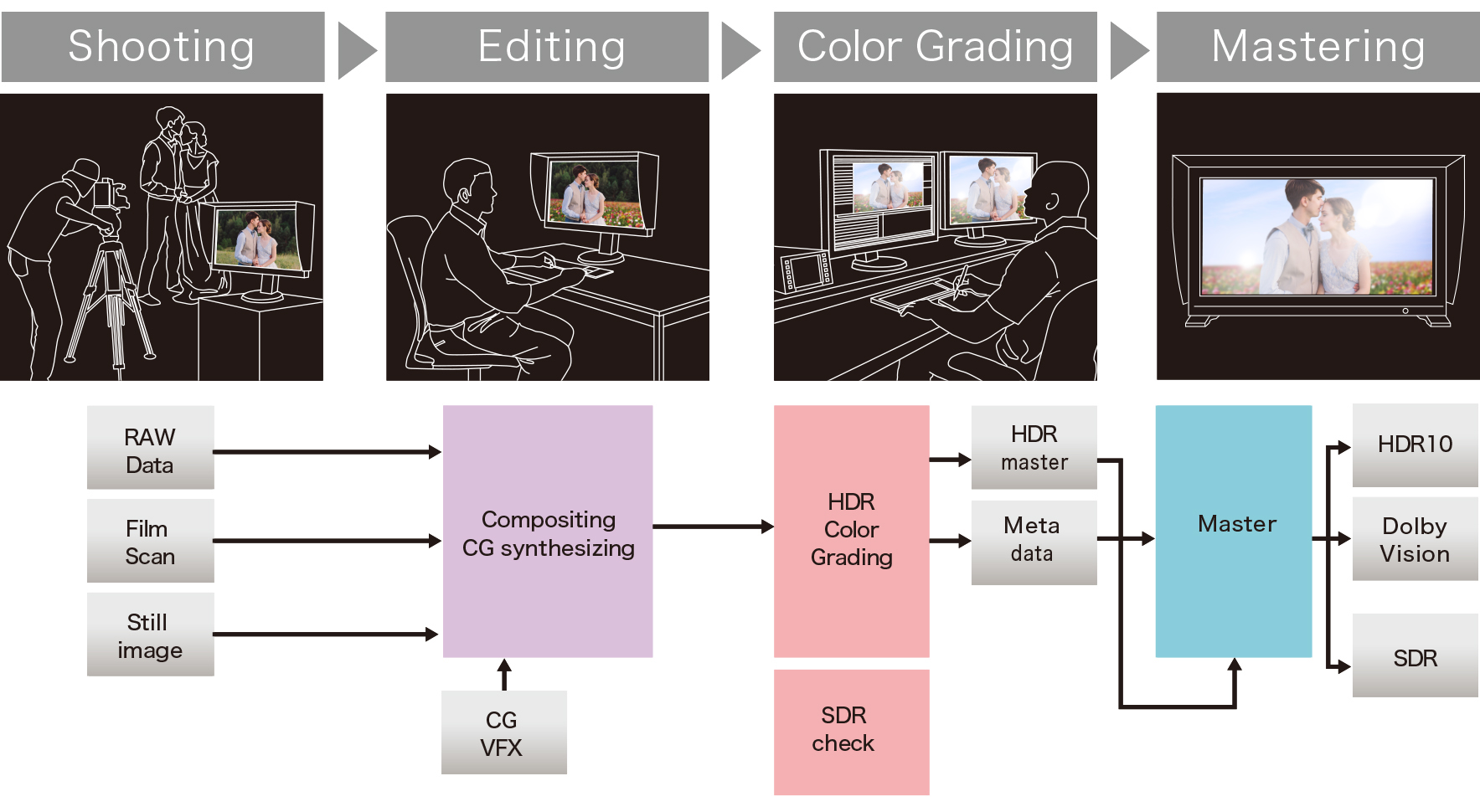 EIZO offers a color management solution called ColorNavigator Network, which provides centralized quality control of ColorEdge monitors on the network. This makes use of CG Series monitors' built-in calibration sensors to maintain settings, even from remote locations. An administrator can set the color modes, schedule automatic self-calibration, activate key locks, register or adjust asset management settings, and import/export monitor settings for each monitor. For large-scale projects with several production steps, such as games or feature films, this ensures that the appropriate color standards are used, and administrators can even assign custom settings for specific projects or jobs. Furthermore, EIZO hosts the server on a secure cloud so there are no additional investments or running costs needed to provide a server at the studio.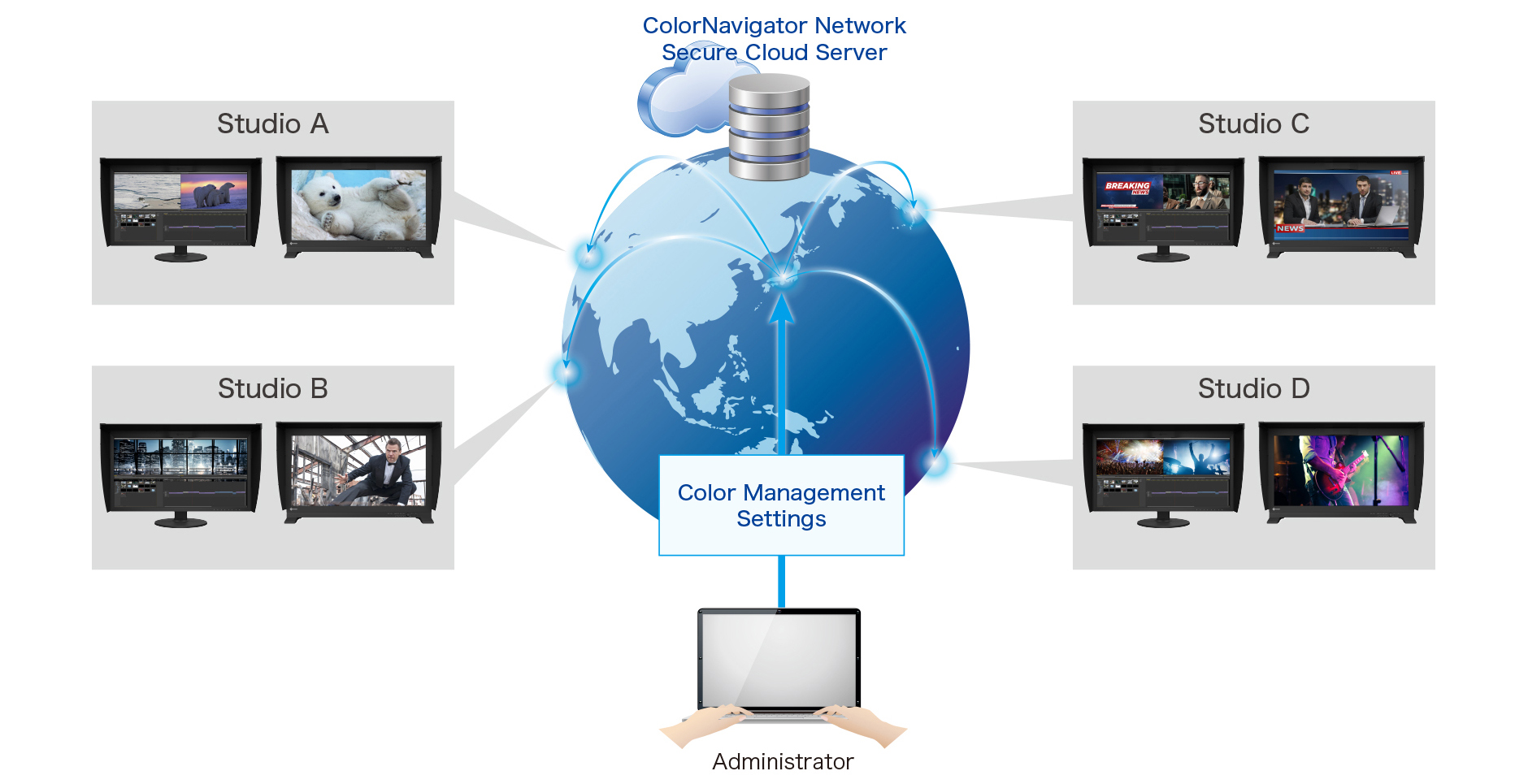 Using an actual example from one of the world's most prominent production studios where 80 ColorEdge monitors are adjusted every 200 hours, approximately 2400 hours per year are spent on recalibration. For other solutions in the market which take up to 10 minutes to calibrate per unit each time, the total hours would increase nearly 4 times as much to 8000 per year.

Color Navigator Network support for CG3146 is planned for 2021.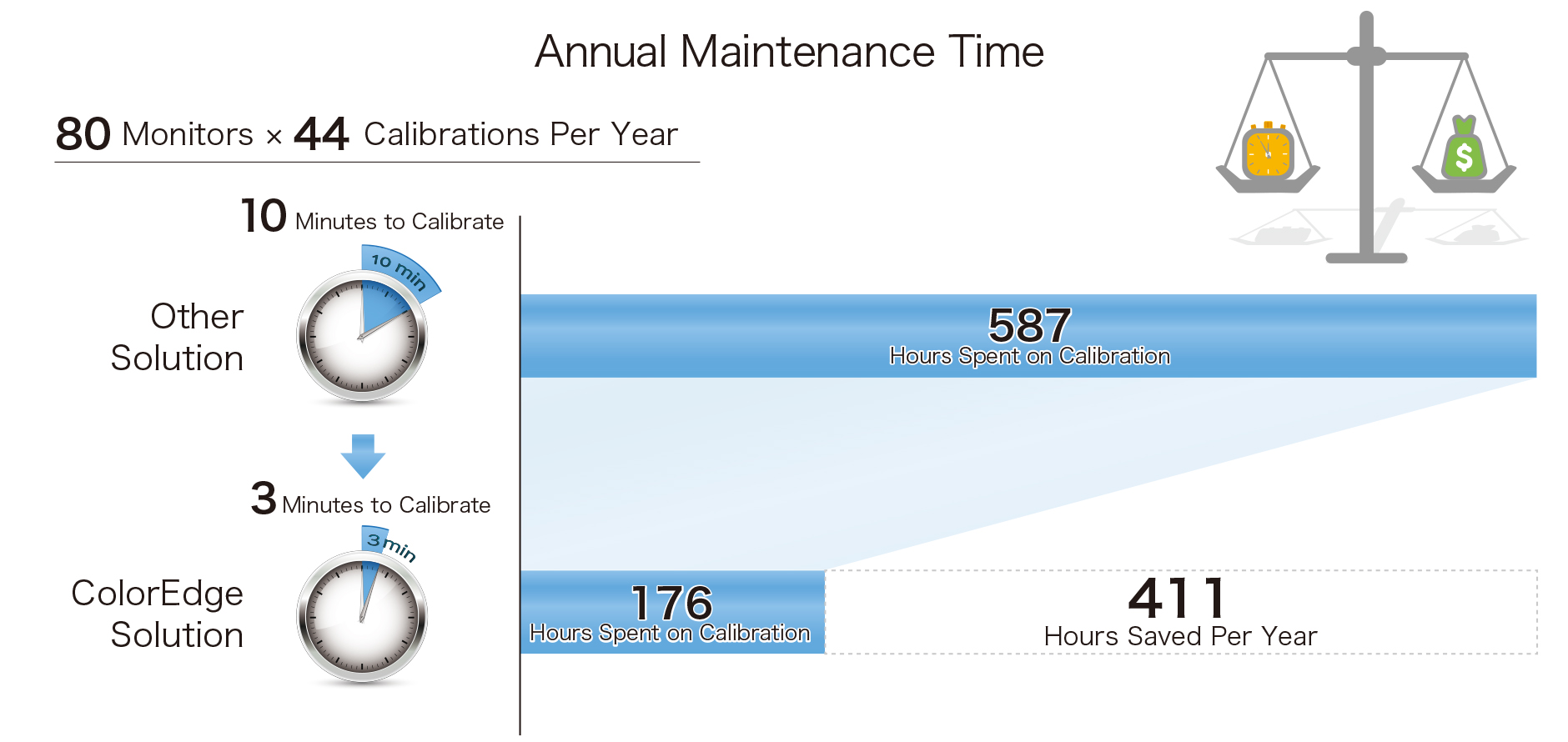 Case Studies
ColorEdge monitors are relied on by major studios worldwide to bring some of the most inspiring and exciting stories and experiences to audiences everywhere.



 

Origin Point
Post Production, VFX, and HDR Color Grading
"For filmmakers it's important to have a tool like this that we use every day. Having a monitor that's going to give you an accurate representation is everything."
 
Skydance Media
Terminator: Dark Fate VFX Brought to Life with ColorEdge
"The best part about the EIZO hardware is that it self-calibrates. And as a supervisor, that's critical because you want to know that what you are looking at is perfect, is color accurate, and is sharp and consistent."
 

Netflix
World's First 4K HDR Hand-Drawn Animation Project
"Using the CG3145 as a reference monitor provided absolute confidence that what they were looking at during production would be consistent."
 
LAIKA
Full Color Management Solutions for Peace of Mind
"These free tools have already saved us hundreds of hours of labor while also giving us peace of mind on the accuracy of our color space over the course of our future films."
Recommended for Post Production and Broadcasting
EIZO remains convinced that the best way to deliver the quality that professional creators expect is to maintain an integrated approach with in-house production and provide added value with solutions that saved on time/costs, while ensuring maximum precision that meets any studio's standards.
31.1" HDR Reference Monitor
 
31.1" Hardware Calibration Monitor
27" Hardware Calibration Monitor
24" Hardware Calibration Monitor