Color Management Resources
Academy Award Winning Calibration Sensor Technology - Factory Adjustment
How ColorEdge Monitors Achieve Industry-Leading Precision
EIZO's ColorEdge monitors with built-in calibration sensors are developed and manufactured entirely in-house. See how they achieve the color precision and consistent image display needed for creative fields.
 

Academy of Motion Picture Arts and Sciences – Sci-Tech Award
In February 2021, four of EIZO's lead innovators accepted an Academy Sci-Tech Award (Technical Achievement) for the ColorEdge CG Series monitors with built-in calibration sensors. EIZO was the first manufacturer in the world to bring a self-calibrating color precision solution to market in 2010, and continues to commit itself to providing highly precise and sophisticated imaging solutions made with dedication and care.
Learn more about the award here.



HPA Awards 2020 Winner

In September 2020, the ColorEdge PROMINENCE CG3146 HDR reference monitor was awarded the 2020 Hollywood Professional Association (HPA) Award for Engineering Excellence. As the first true HDR reference monitor in the world to be equipped with a built-in calibration sensor, it was recognized for its advanced technologies that put it at the forefront of innovation in creative visual solutions.

Learn more about the Award here.


 

ColorEdge is a line of color management monitors developed specifically for addressing users in photography, film, broadcasting, printing, and other creative fields. For these industries, not only color fidelity, but display characteristics such as brightness, gamma, and uniformity across the screen need to be maintained so the final output content displays as intended in the target environment.
Rigorous Color Adjustment at the Factory
1.Precision Calibration According to Industry-Standard Spectrophotometer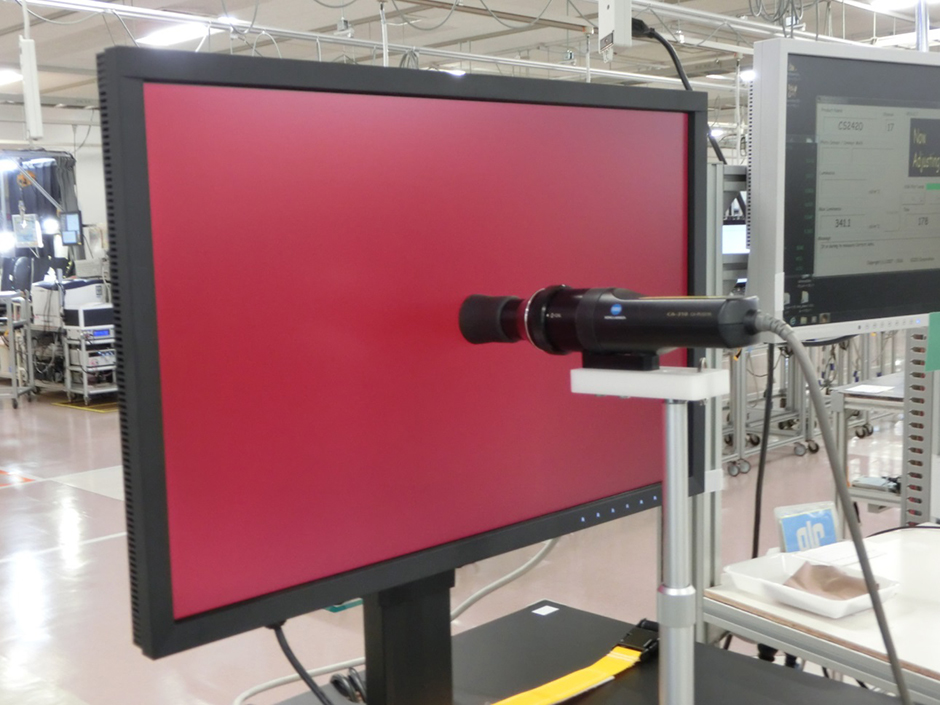 Calibration is a method by which a monitor's display characteristics are adjusted to a target value using a dedicated sensor, or colorimeter. While the quality of the monitor and its display characteristics are integral to ensuring color precision, consideration must also be made for the quality of the sensor used to calibrate the monitor prior to deployment to user environments. "Precision" means that the monitor and the sensor meet specific international standards set forth by the industry to achieve consistent results.

Each ColorEdge monitor undergoes rigorous quality control during production and is individually adjusted in-house using one of the color industry's highest end, professional spectrophotometers. The human perception of color varies greatly depending on several factors such as ambient lighting, surrounding color, angle of observation, and individual optical variances. Using a high-quality sensor to adjust the monitors to meet certain color standards ensures consistency by minimizing the effect these variables have in the measurement results. EIZO's factory uses sophisticated machinery in its production line to automatically carry out calibration for each monitor in a controlled environment. The sensor is placed directly over the monitor and red (R), green (G), and blue (B) gamma values are measured from 0 – 255. Then the monitor's 16- or 24-bit LUT (look-up-table) is used to select the 256 most appropriate tones from trillions of perceivable colors to achieve the smoothest color gradations. This results in an image without deviated steps.
| | | |
| --- | --- | --- |
| |   | |

2.Careful Measurement of Multiple Points Across the Screen
LCD monitors commonly exhibit fluctuations in brightness and chromaticity across the screen, which affects color precision. To counter this, EIZO also measures and adjust multiple points on each monitor to achieve stable brightness and chromaticity across the entire screen and correct deviations using its patented digital uniformity equalizer (DUE) technology. DUE controls the tone values pixel-by-pixel across the monitor for evenly distributed luminance.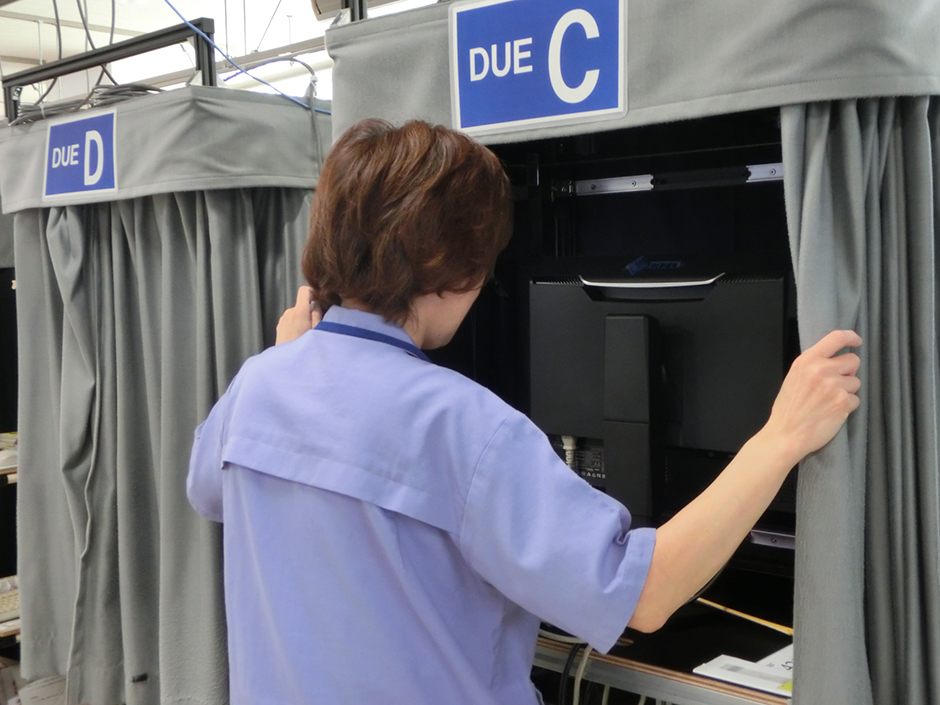 Image for illustrative purposes only.