RadiForce MX243W | EIZO

24.1" Color LCD Monitor
24.1-inch widescreen medical monitor with DICOM Part 14 calibration
for viewing medical images.
Features
Specifications
Documents Compatibility
Graphics Boards
QC Software & Tools Accessories
Comfortable Use, Convenient Connectivity

View More with Widescreen
The monitor has a resolution of 1920 x 1200 pixels and 16:10 aspect ratio. This provides more space for comfortably working with images, tool palettes, and other windows compared to conventional square monitors.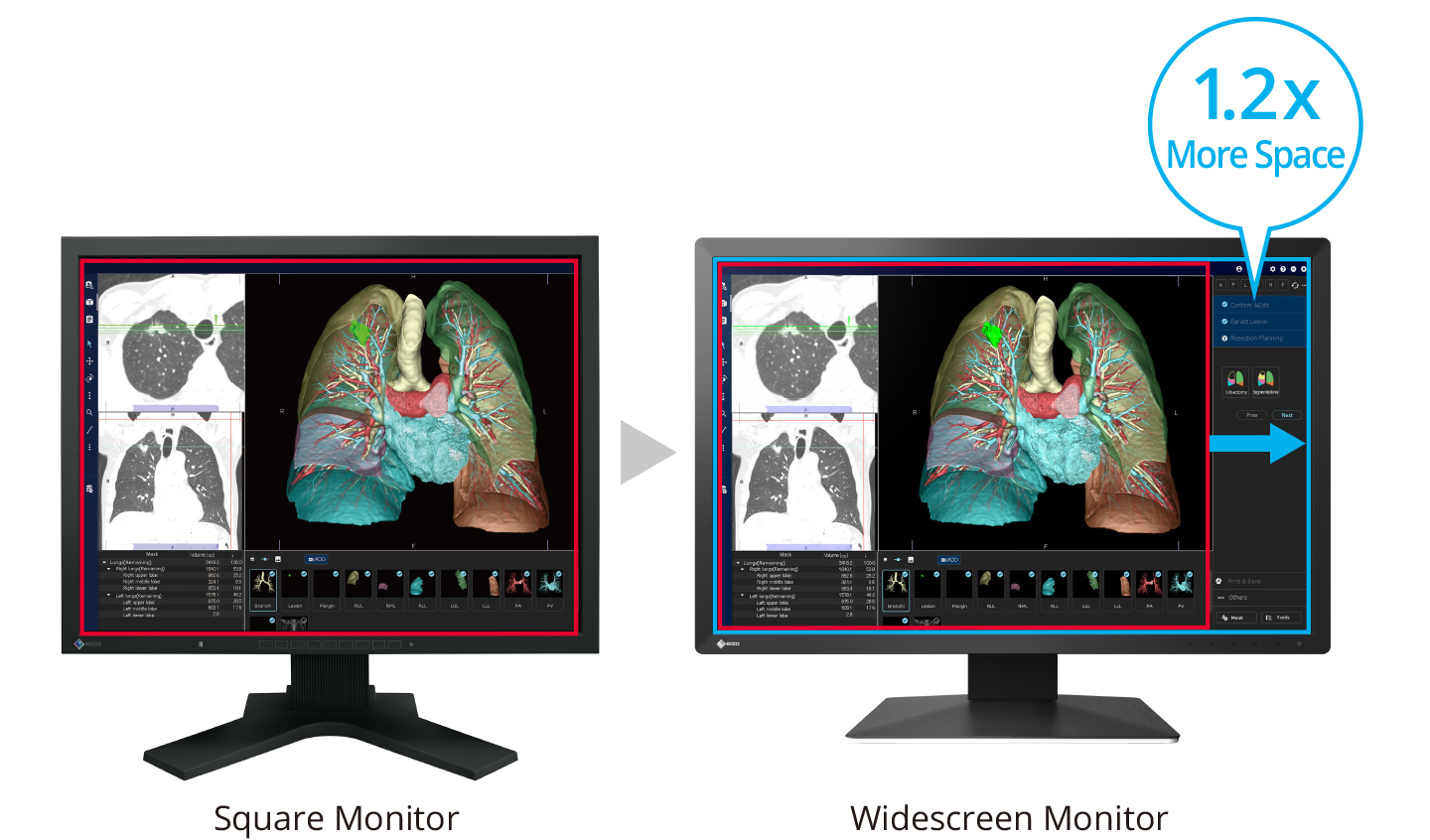 Elegant Cabinet Design
The monitor's cabinet is designed with rounded corners and elegant curves on the back to present a gentle aesthetic and facilitate a comforting environment for patients and medical staff.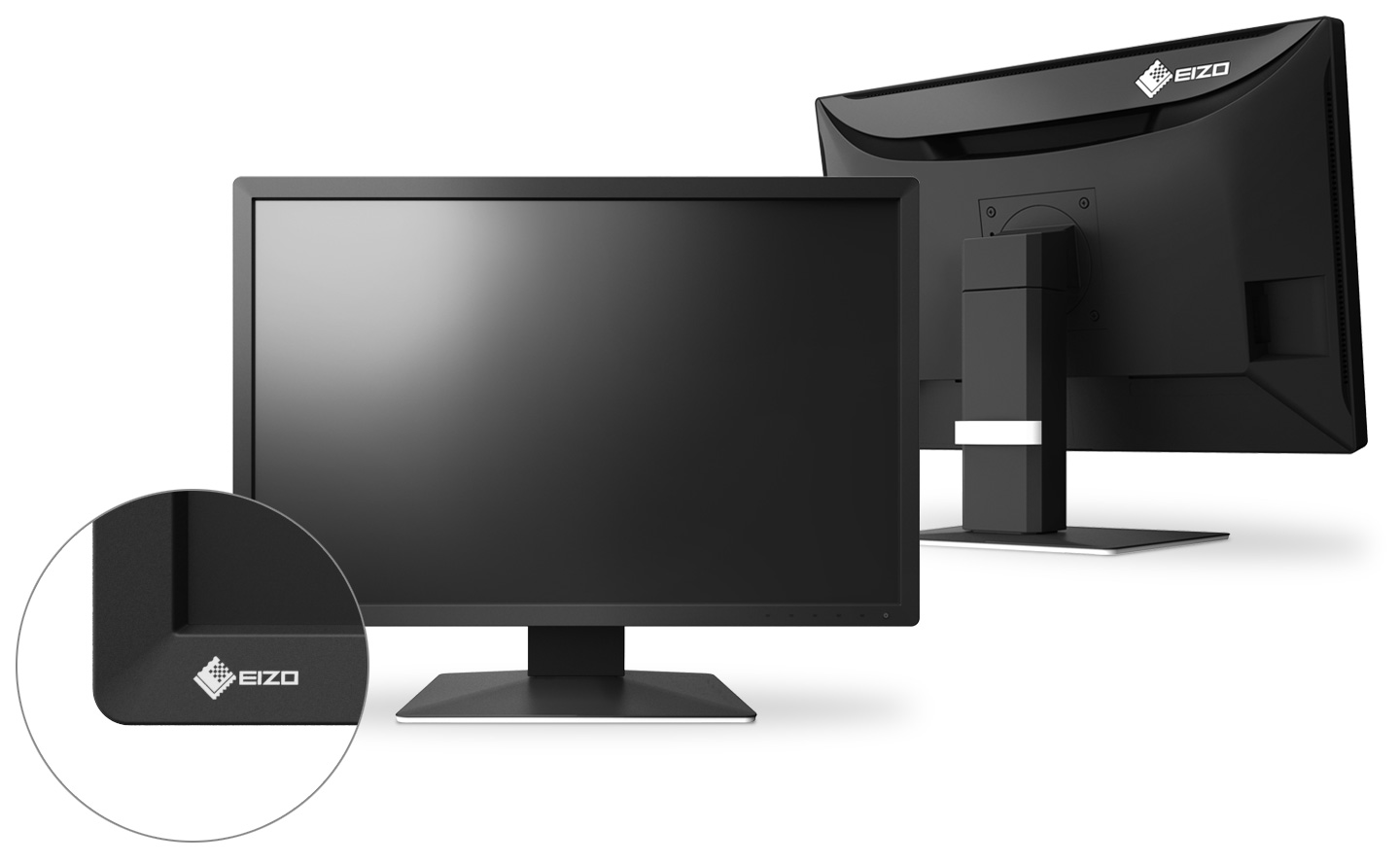 Save Work Space with Sleek Cabinet Design
With the new monitor cabinet and stand design, compared to its predecessor, the monitor's width and depth are reduced by 23 mm and 45 mm respectively. This results in a monitor that takes up 24% less space, giving you more room for other tasks.
Hassle-Free Multi-Monitor Configuration
Using the DisplayPort connection, you can drive several monitors in a daisy chain sequence. This allows you to configure a multi-monitor setup without the complicated hassle of excessive cabling.
A graphics board that supports daisy chain is necessary.
Compatibility between RadiForce monitors using DisplayPort daisy chains

Select the Ideal Mode for Modalities
The CAL Switch function allows you to choose various modes for different modalities such as CR, CT, and endoscopy. Using the bundled RadiCS LE software, modes can be set to automatically switch to optimal image viewing conditions.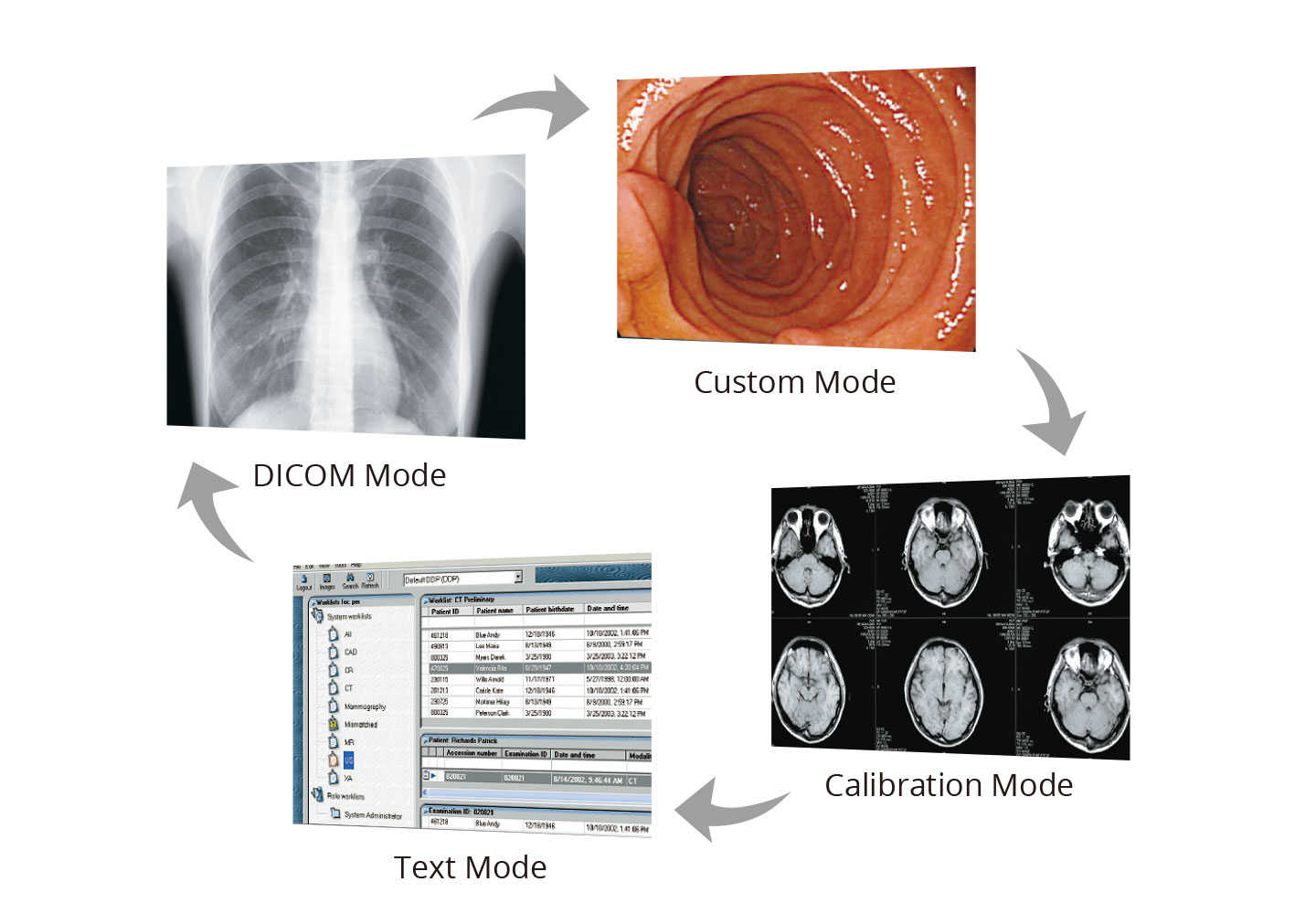 High Fidelity Images for Peace of Mind
Display Both Monochrome and Color

The Hybrid Gamma PXL function automatically distinguishes between monochrome and color images pixel by pixel, creating a hybrid display where each pixel has optimum grayscale.

As a result, monochrome images such as CR and DR are displayed in the ideal grayscale that corresponds to DICOM Part 14, while color images such as those used in endoscopy, nuclear medicine, 3D rendering, and fusion imaging are faithfully reproduced corresponding to Gamma 2.2. This improves the efficiency of viewing both monochrome and color images together on one screen.

Visual Assessment

The Kumamoto Chuo Hospital, Japan, conducted a visual assessment of the Hybrid Gamma PXL function included on the RadiForce monitor. Approximately a 37% improvement was noted when comparing the use of a color monitor with Hybrid Gamma PXL to one without it. In addition, Hybrid Gamma PXL was found to operate equally as well as monochrome monitors with GSDF when displaying monochrome images.
 

See the White Paper "The Advantages of Hybrid Gamma PXL" [PDF]
Achieve Clarity True to the Source Data
A medical monitor needs to be capable of high brightness in order to meet performance standards. However, in order to achieve high brightness in an LCD panel, the pixel aperture ratio has to be increased. This causes a typically unavoidable decline in sharpness. With EIZO's unique Sharpness Recovery technology, the decrease in sharpness (MTF) is restored. This allows you to display an image that is true to the original source data safely on the monitor, even at high brightness levels.

MTF measures numerically how faithfully the panel transfers detail from the original image data for viewing. When Sharpness Recovery is turned on, in the case of a 2 pixel line pair (spatial frequency of 0.926 cycles/mm) the MTF increases by over 50%.

Make the Precise Diagnosis

EIZO carefully measures and sets the grayscale at the factory to ensure each monitor is compliant with DICOM Part 14. Furthermore, at startup or upon wakeup, the EIZO patented drift correction function quickly stabilizes the brightness level and compensates the brightness fluctuations caused by the ambient temperature and the passage of time, allowing medical images to be faithfully reproduced with stable brightness and grayscale.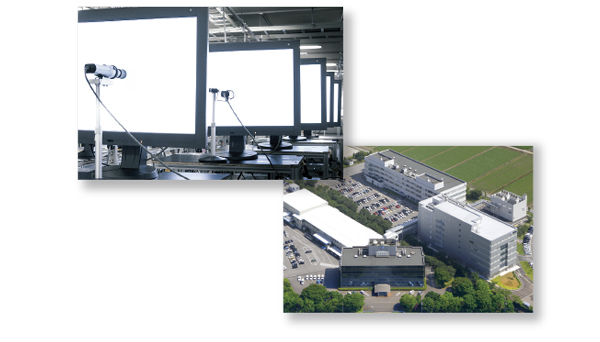 Rest Assured with Image Consistency
Maintain the Precision
Perform a simplified calibration compliant with DICOM Part 14 using the bundled RadiCS LE quality control software. RadiCS LE corrects the brightness and grayscale tones of the monitor to maintain image accuracy and consistency over time.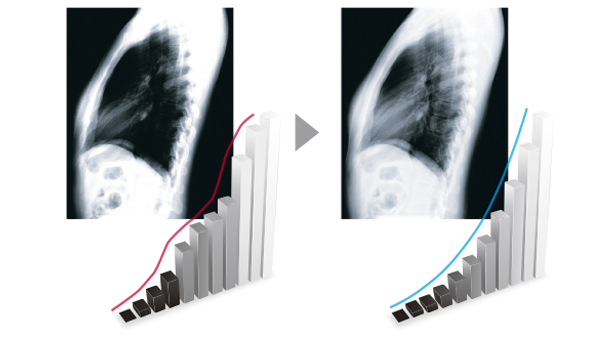 Stay Confident with Stable Brightness
EIZO's confidence in its product quality extends to brightness stability which is also covered during the usage time specified in the warranty.
Warranty with Safety and Trust
EIZO and its authorized distributors offer a five-year limited warranty.
Care for the Environment

Conserve to Preserve
The monitor is made of approximately 19% recycled plastic. This cuts down on the amount of plastic waste going into the environment, conserves resources, and promotes reuse of materials for preserving our natural ecosystems.

Cushioning Environmental Impact

EIZO is moving away from using plastic and styrofoam in its packaging to reduce environmental impact. The monitor is safely packed using molded pulp, which is made from recycled cardboard and newspaper, and cables are wrapped in environmentally friendly pulp sheet instead of plastic bags.

We also implement  following  initiatives:
Partial use of halogen-free PCBs (printed circuit board)
Our Contribution to SDGs
| | | |
| --- | --- | --- |
| As part of its sustainability initiatives, EIZO is contributing towards the United Nations' Sustainable Development Goals (SDGs). |   | |
Supporting a Healthy Life
Starting with our message "Making Each Life Visual", we aim to support optimal medical care for each and every individual through accurate diagnosis and treatment afforded by our innovative healthcare technologies.
 


 
 
 
Environmentally Conscious
Our healthcare products are designed to promote energy efficiency for reduced power consumption and greenhouse gas emissions, while maintaining the high performance and functionality needed in healthcare. We also implement a responsible after-service recycling system.
 


Model Variations
MX243W-BK: with stand, black
Panel
 
Type
Color (IPS)
Backlight
LED
Size
24.1" (61 cm)
Native Resolution
1920 x 1200 (16:10 aspect ratio)
Viewable Image Size (H x V)
518.4 x 324.0 mm
Pixel Pitch (H x V)
0.270 x 0.270 mm
Display Colors
10-bit (DisplayPort): 1.07 billion from a palette of 543 billion (13-bit) colors
8-bit: 16.77 million from a palette of 543 billion (13-bit) colors
Viewing Angles (H / V, typical)
178° / 178°
Brightness (typical)
410 cd/m2
Recommended Brightness for Calibration
220 cd/m2
Contrast Ratio (typical)
1350:1
Response Time (typical)
22 ms (black-white-black)
Video Signals
 
Input Terminals
DisplayPort, DVI-D
Output Terminals
DisplayPort (daisy chain)
Digital Scanning Frequency (H / V)
31 - 76 kHz / 59 - 61 Hz
USB
 
Upstream
USB 2.0: Type-B
Downstream
USB 2.0: Type-A x 2
Power
 
Power Input
AC 100 - 240 V: 50 / 60 Hz
Typical Power Consumption
26 W
Maximum Power Consumption
56 W
Power Save Mode
0.6 W or less
Sensor
Backlight Sensor
Features & Functions
 
Brightness Stabilization
Yes
Digital Uniformity Equalizer
Yes
Hybrid Gamma PXL
Yes
Work-and-Flow
Point-and-Focus
Preset Modes
CAL Switch (DICOM, CAL1, CAL2, Custom, sRGB, Text)
OSD Languages
English, German, French, Italian, Japanese, Simplified Chinese, Spanish, Swedish, Traditional Chinese
Physical Specifications
 
Net Weight
7.8 kg
Net Weight (Without Stand)
4.9 kg
Hole Spacing (VESA Standard)
100 x 100 mm
Certifications & Standards (Please contact EIZO for the latest information.)
CE / UKCA (Medical Device), ANSI/AAMI ES60601-1, CAN/CSA-C22.2 No. 60601-1, IEC/EN60601-1, VCCI-B, FCC-B, CAN ICES-3 (B), RCM, RoHS, China RoHS, WEEE, CCC, EAC
FDA
510(k) Clearance for General Radiography
Dedicated Software
 
Monitor Quality Control Software RadiCS
Supported
Supplied Accessories (May vary by country. Please contact EIZO for details.)
 
Signal Cables
DisplayPort (3m)
Others
AC power cord (3 m), USB Type-A - USB Type-B cable (3m), Utility Disk (RadiCS LE, PDF instructions for use, PDF installation manual), instructions for use
Warranty
5 Years
Dimension Drawing
PDF
Brochures
Manuals
Please note that you must be a registered user to download RadiForce relevant files. If you have not registered, please continue on to our registration page*. If you have forgotten your User ID or Password, please send us an e-mail.
* This user registration form is a CRM web marketing tool provided by Tricorn Corporation called KREISEL. By clicking on the form, you will be forwarded to the KREISEL page.
| | | | |
| --- | --- | --- | --- |
| MX243W Instructions for Use | English | 625 KB | |
| MX243W Installation Manual | English | 2.45 MB | |
| MX243W Instructions for Use | German | 631 KB | |
| MX243W Installation Manual | German | 2.45 MB | |
| MX243W Instructions for Use | French | 633 KB | |
| MX243W Installation Manual | French | 2.45 MB | |
| MX243W Instructions for Use | Russian | 645 KB | |
| MX243W Installation Manual | Russian | 2.47 MB | |
| MX243W Instructions for Use | Italian | 609 KB | |
| MX243W Instructions for Use | Czech | 611 KB | |
| MX243W Instructions for Use | Swedish | 606 KB | |
| MX243W Instructions for Use | Chinese-Simplified | 1.43 MB | |
| MX243W Installation Manual | Chinese-Simplified | 2.64 MB | |
| MX243W Instructions for Use | Chinese-Traditional | 942 KB | |
| MX243W Installation Manual | Chinese-Traditional | 2.56 MB | |
| MX243W Instructions for Use | Arabic | 641 KB | |
| MX243W Instructions for Use | Danish | 608 KB | |
| MX243W Instructions for Use | Dutch | 610 KB | |
| MX243W Instructions for Use | Finnish | 606 KB | |
| MX243W Instructions for Use | Greek | 633 KB | |
| MX243W Instructions for Use | Korean | 711 KB | |
| MX243W Instructions for Use | Norwegian | 607 KB | |
| MX243W Instructions for Use | Polish | 615 KB | |
| MX243W Instructions for Use | Portuguese | 610 KB | |
| MX243W Instructions for Use | Spanish | 611 KB | |
| MX243W Instructions for Use | Turkish | 607 KB | |
| MX243W Instructions for Use | Estonian | 605 KB | |
| MX243W Instructions for Use | Latvian | 610 KB | |
| MX243W Instructions for Use | Lithuanian | 609 KB | |
| MX243W Instructions for Use | Romanian | 611 KB | |
| MX243W Instructions for Use | Slovak | 615 KB | |
| MX243W Instructions for Use | Slovene | 604 KB | |
| MX243W Instructions for Use | Hungarian | 611 KB | |
| MX243W Instructions for Use | Bulgarian | 626 KB | |
| MX243W Instructions for Use | Croatian | 606 KB | |
Compatibility
Quality Control Software & Tools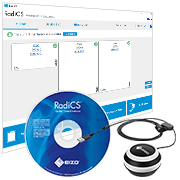 - Quality Control Software
- UX2 Calibration Sensor bundled
Quality Control Software & Tools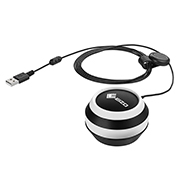 - Quality Control External Calibration Sensor
Comfort Light for Reading Rooms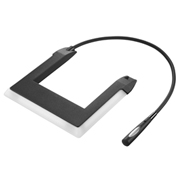 - Comfort Light for Reading Rooms

Arms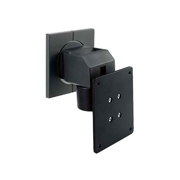 35° up tilt and 180° swivel wide adjustment range

Mounting Bracket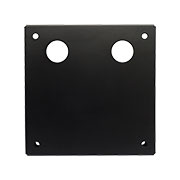 VESA mounting plate for attaching an IP decoding box to certain FlexScan monitors using VOP-01

Monitor Cleaning Kit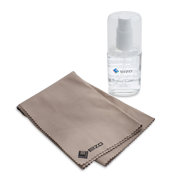 - Keep your screen free from dust and fingerprints
- Includes pump spray and cloth
Contact EIZO
EIZO Inc.
Address:
5710 Warland Drive, Cypress, California 90630
Telephone:
(+1) 562 431 5011