ColorEdge CG2700X | EIZO

27.0" Color Management LCD Monitor
Dive Straight into Your Creativity
This flagship 27-inch monitor marks a new generation of ColorEdge with a new exterior design. With 4K UHD (3840 x 2160) resolution, 500 cd/m2 high brightness, and HDR gamma support, the monitor reproduces content in remarkable detail. USB Type-C connectivity provides a streamlined experience so professionals in video editing, game development, photography, and more can focus on creating.
Features
Specifications
Documents Compatibility
Accessories
Awards & Reviews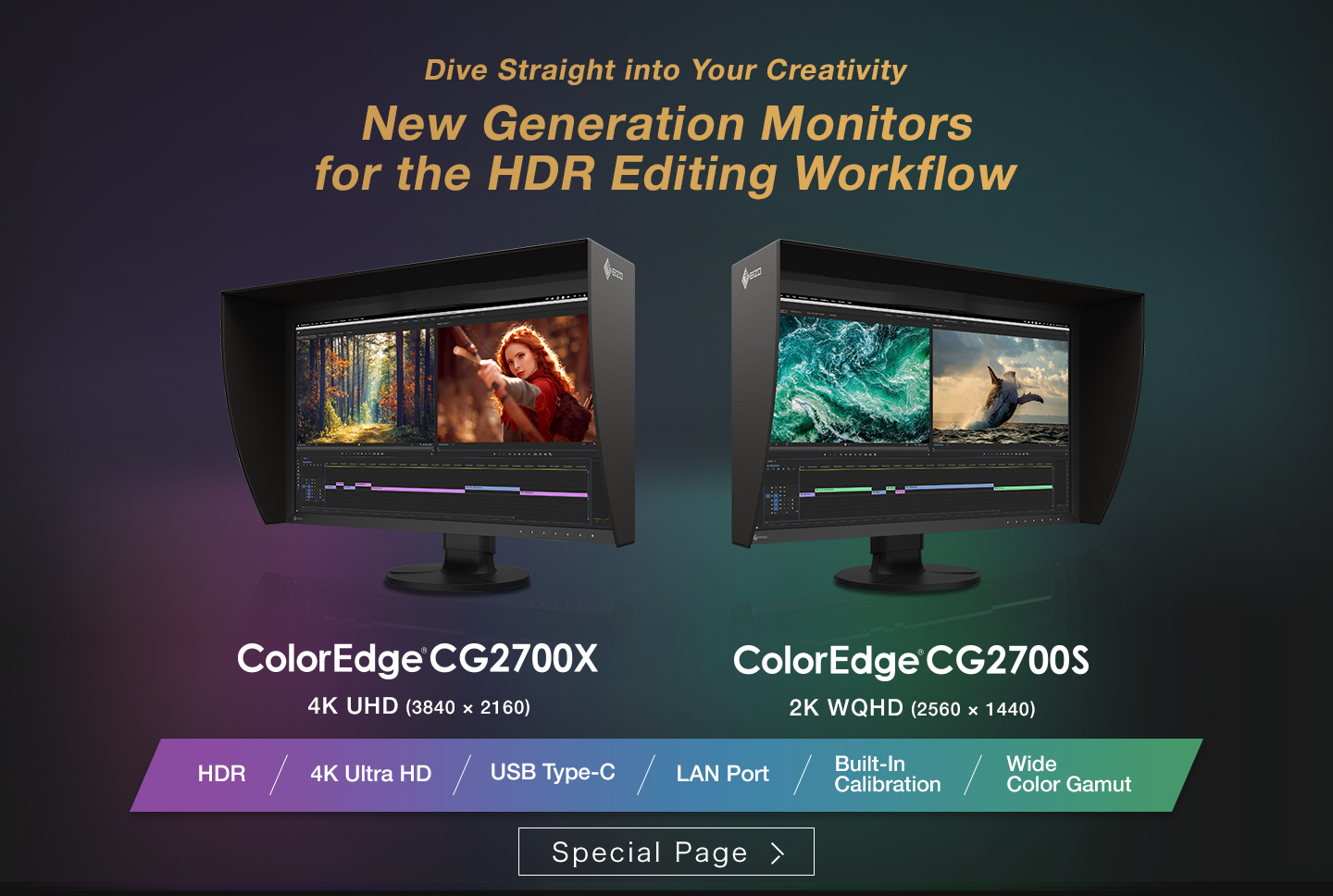 The ColorEdge CG2700X is one of the flagship models for the latest generation of ColorEdge color management monitors. It features HDR gamma support, USB Type-C connectivity, a built-in calibration sensor, and a new cabinet design.
4K UHD Resolution
The ColorEdge CG2700X displays at 4K UHD (3840 x 2160) resolution, which is four times the size of Full HD. The remarkable detail ensures that high resolution content is displayed crisply. The 27-inch screen provides ample space for displaying 4K content natively or  Full HD content in full with enough space to show toolbars, palettes, and other windows or applications. This makes the monitor versatile for video editing, 3DCG creation, game development, photography, and other creative fields.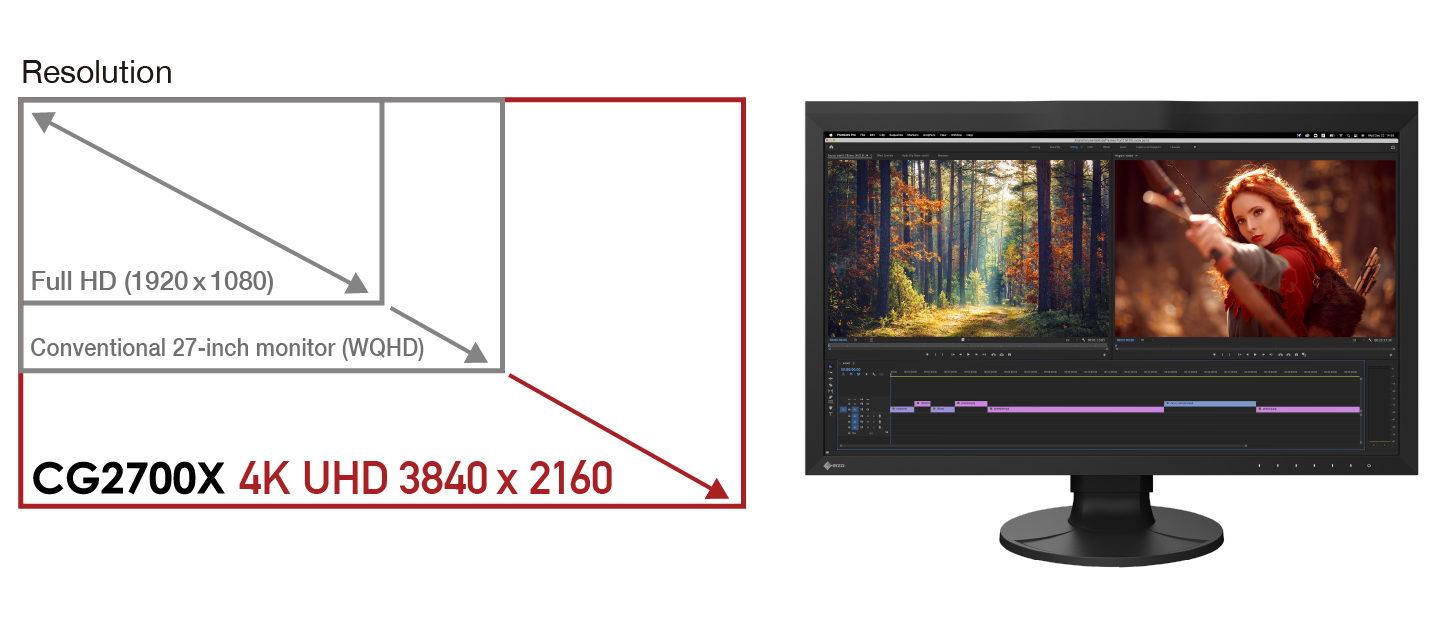 Streamlined Connection
Single Cable Connection with USB Type-C
The ColorEdge CG2700X features USB Type-C connectivity that allows you to display video, transmit USB signals, and supply power to a connected device such as a tablet or notebook PC. This convenient multi-purpose connectivity makes it faster and easier to connect when moving between workstations or working remotely.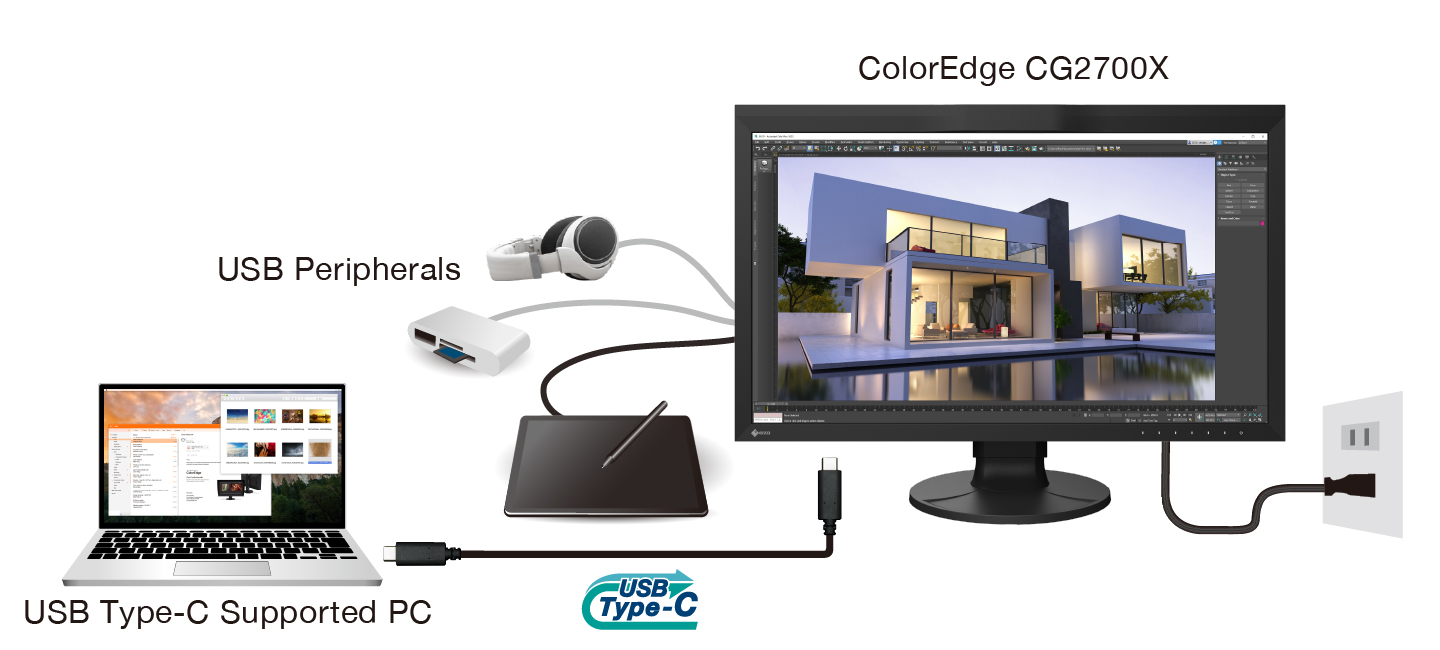 Power Delivery
The ColorEdge CG2700X reliably charges a MacBook Pro or other high-end laptops with 94 W power delivery. This eliminates the need for a laptop's bulky power supply unit, freeing up space in your bag and on the desk.

Stable Network Connection
While many modern laptops are not equipped with a dedicated LAN port, the monitor has one directly built in for stable wired connection. Connecting a laptop via USB Type-C provides access to the network through the monitor for sharing creative assets and files, carrying out post production work remotely, and enables network-based color management via ColorNavigator Network.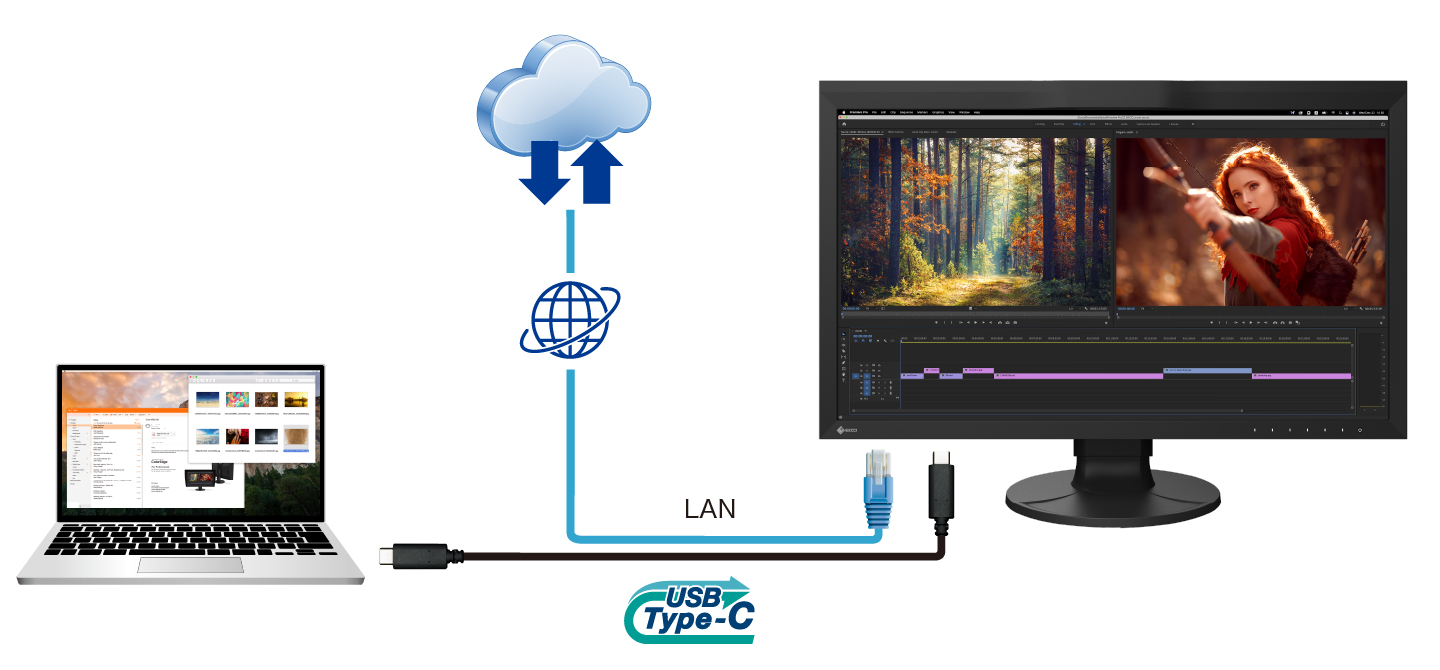 Reliable Color Management
Built-In Sensor to Automate Your Workflow
| | |
| --- | --- |
| ColorEdge were the first monitors in the world to have a built-in calibration sensor for color critical applications. The ColorEdge CG2700X's built-in sensor can be set to calibrate the monitor automatically at designated times. This eliminates the need for a third-party calibration device and ensures your screen stays color-accurate. In addition, the sensor swings onto the screen, taking up minimal space and allowing you to continue working even during calibration. | |
EIZO does not recommend carrying out color-critical work during recalibration, as the screen's colors will be adjusted.
See why EIZO's Academy Award winning technology achieves accurate color and consistent image quality.
ColorNavigator 7 Color Management Software
A monitor needs to be calibrated at regular intervals to maintain color accuracy. EIZO's proprietary ColorNavigator 7 software provides an intuitive and highly precise solution to color management. It allows you to schedule automatic recalibration, calibrate all color modes simultaneously, and conduct correlation with external sensors to match the studio's internal color management framework. Calibration information is saved to the monitor instead of the operating system so users do not have to recalibrate even when using a different PC.
ColorNavigator Network Color Management Software
ColorNavigator Network provides centralized quality control (QC) of ColorEdge monitors for studios, printing houses, and other enterprises with multiple creators and editors who work on shared projects. With NetAgent or ColorNavigator 7 installed on the workstation, administrators can manage multiple ColorEdge monitors via web browser enabling quality control even from remote locations. ColorNavigator Network is hosted on a secure cloud server to free you from the initial investment and running costs of providing your own server.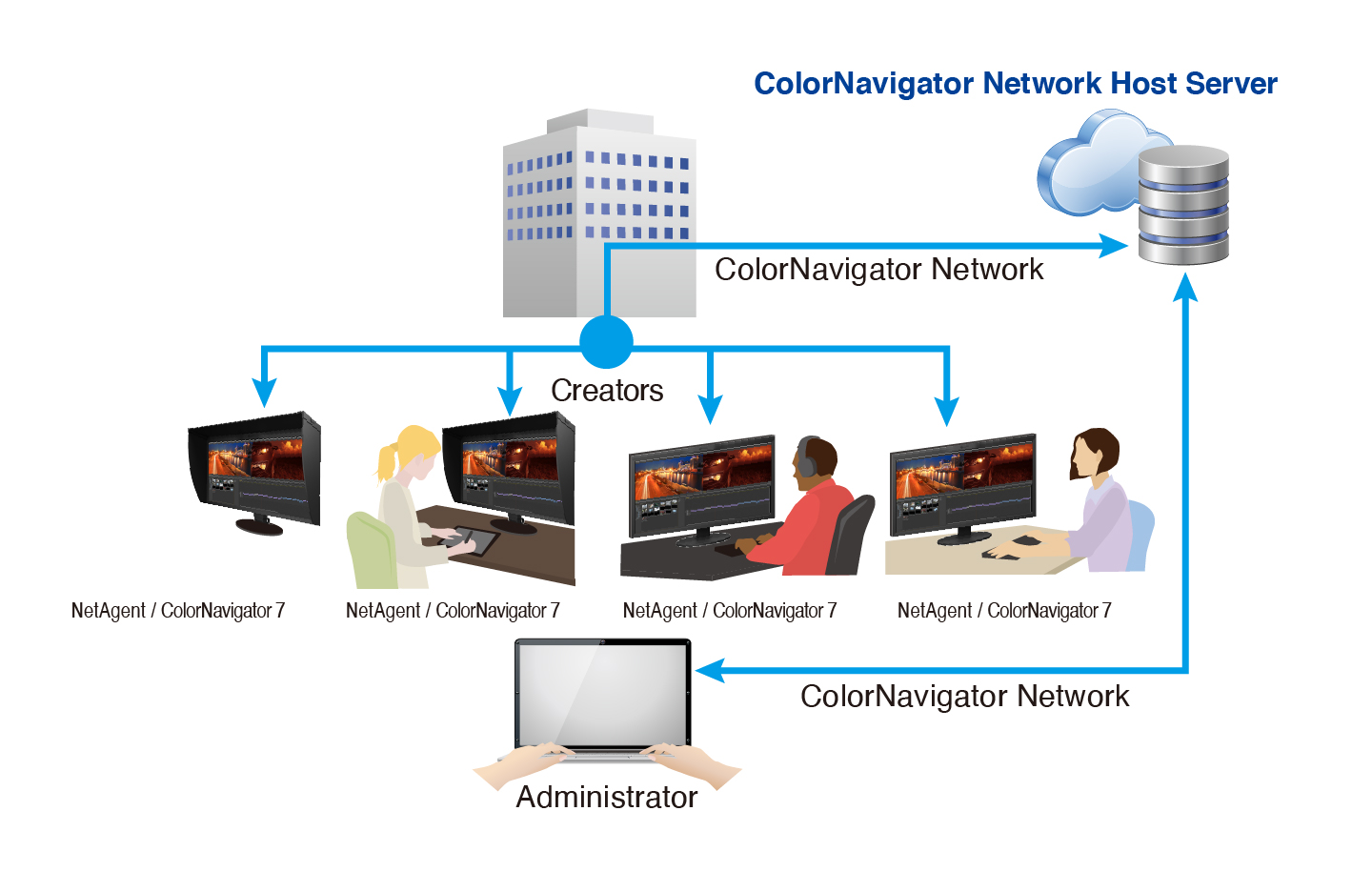 More about ColorNavigator Network
Color Precision
Vivid Colors Reproduced to Industry Standards

The monitor's wide color gamut faithfully reproduces 98% of the DCI-P3 standard used in digital cinema and supports the BT.2020 standard used in broadcasting. In addition, it covers 99% of the Adobe RGB color space so images shot in Adobe RGB will be displayed correctly. It also covers almost the entire ISO-coated and US web-coated CMYK color spaces used in printing.

3D LUT for Accurate Color Display

The monitor uses a 3D LUT which adjusts colors individually on an RGB cubic table. With the supported ColorNavigator 7 software's emulation function, creators can check how content will appear to their audience. The 3D LUT also improves the monitor's additive color mixture (combination of RGB), which is a key factor in its ability to display neutral gray tones.

10-Bit Simultaneous Display

Using the DisplayPort or HDMI input, the ColorEdge monitor offers 10-bit simultaneous display* from a 16-bit look-up-table (LUT) which means it can show more than one billion colors simultaneously. This is 64 times more colors than you get with 8-bit display, resulting in smooth color gradations and reduced Delta-E between two adjacent colors.

*A graphics board and software which support 10-bit output are also necessary for 10-bit display. Equipment that supports DeepColor is required for 10-bit display when connected via HDMI.

Broadcast and Cinema Presets

Preset modes for DCI-P3, BT.709, and BT.2020 ensure you can work in the appropriate color spaces and gamma values. In addition, preset modes for PQ (DCI and BT.2100) and HLG (BT.2100) are available for viewing HDR content. With the built-in calibration sensor, you can conveniently adjust or maintain the brightness setting for each preset.
Post Production
HDR Gamma Support
The ColorEdge CG2700X features a high brightness level of 500 cd/m2. It supports HLG (hybrid log-gamma) and the PQ (perceptual quantization) curve for displaying and editing HDR (high dynamic range) video content. The optimized gamma curves render images to appear more true to how the human eye perceives the real world compared to SDR (standard dynamic range). This ensures professional creators can reliably display HDR content for editing and color grading.

Image for illustrative purposes only.
Learn more about HDR technology.
True Black Display

In compliance with the DCI standard, the monitor offers a high contrast ratio of 1450:1* for producing true blacks that are otherwise difficult to display on a typical LCD monitor. CG Series monitors are also equipped with a retardation film which allows tones to retain their depth even when viewed from an angle.

*Typical value when DUE Priority is set to "Brightness".
DCI-4K Cropping
The DCI 4K Cropping function allows the user to display a DCI 4K (4096 x 2160) signal and crop content outside the bounds of the panel's native 4K UHD (3840 x 2160) resolution. Users can select from three options that determines which part of the image is cropped.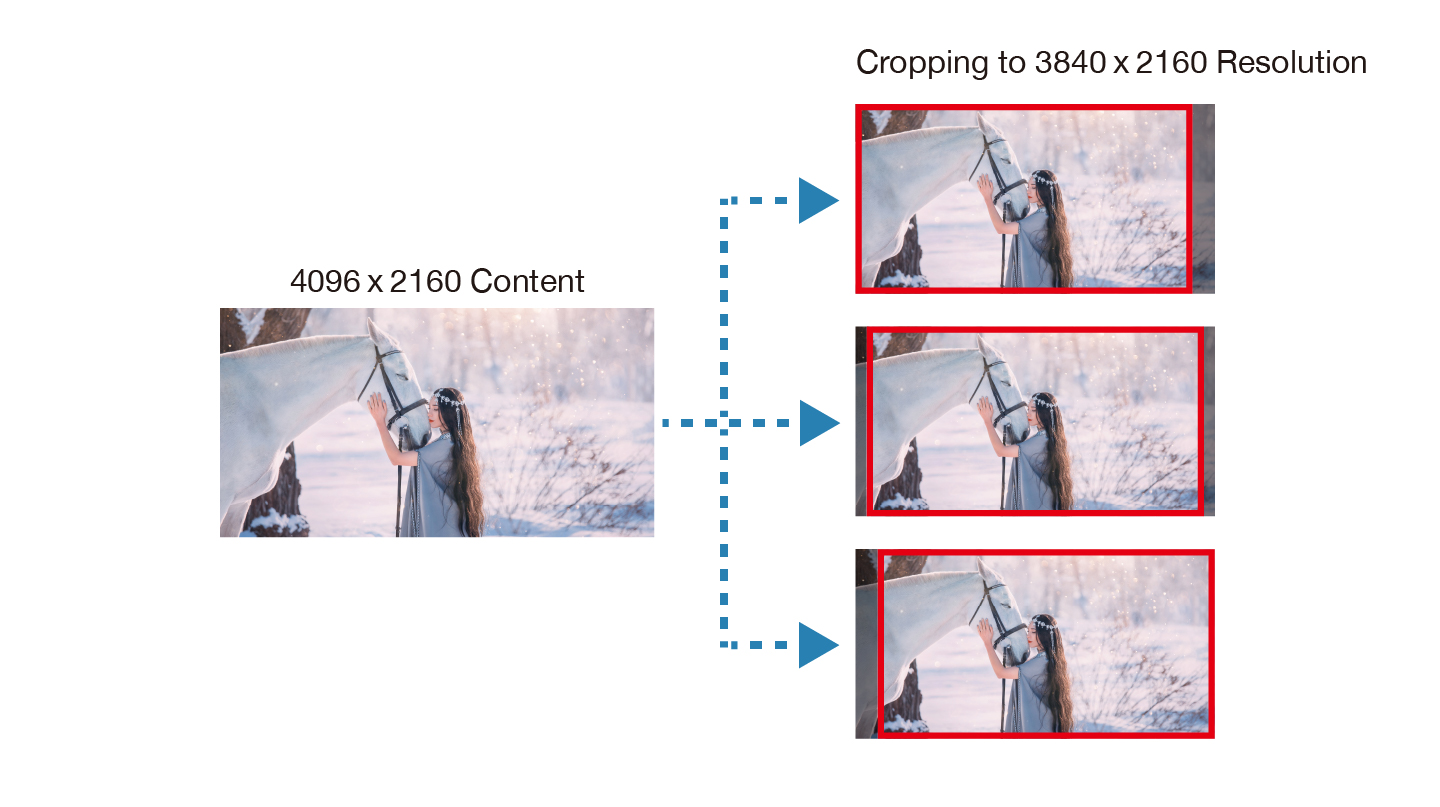 Nearest Neighbor Interpolation
The ColorEdge CG2700X offers Nearest Neighbor interpolation setting as an option for image scaling and resampling. When upscaling, Nearest Neighbor copies and aligns pixels to the closest adjacent position, maintaining color fidelity. When Nearest Neighbor is turned off, the monitor uses an interpolation method that balances gradation of the surrounding pixels for smooth color tone. Editors can easily choose the interpolation method best suited to the project via the monitor's OSD menu to ensure content looks as intended when upscaling to 4K.
 
Luminance Warning
The monitor includes a function that shows the areas of the image that cannot be displayed correctly at the current brightness settings. These areas are marked in yellow or magenta and can be viewed for brightness levels of 300, 500, 1000, and 4000 cd/m2.

4K Zoom
Enlarge areas of the screen to confirm small details and check focus accuracy in images using the 4K zoom function. It is quickly and easily accessible using the monitor's front buttons.

BT.709 Out of Gamut Warning
The monitor includes a Gamut Warning preset that when selected, indicates areas of a BT.2020 image that cannot be reproduced using BT.709 by converting them to shades of gray. An additional mode called BT.709 Clipping allows the editor to view BT.2020 images within the BT.709 color space, simulating how it would look to their audience in an HDTV environment.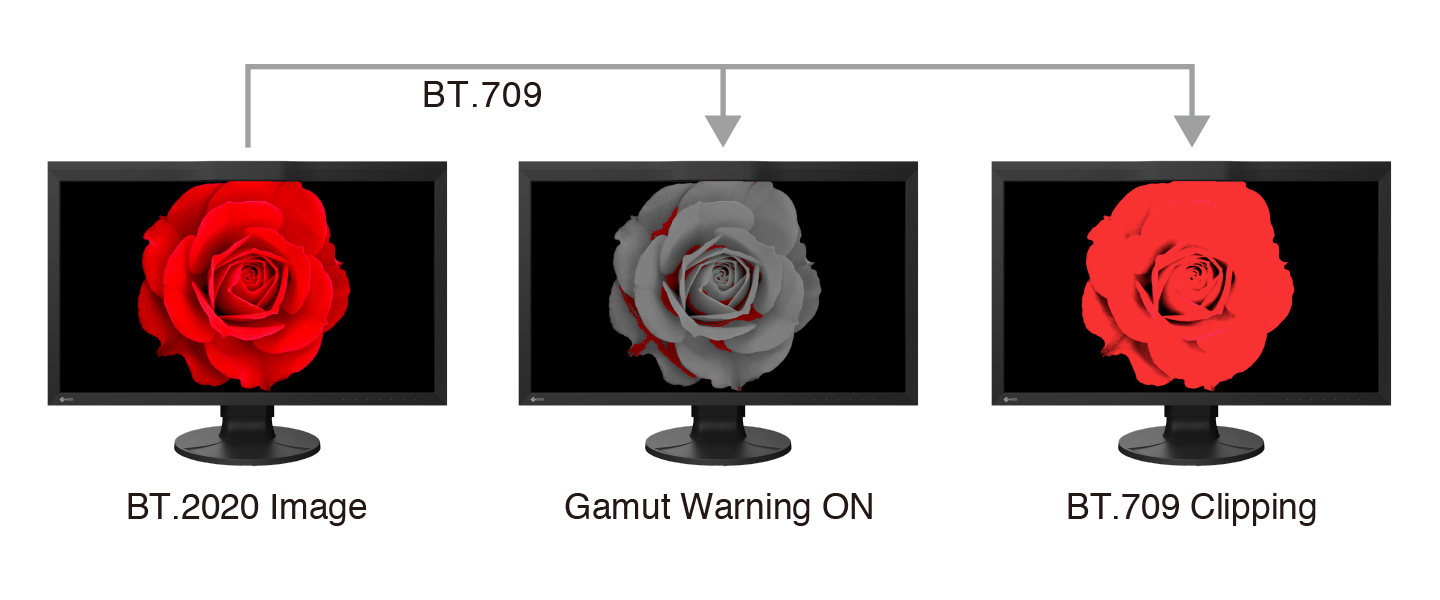 Automatic Color Settings
To ensure color settings stay consistent throughout production, the monitor includes a Sync Signal function which automatically adjusts the monitor's settings, such as input range and input color format, according to the video signal.
Stable Image Display
Adjusted at the Factory for Smooth Color Gradations
The gamma level for each ColorEdge monitor is adjusted at the factory by measuring the R, G, and B gamma values from 0 - 255, then using the monitor's 16-bit look-up-table (LUT) to select the 256 most appropriate tones and achieve the desired value. This ensures the smoothest color gradations in your images.

Stable Color in Just 3 Minutes

A typical monitor takes 30 minutes or more for its brightness, chromaticity, and tone characteristics to stabilize. The ColorEdge CG2700X takes a mere 3 minutes. Whether you are working in a studio or taking the monitor with you on location, you get reliable color display soon after turning the monitor on.
Stable Display Using Industry-First AI
The color and brightness of an LCD monitor can shift due to changes in ambient temperature and the temperature of the monitor itself. ColorEdge CG Series monitors are equipped with a temperature sensor for accurately measuring the temperature inside the monitor, as well as estimating the temperature of the surrounding environment. With this temperature sensing and estimation technology, the monitor adjusts in real-time so gradations, color, brightness, and other characteristics continue to be displayed accurately. Furthermore, EIZO uses AI (artificial intelligence)* in the estimation algorithm of the CG2700X so it can distinguish between various temperature changing patterns to calculate even more accurate correction.

*Patent no. 6723964

Read more about image quality stabilization in our White Paper.
Uniformity Across the Screen
LCD monitors commonly exhibit fluctuations in brightness and chromaticity across the screen, affecting color accuracy. To counter this, ColorEdge monitors are equipped with EIZO's patented digital uniformity equalizer (DUE) technology which corrects deviations in every tone across the screen to ensure stable display.

Design and Comfort
Punched Metal Design
The ColorEdge CG2700X's sleek, new design incorporates punched metal on the back side that allows for more airflow, keeping the monitor cool without a noisy fan. A carrying handle on the back of the monitor allows you to easily move it to other locations.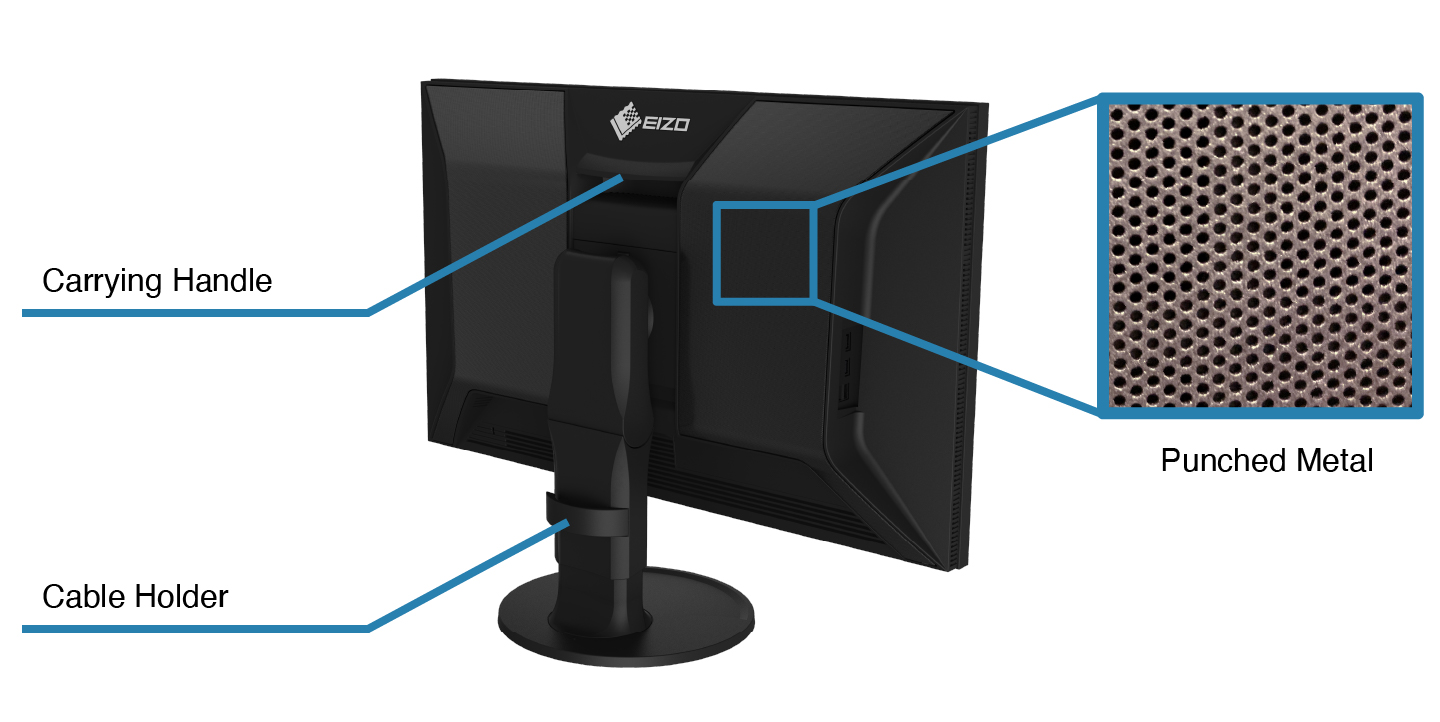 Tap below to see how EIZO fits into your workspace with augmented reality.
Supported Models: iPhone 6s, iPad (5th generation or later)
Supported Browsers: Safari, Chrome

Tap below to see how EIZO fits into your workspace with augmented reality.
Supported Models: ARCore supported Android devices
Supported Browser: Chrome

Scan the QR code using your smartphone or tablet
to see how EIZO fits into your environment with augmented reality.

Supported Models: iPhone 6s, iPad (5th generation or later), ARCore supported Android devices
Supported Browsers: Safari, Chrome
Light Shielding Hood

The ColorEdge CG2700X comes bundled with a light shielding hood that effectively prevents glare on the screen caused by ambient lighting. The hood is newly designed to be lightweight and easily attaches to the monitor magnetically without needing to connect separate parts.
Ergonomic Stand
Adjust the screen to the most comfortable angle and reposition it to show your work to a colleague or client. The monitor comes with a versatile stand that offers height, tilt, and swivel adjustments. The stand is also equipped with a quick release that allows you to easily remove the screen from the stand with a single touch.

Multiple Inputs
In addition to USB Type-C, the monitor is equipped with DisplayPort and HDMI inputs. It also includes four USB ports (USB 3.1 Gen 1: Type A x 2, USB 2.0: Type-A x 2) for connecting additional devices or peripherals.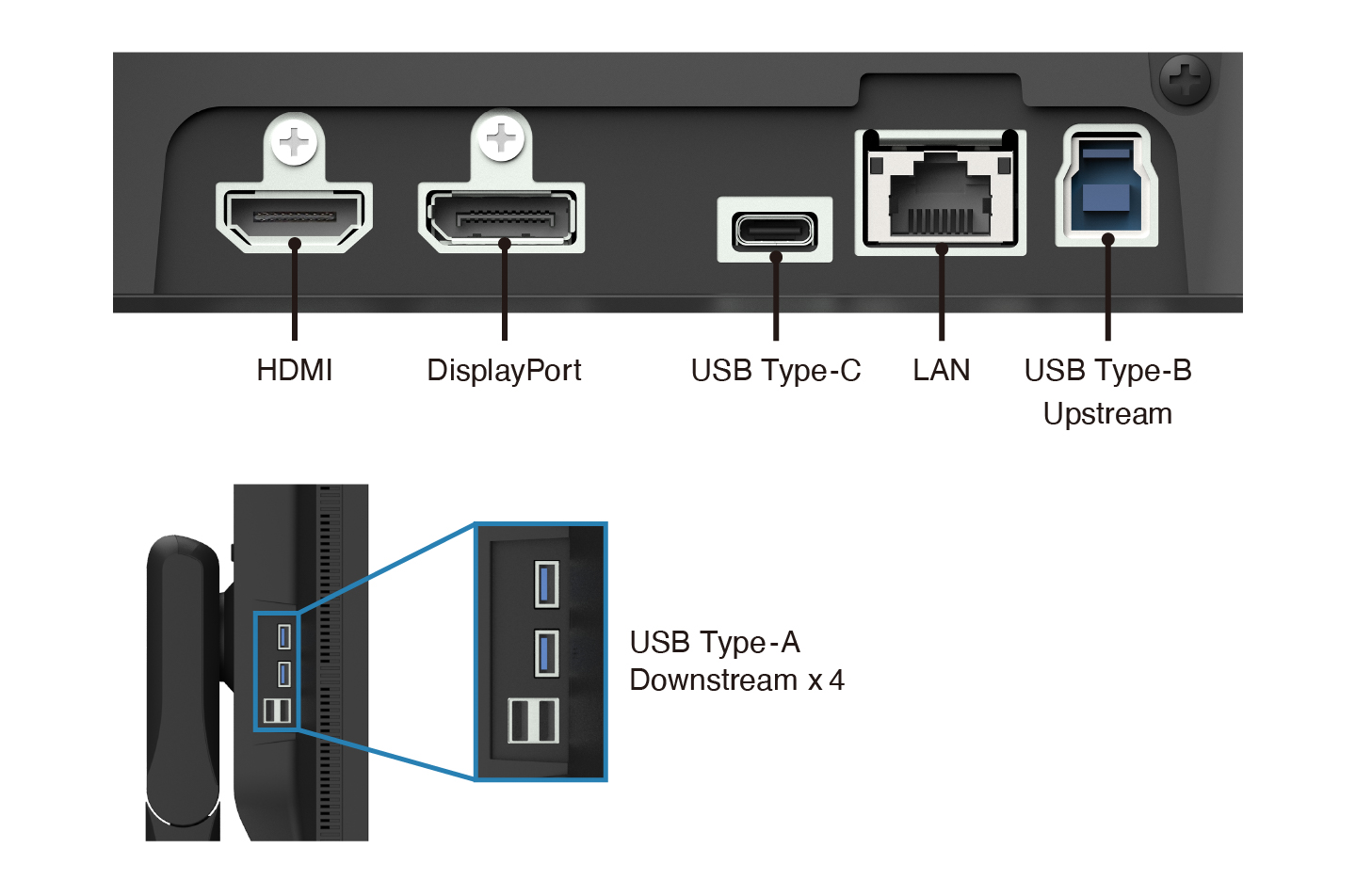 Sustainable Future
Eco-Friendly Cable Packaging
In a shift towards increasingly more sustainable manufacturing practices, the cables included with the monitor are wrapped in environmentally friendly pulp sheet instead of plastic bags.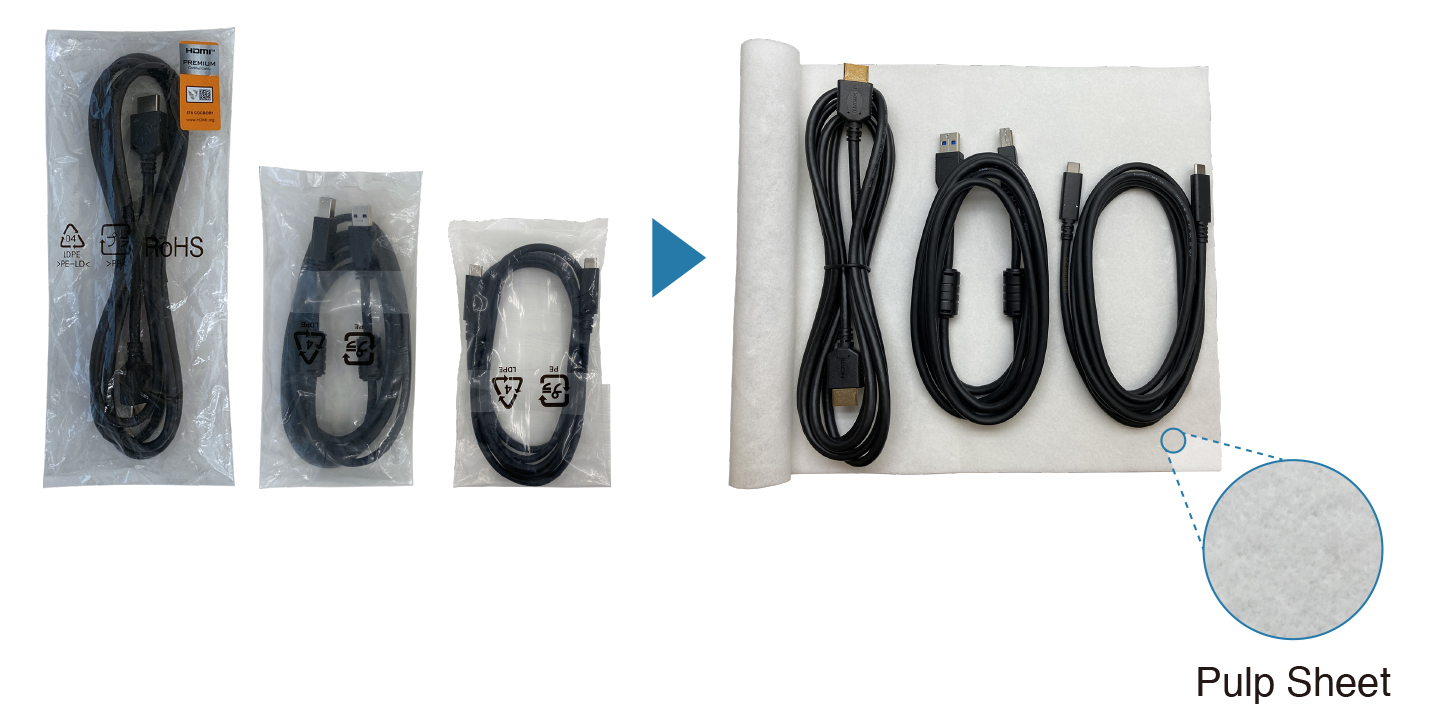 Our Contribution to SDGs
| | |
| --- | --- |
| As part of its corporate social responsibility (CSR) activities, EIZO is contributing towards the United Nations' Sustainable Development Goals (SDGs). | |
Higher Work Efficiency

ColorEdge hardware and software solutions provide high-precision color management to photographers, designers, post production studios, printers, and more. Implementing color management in the workflow ensures the same color information is shared throughout each step of the creative process, streamlining communication between artists and teams, and reducing costly rework.

 



Environmentally Friendly

Our products for creative work are designed to promote energy efficiency for reduced power consumption and CO2 emissions, while maintaining the high performance and functionality needed for creators in every industry. We also implement a responsible after-service recycling system.

 


EIZO's Integrated Report: ESGs, initiatives, strategies, and more.
Commitment to Quality
5-Year Manufacturer's Warranty

ColorEdge monitors are backed by a manufacturer's 5-year warranty that covers all components including the LCD panel*. EIZO manufactures its products at its own factories to allow close control over production quality and ensure each monitor is built to last.
*Usage time is limited to 30,000 hours.
Zero Bright Pixels

EIZO guarantees its ColorEdge monitors will be free from bright sub-pixels for six months from the date of purchase.
See our Bright Pixel Policy for details.
Brightness and Color Warranty
The brightness and color of the ColorEdge CG2700X is warranted for up to 10,000 hours from the date of purchase. When used at a color temperature of 5000 - 6500K, a brightness level of at least 120 cd/m2 is warranted.
ColorEdge Ambassador Program
In 2015, EIZO established the ColorEdge Ambassador Program which showcases professional photographers, designers, filmmakers, and other creatives who are committed to inspiring and educating artists around the world. EIZO's Ambassadors – all of them ColorEdge users – are passionately dedicated to their craft and prepare the best equipment for realizing their creative vision.
To see our ColorEdge Ambassadors, click here.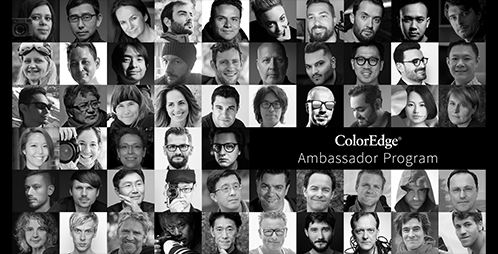 Reference Materials for Furthering Your Creativity
Learn about color management, software and printer settings for optimal screen-to-print matching, and more with free digital resources from EIZO.

Model Variations
CG2700X-BK
Panel
 
Type
IPS
Backlight
Wide-Gamut LED
Size
26.9" (68.4 cm)
Native Resolution
3840 x 2160 (16:9 aspect ratio)
Viewable Image Size (H x V)
596.2 x 335.3 mm
Pixel Pitch
0.155 x 0.155 mm
Pixel Density
164 ppi
Display Colors
1.07 billion colors, 10-bit display (from a palette of 278 trillion, 16-bit LUT)
Viewing Angles (H / V, typical)
178°, 178°
Brightness (typical)
500 cd/m2
Contrast Ratio (typical)
1450:1
Response Time (typical)
13 ms (gray-to-gray)
Color Gamut (typical)
Adobe RGB: 99%, DCI-P3: 98%
Video Signals
 
Input Terminals
USB Type-C (DisplayPort Alt Mode, HDCP 2.3), DisplayPort (HDCP 2.3), HDMI (Deep Color, HDCP 2.3)
Digital Scanning Frequency (H / V)
USB Type-C, DisplayPort: 25 - 137 kHz / 23 - 61 Hz
HDMI: 15 - 135 kHz / 23 - 61 Hz
USB
 
Upstream
USB 3.1 Gen 1: Type-C (DisplayPort Alt Mode, Power Delivery Source 94 W max.), USB 3.1 Gen 1: Type-B
Downstream
USB 3.1 Gen 1: Type-A x 2
USB 2.0: Type-A x 2
USB LAN Adapter
RJ-45 (1000BASE-T)
Power
 
Power Requirements
AC 100 - 240 V, 50 / 60 Hz
Typical Power Consumption
34 W
Maximum Power Consumption
225 W
Power Save Mode
0.5 W or less
Built-in Calibration Sensor
Yes
Features & Functions
 
Brightness Stabilization
Yes
Digital Uniformity Equalizer
Yes
Preset Modes
User, BT.2020, BT.709, DCI-P3, PQ_DCI-P3, HLG_BT.2100, AdobeRGB, sRGB, Calibration (CAL), SYNC_SIGNAL
HDR Gamma
HLG, PQ curve
OSD Languages
English, German, French, Spanish, Italian, Swedish, Simplified Chinese, Traditional Chinese, Japanese
Others
Color Adjustment, PQ Option, HLG Option, SelfCalibration, Input Color Format, YUV Color Matrix, Input Range, I/P Conversion, Picture Expansion, Zoom, DCI 4K Cropping, BT.709 Gamut warning, Luminance Warning, Marker, Menu Rotation, Power Save, Input Skip, Mode Skip, Custom Key, Information Display, Key Lock, DUE Priority, Ethernet
Physical Specifications
 
Dimensions (Landscape, W x H x D)
638 x 415.9 - 570.9 x 245 mm
Dimensions (Without Stand, W x H x D)
638 x 390 x 86.2 mm
Dimensions (Landscape with Hood, W x H x D)
657.4 x 425.6 - 580.6 x 353.5 mm
Net Weight
9.7 kg
Net Weight (Without Stand)
6.7 kg
Net Weight (With Hood)
10.4 kg
Height Adjustment Range
155 mm
Tilt
35° Up, 5° Down
Swivel
344°
Pivot
90°
Hole Spacing (VESA Standard)
100 x 100 mm
Environmental Requirements
 
Operating Temperature
0 - 35°C
Operating Humidity (R.H., non condensing)
20 - 80%
Certifications & Standards (Please contact EIZO for the latest information.)
CB, CE, UKCA, TUV/GS, cTUVus, FCC-B, CAN ICES-3 (B), TUV/S, PSE, VCCI-B, RCM, EAC, RoHS, WEEE, TUV/Ergonomics, TUV/Color Accuracy (Quick Stability), FograCert Softproofing System (class A)
Proprietary Software
 
Color Management Software ColorNavigator 7
Supported
Supplied Accessories (May vary by country. Please contact EIZO for details.)
 
Signal Cables
USB Type-C (2 m), HDMI (2 m)
Others
AC power cord, USB Type-A - USB Type-B cable (2 m), Setup guide, Adjustment certificate, ScreenCleaner, Monitor hood, Warranty card
Warranty
5 Years 2 5
Zero bright sub-pixels for six months from date of purchase for purchases made on September 1, 2015 or later.
Dimension Drawing
PDF
2  With current LCD / OLED technology, a panel may contain a limited number of missing or flickering pixels.
5  If the monitor is left on continuously over a long period of time, dark smudges or burn-in may appear. To maximize the life of the monitor, we recommend the monitor be turned off periodically.
Manuals
| Document | Language | Size | Download |
| --- | --- | --- | --- |
| Quick Color Match User's manual | English | 15.5 MB | |
| ColorNavigator 7 Advanced Photo Printing Instructions | English | 4.32 MB | |
| EX4 User's manual | English | 571 KB | |
| ColorNavigator 7 User's manual | English | 4.45 MB | |
| EX4 User's manual | Chinese-Simplified | 675 KB | |
| ColorNavigator 7 User's manual | Chinese-Simplified | 4.82 MB | |
| Quick Color Match User's manual | German | 15.3 MB | |
| ColorNavigator 7 User's manual | German | 4.57 MB | |
Color Matching Tool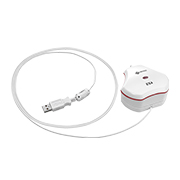 - Calibration for graphics monitors

Arms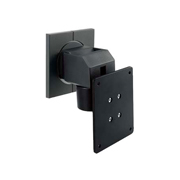 35° up tilt and 180° swivel wide adjustment range

Monitor Cleaning Kit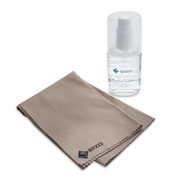 - Keep your screen free from dust and fingerprints
- Includes pump spray and cloth
Contact EIZO
EIZO Inc.
Address:
5710 Warland Drive, Cypress, California 90630
Telephone:
(+1) 562 431 5011