Medical Grade Monitors
Experience the Future of Operating Room Technology
Learn More About CuratOR Products ›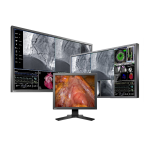 Importance of the Healthcare Team
The modern healthcare field is becoming ever more sophisticated and complex. Not only doctors, but nurses, clinical engineers, and other healthcare professionals all have to demonstrate expertise and mutual cooperation in order to treat patients. The importance of this "healthcare team" is always building; only when the team works well together can high quality healthcare be achieved.
Diversification of Medical Information
With the spread of operating room (OR) hybridization, minimally invasive surgery, and robotic surgery, the use of video equipment in operations is increasing every year. Various medical information needs to be accessible in the limited space of the OR – endoscopic and microscopic images, surgical video feeds, heart rate monitoring, respiratory and brain activity, X-ray and ultrasound images, and electronic patient charts – all of this information needs to be viewed by the healthcare team in the operating room.
Efficient Information Handling
In order for a healthcare team to be successful, it is essential that they have access to a visual environment that allows them to share information, exchange opinions, and cooperate efficiently together. To achieve this, a wide variety of medical information must be centrally managed so the right information is displayed at the right time and place, and recordings and live feeds can be viewed as necessary according to each workflow..
Experience the Future of Operating Room Technology
As a visual technology company, EIZO uses its technical expertise in visual display solutions to offer state-of-the-art video management systems to provide the OR with safety, cleanliness, and peace of mind.
CuratOR - Reliable Technology from a Single Source
With CuratOR, EIZO offers complete solutions for interventional radiology, the control room, and the integrated OR. CuratOR is designed specifically for the healthcare field. This means there are no limits in terms of developing solutions thanks to the comprehensive EIZO product line.
News