Case Studies
Inter Chalet - Reducing Shrink with a Comprehensive Security Solution | EIZO
The family-run company Inter Chalet opened a timber business in Horst (Limburg, the Netherlands) back in 1978. The company underwent continuous expansions within just a few years and now offers its customers a full range of hardware products. Inter Chalet belongs to the Home Park Inter Chalet Group.
| | |
| --- | --- |
| Together with a dozen other specialist retailers, Inter Chalet showcases everything their customers need for the home, garden, and DIY projects across its 30,000 m2 interior. A lot can happen in a space this size – including theft. That's why a camera network was set up in 2009 to discourage potential shoplifting. This network was continuously upgraded and expanded over the years, resulting in significant shrink reduction. | |
Since the initial installation, 79 Panasonic cameras were installed indoors and outdoors, along with five DuraVision FDF2304W-IP monitors which were installed in 2018. The IP decoding monitor was selected because it can connect to the security network without a computer. That means that live video streams are transmitted directly to the monitor. This makes having to install, maintain, or update a computer a thing of the past.
Two of the monitors are located in the security department of the retailer so that employees can keep an eye on visitors to the store. Odd visitor behavior, such as someone standing still for more than 20 seconds, is picked up and highlighted on the monitors with a red frame automatically. The employee on duty can then take measures to offer the customer help or check whether there is an issue.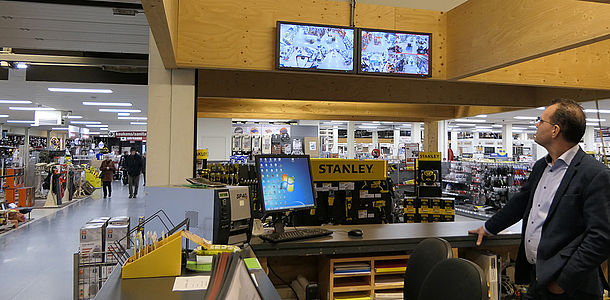 IP decoding monitors in the security department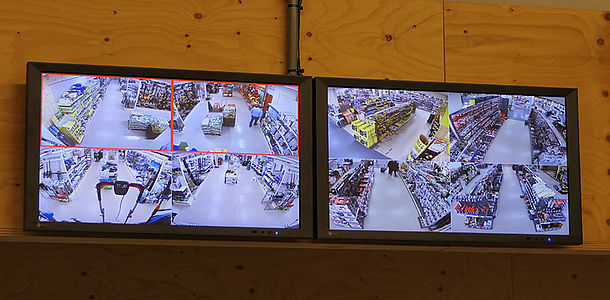 A red frame around the screen indicates odd customer behavior
 
The other three IP decoding monitors serve as public view monitors. They are located at the entrance and at two doors leading to the outdoor area. Customers are immediately made aware that surveillance measures are in place as soon as they enter or leave the store.
An additional 55-inch EIZO monitor with 4K resolution is also used as an overview monitor to display all or selected camera feeds. The large-format monitor improves on the previously installed multi-monitor environment by streamlining image display with a bezel-less view.

Monitor at the exit visible by customers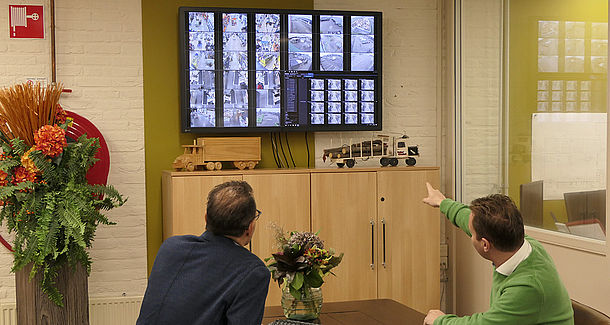 55-inch 4K monitor used for overview
 
The network helps to ensure that employees and visitors to the store are kept safe while providing valuable data. For example, visitor numbers can be analyzed and used to determine staffing requirements.
The entire camera network was customized and supplied by the distributor Stupers Rosmalen. Such a comprehensive network is a major investment, which is why Inter Chalet opted for a rental plan. This allows the company to benefit from state-of-the-art technologies at a fixed monthly rate which includes network maintenance.
Deployed Product