Case Studies
CoMix Wave Films - EIZO Monitors Used for Production of Animated Film "Weathering with You" | EIZO
ColorEdge Monitors Used for Production of Director Makoto Shinkai's Latest Animated Work Weathering with You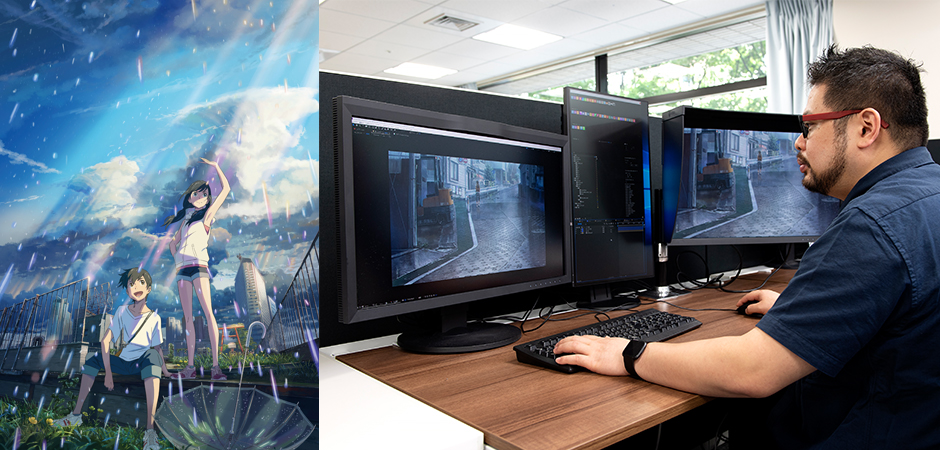 In addition to their compelling stories and characters, the animated works of director Makoto Shinkai are known for their spellbinding visual beauty. To accomplish results like these, a monitor that can properly display the colors of the final output is indispensable. EIZO monitors played a part in the making of his newest work, the film Weathering with You. We talked with the film's assistant director and color designer Yoko Miki, as well as the cinematographer Ryosuke Tsuda, and they shared how they used EIZO monitors in their filmmaking process.


Left: Yoko Miki (CoMix Wave Films)
Right: Ryosuke Tsuda (Troyca)
Reliable Reproduction for Finely-Tuned Image Creation
The film Weathering with You is now playing in theaters worldwide with an expected global release to over 140 countries. It features the type of incredibly bright, detailed art that Shinkai's work is known for. Because of the weather theme, there are many shots with high contrast, so it was crucial to have very fine control of the colors. EIZO monitors played a major role in the production of this film, serving as a critical part of the production flow.

Production company CoMix Wave Films has been using EIZO's ColorEdge color management monitors for key production processes for some time now. For Weathering with You, they used ten ColorEdge monitors for compositing and color design, and about fifty FlexScan monitors for line art, animation, background art, and 3DCG work. Assistant director and color designer Yoko Miki noted, "EIZO monitors' color reproduction leads the industry, so we've used ColorEdge monitors for some time now. For this film, the monitors were calibrated directly by IMAGICA, so we didn't have to worry about color management as we did our work." Each ColorEdge monitor can have its display gradations calibrated to match the ideal gamma values, allowing for smooth gradations that are consistent from monitor to monitor. The result is a consistently reliable image that relieves a lot of workflow stress — a major factor in the decision to use EIZO. Hardware calibration for maintaining accurate display quality is another major advantage.

For most animated productions, character color schemes are set on a per-scene basis, based on the initial art direction for that scene, but Makoto Shinkai's work features color design done almost on a per-shot basis. Weathering with You features over 1,000 shots, and meticulous color adjustments were necessary for each one, due to the very strict need for specific colors to create the desired effect. According to Miki, "For Shinkai's work, color adjustment is necessary for every shot. These monitors can display a very wide range of brightness levels in particular, which was a huge help when deciding the colors for each shot. The amount of each color used to compose the characters in each shot has a significant effect on the overall impression of the image. The ColorEdge monitor's accurate color reproduction helped me immediately identify any colors in a shot that felt a bit off. For this film, in addition to the ColorEdge CG277 I had on my own desk, there was also another CG277 monitor between me and Shinkai, who sat next to me, so he could check images on a monitor with the same colors as the one I used. The consistent colors across both ColorEdge made them an ideal communication tool — a sort of 'common language' for the director and me — allowing us to push the image to its very limits." In this film, colored shading is often used for visual effects; even a subtle change to the color of shading can influence the feel of a scene. Though ColorEdge monitors may be best known for their accurate color reproduction for bright tones, they are just as effective for dark scenes, providing accurate rendition of subtle color variations and gradations.
 
Working with Final Intended Colors
For animated productions, the start of compositing work means the team is nearing the final stages of production. It is a vital step that affects the finished result, and it is here, too, that ColorEdge monitors play an active role. The cinematographer on Weathering with You, Ryosuke Tsuda, used a three-monitor setup featuring two ColorEdge CG279X monitors and one FlexScan monitor. Tsuda did his compositing work on the FlexScan monitor, using presets and other resources, and checked the results on one ColorEdge monitor. At the same time, Shinkai, the director, would use the other ColorEdge monitor to check the composited images. In the past, the cinematographer and director would both share the same work monitor, both for compositing and to check the results, but by adding a second monitor, they had one monitor for production work and one for checks, helping streamline both feedback and the work based on that feedback.

Ordinarily, color adjustments for animated films are made after the compositing work is finished, but for films directed by Makoto Shinkai, color adjustments are a crucial part of this stage of production. Further complicating matters is the fact that, at typical animation studios, the master monitor is the only way to check the final colors. As a result, workers must develop and use a sense of intuition for their color adjustment work, based on how they expect the final output to look. Then, the director does a check on the master monitor in the editing room and provides feedback for further adjustment work. The entire process is time-consuming. With ColorEdge monitors, which can accurately display the final colors, the director was able to check the colors as early as the compositing stage. This also meant that the team could develop a shared sense of the colors used, reducing unnecessary work and giving the staff that much more time to focus on their own work. This sense of trust — that the colors shown are the correct colors — is extremely important.

For Weathering with You, the studio kept working up through the very last minute of production to make the finished work as good as it could be, to the point where they even hired new staff members for the final month. Using ColorEdge monitors meant they were able to work on the film with the intended final colors throughout the entire process which streamlined production. As Tsuda pointed out, "Having reliable color reproduction helped us keep adding more and more polish to every shot. It's great to know that we can work with the same color environment as the final output, without having to worry about color mismatches. I hope that we can continue to utilize this kind of environment for future work, too."

Without strict color management at production sites, audiences will not see the colors the way that the production staff intended. This is doubly true for films like this that make very precise use of color. We learned that ColorEdge monitors' reliability and stability played a role in ensuring the beauty of the bright, detailed color of Weathering with You. Once again, we are reminded of the critical importance of monitors in film production.
 
Advantage 1: Reproduction of Fine Detail in Bright and Dark Areas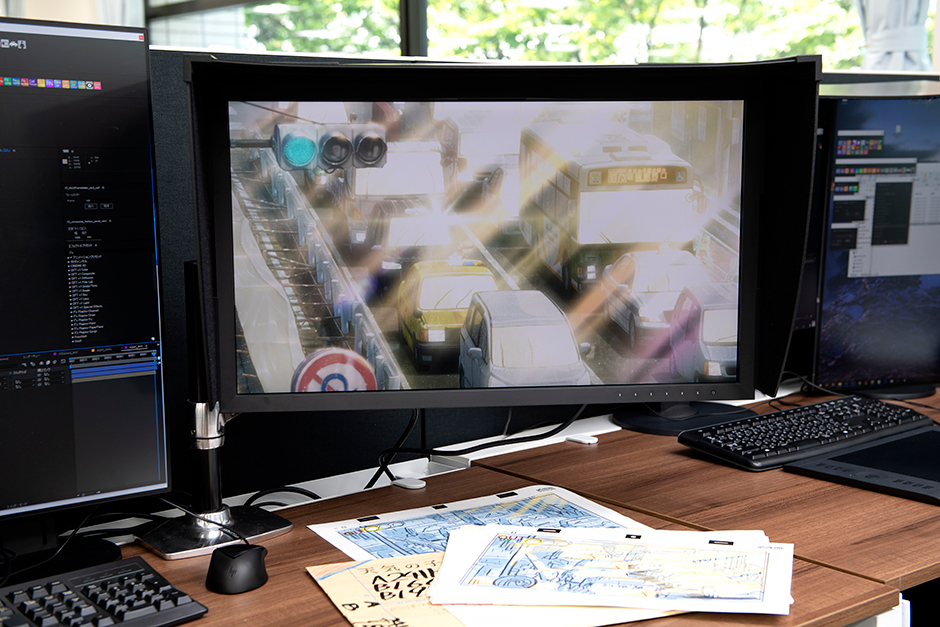 For this shot, the base image lacked detail, so the team added additional elements, like lighting, a bus, and detailed car interiors. The lighting design was a challenge for this shot, so Miki took charge of compositing for this shot herself. According to Miki, "We used pretty bright colors, but the director, Shinkai, ordered us to make them even brighter. On ordinary monitors, that would lead to blown-out highlights, but the ColorEdge made it easy to increase the brightness while still retaining the original color tone and gradations." Similarly, ColorEdge monitors provided accurate color reproduction even for dark, rainy scenes and the black T-shirt of the main character Hodaka, contributing to the team's use of a broad range of colors.
Advantage 2: Focusing on Color without Sacrificing Productivity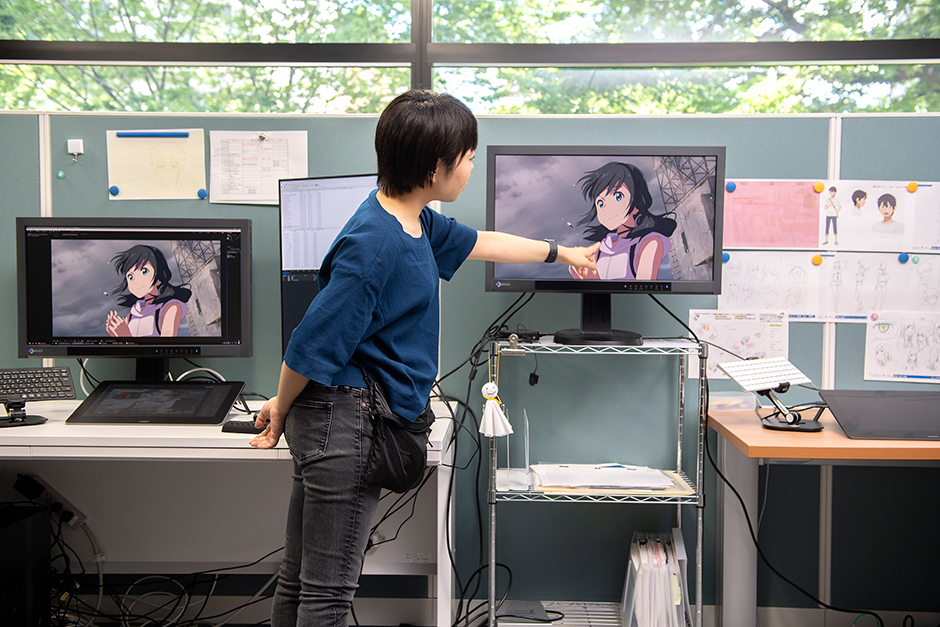 Assistant director and color designer Yoko Miki and director Makoto Shinkai had a monitor located between their desks, which made it easier to share ideas and to perform checks. For this film, calibrated ColorEdge monitors were brought in for each production team, so that the whole staff could work confidently with the expectation that the final colors were being shown accurately. As Miki noted, "Even if it's only at the next desk over, having to share someone else's monitor makes it less convenient to do checks, which can discourage you from requesting checks in the first place. Having a monitor between us made it much easier for the director to quickly and casually check my work. This made checks incredibly convenient, so I want to be working in this kind of environment for future projects."
Advantage 3: Accurate Color Display Even after 5,000 Hours of Use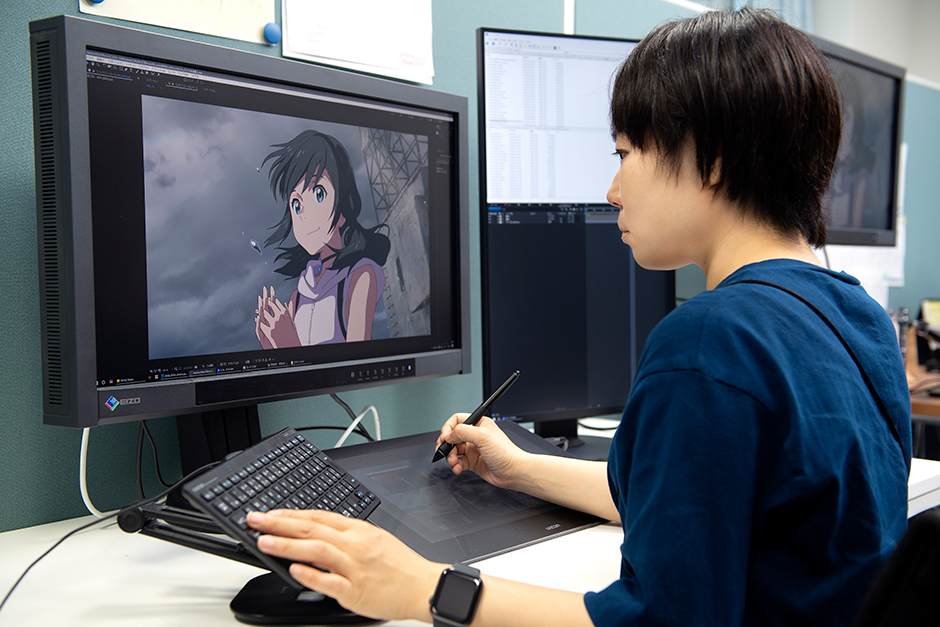 ColorEdge monitors offer more than just accurate color reproduction: one of their best features is that they can maintain stable display quality for long periods of time. LCD monitors inevitably age, leading to changes over time in their colors and brightness. On the other hand, the ColorEdge CG series features built-in calibration sensors that allow these monitors to perform automatic calibrations after a set period, ensuring that work done on them always features accurate colors. The ColorEdge CG277 monitor used by Miki has been used for over 5,000 hours on various projects, including Weathering with You, and still maintains stable, accurate color reproduction.

This is a translation from Japanese of an article published by CGWORLD in October 2019. Original text by Kentaro Kusakai (BOW). Photos provided by Mitsuru Hirota.

 
Deployed Products
Special thanks to CoMix Wave Films for their cooperation.
Website
 
Weathering with You
Original Story / Screenplay /Director: Makoto Shinkai
Music: RADWIMPS
Starring: Kotaro Daigo, Nana Mori, Tsubasa Honda, Sakura Kiryu, Sei Hiraizumi, Yuki Kaji, Chieko Baisho, Shun Oguri
Character Design: Masayoshi Tanaka
Animation Director: Atsushi Tamura
Background Art Director: Hiroshi Takiguchi

https://tenkinoko.com/ (Japanese)

© 2019 "Weathering with You" Film Partners