1,000 x FlexScan EV2450 at Sumitomo Mitsui Banking Corporation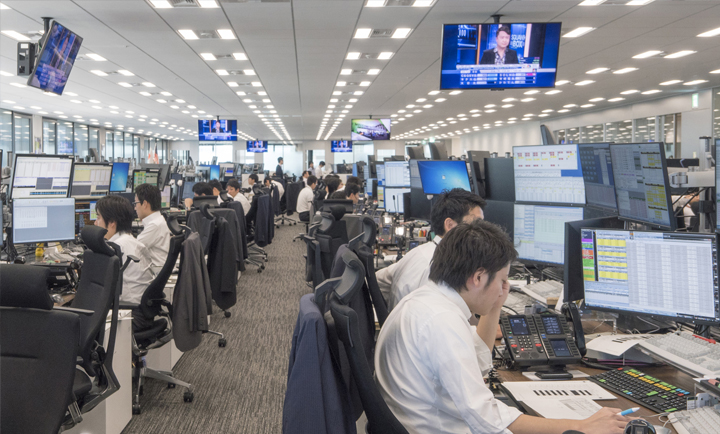 Introduction of 1,000 FlexScan EV2450 Monitors
We spoke with Kensuke Tanaka, senior vice president and head of Derivatives Trading Group 2 of the bank's Trading Dept., about what led to the introduction of EIZO monitors and what their experience has been using them.
 
The East Building of Sumitomo Mitsui Banking Corporation was completed in July 2015, and houses the bank's Treasury Unit. In conjunction with the relocation, equipment was replaced, and 1,000 EIZO FlexScan EV2450 monitors were introduced.


Kensuke Tanaka
Head of Foreign Currency Derivative Trading Group
Trading Dept.
Sumitomo Mitsui Banking Corporation

"The Treasury Unit, which introduced the EIZO monitors, uses them in a place commonly referred to as the dealing room. It provides three main services: customer service, which entails providing customers with market information and brokering transactions of financial products, especially currency exchange; banking services related to the bank's overall balance sheet such as loans, bond investments, deposits and issuance of bonds; and trading services, in which individual dealers take positions with respect to the market to make profit. I am involved in trading services.

"Markets around the world are the target of trading services, so our services are offered on a 24-hour basis from 2 a.m. JST Monday when the Sydney exchange market opens to 8 a.m. JST Saturday when the US bond, stock and exchange markets close.

"I often stare at the screen while working in order to respond immediately to market fluctuations, so up until now my eyes have been very fatigued."
Seamless like a single picture, EIZO monitors are easy on the eyes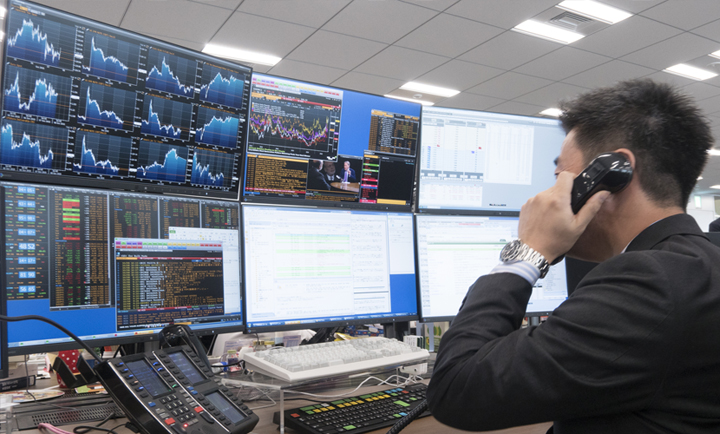 "Before, I used to use three or four 17" square monitors. Within that environment, the amount of information that could be displayed on the monitors was small, so it was difficult to grasp it at a glance.
"Now I have six full HD monitors. Not only can they display more information, but there is no frame around the monitors, so it's easier to move my gaze between monitors, which makes it easier to grasp the information. The screens are also clear, so they are easy to look at.
"There are many options to adjust, such as monitor brightness and blue light reduction mode, and being able to control each of them easily is convenient. Perhaps in part because we use them for long hours, we each, myself included, have changed the settings to our own preferences.
"At SMBC, from a security standpoint, we use screensavers and eco mode so that the screens cannot be seen when we are away from our desks. However, we also place importance on quick recovery from eco mode so that we can get right back to work when the market moves. PC performance is also a factor, but I'm happy that the recovery is faster than it was with our previous monitors.
"EIZO monitors are also more stable than the ones we used before. They're very easy to look at because they don't have blurring, fluctuation or flickering and the screens are seamless like a single picture."
Selected based not only on initial costs but also running costs
"To upgrade the dealing equipment in conjunction with our move to the new building, we looked into getting new monitors with a focus on large screens with less blurring and flickering as our job involves sitting in front of the screen for long hours. When we were comparing products from various companies, we learned that EIZO would be coming out with a new product, so we quickly put together a demo environment and compared the actual user experience with that of other products.
"When comparing the products, not only were the EIZO monitors easy to look at but the frames were also extremely thin, eliminating the lines between monitors, so they were popular among the users.
"The five-year warranty also set our minds at ease. The warranties on the monitors we used to use expired after a year, so we had to have several monitors on hand for maintenance purposes. This time we made our selection based not only on initial costs but also on running costs like power consumption and repair costs.
"We considered various monitors, but the EIZO monitors stood out, even without preparing a comparison table."
Looking at screen for extended times easier than before
"It's hard to come up with specific numbers and say efficiency increased x%, but thanks to the screen being easy to look at, we can take in a very large amount of information at a glance, and it's easier to search. Trading services are services that require a quick reaction to everything that happens, so I feel that as a dealer, there has been a very substantial effect of increased efficiency.
"Since the EIZO monitors were introduced, it has become easier to look at the screens when using them for long hours, and my eye fatigue has unquestionably decreased."
 

Special Thanks
Treasury Unit, Sumitomo Mitsui Banking Corporation
Website: http://www.smbc.co.jp/global/