Color Management Resources
The Winners of the Academy Sci-Tech Award - ColorEdge CG Series Developer Interview
This is a translation of an article written by Tetsuo Takase in Monthly NEW MEDIA Magazine, June 2021 issue.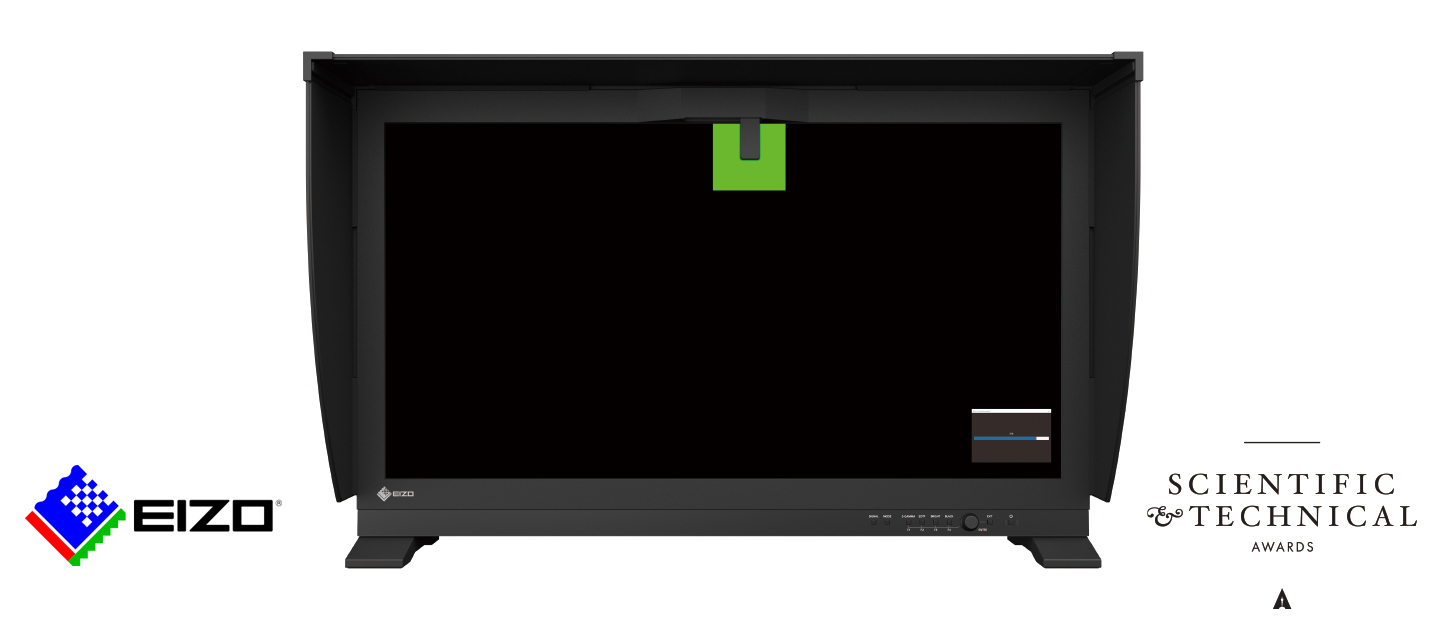 In February 2021, EIZO's ColorEdge CG series of color management monitors for creative fields was awarded a Scientific and Technical Award by the Academy of Motion Picture Arts and Sciences. These monitors have drawn high acclaim from top creators around the world, earning it this place of honor in video production history. The ColorEdge CG series features built-in self-calibration technology, but how did these monitors come about, and what led them to earn an award from the Academy? We interviewed four of the people involved in winning this award.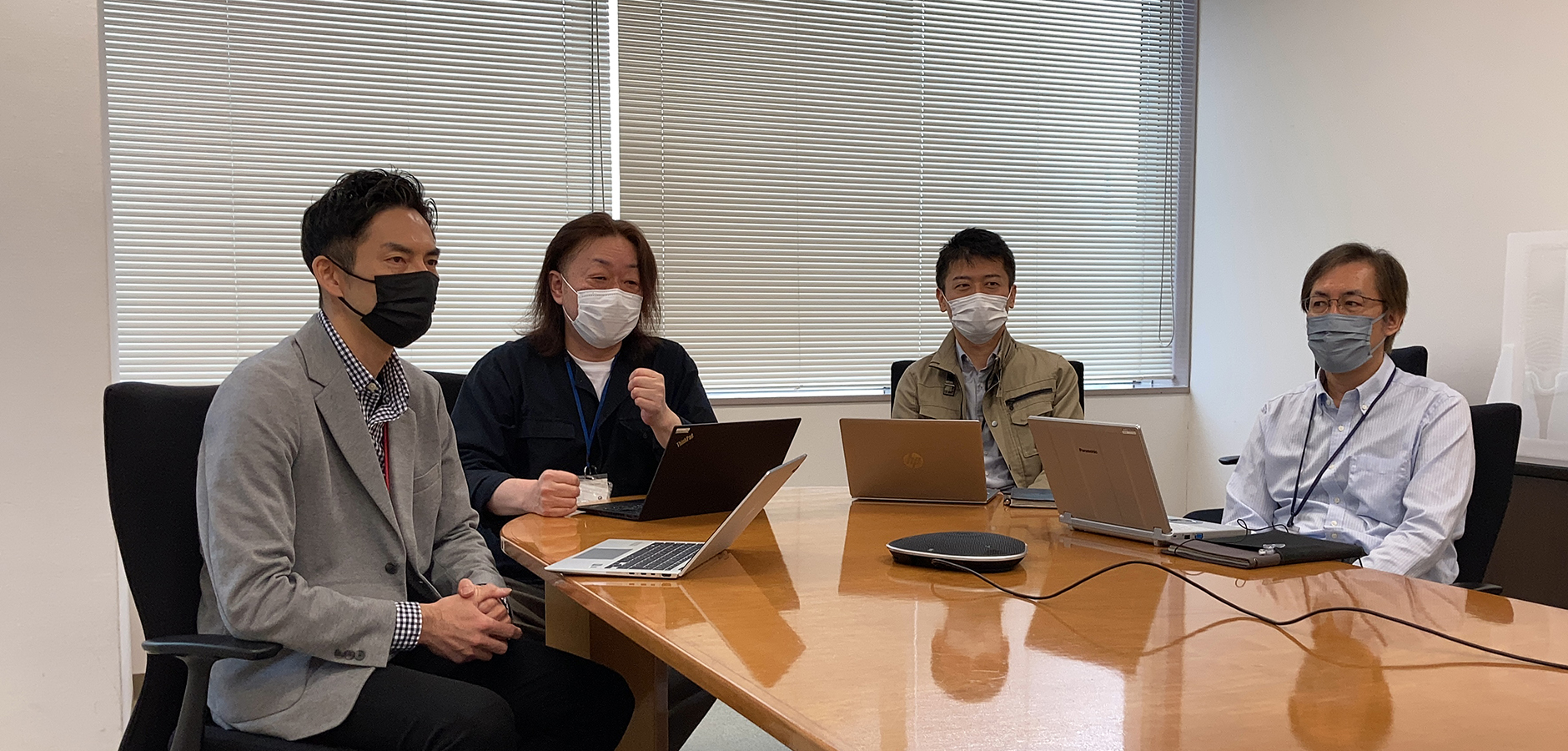 Pictured left to right: Senior Product Manager Masato Nakashima, Principal Engineer Koichi Ueno, Principal Engineer Junro Yonemitsu, Senior Engineer Junji Sakuda.
 
Proposing New Color Management Capabilities to the Film Industry
Congratulations on receiving the Technical Achievement Award!
The Team: Thank you!

Ueno: The Academy of Motion Picture Arts and Sciences gives out three different honorary awards known as the Scientific and Technical Awards. These are a subset of the Academy Awards we're all familiar with, and they are awarded to the companies and innovators who have developed important technologies that have contributed to the film industry. This was an incredible honor and for a company as "young" as we are, in that we're still relatively new to video production. This has been a valuable opportunity to gain the trust of creators around the world and introduce our products to a much wider user base.
You've certainly earned a great deal of acclaim in Hollywood. What initially prompted you to enter this field?
Ueno: When we first launched our products for video production, we initially targeted broadcast television production, but there was little demand for the kind of color management capabilities that we primarily focus on. There was also the fact that what audiences at home would see depended significantly on the specifications of their TVs, so it didn't quite fit for us as a target market. Instead, we decided to target the field of film production, which is based in color science, and where computer-driven productions, such as 3DCG and VFX are the norm.

Yonemitsu: During the transition from CRT to LCD monitors, we wondered if we could bring LCD monitors into creative fields. From a color management point of view, CRT monitors could have severe color variation — it was a major problem, to the extent that people could actually see the colors changing as they used them. While LCD monitors were still a bit behind in terms of video performance, when it came to color variation, they far surpassed CRTs, so we chose to build on their potential for the future with the launch of a product meant for creative fields.

Nakashima: We started attending the NAB Show (USA) in 2005 with hopes of establishing ourselves in the video production field. When our ColorEdge was adopted by Autodesk as the standard monitor for their post-production system in 2006, our brand recognition expanded throughout the production field practically overnight.
Focusing on Building Trust with Creative Workplaces
Which factors contributed to winning the Sci-Tech Award?
Ueno: The ColorEdge CG series has three main defining features. First, there's the built-in calibration sensor that automatically calibrates the screen's color and brightness. Second, is the Digital Uniformity Equalizer (DUE), a proprietary technology that reduces fluctuations in both brightness and color rendition to produce a uniform image across the screen. Third, we provide an SDK (software development kit) for easily integrating with other applications. We believe this award serves as recognition of our many unique technologies, technical know-how, and manufacturing capabilities needed to realize these features.
What do you consider important when it comes to manufacturing at EIZO?
Sakuda: It is important for us to think of our users as partners and to listen carefully to their requests, then work to reflect them in our products. We already had experience in this from working in healthcare, but the field of video production is different. Although there are many video production standards, few of them are as clearly defined as they are in the medical field. Therefore, we worked to make sure we properly understood creators' production intentions and put a lot of effort into reflecting their needs in the product specifications.
How did you work to build trust with creators?
Nakashima: Unlike explaining a product, understanding how to respond end user input and requests requires in-depth knowledge. That's why our engineers Mr. Ueno and Mr. Yonemitsu took part in the conversations. They helped establish trust through deeper exchanges of information.
As an engineer, what did you learn from speaking with creative content creators?
Yonemitsu: Even in our home country of Japan, there were times when it felt like both sides were speaking completely different languages. Early on, sometimes we wouldn't have any idea what they were talking about, so we would ask questions, listen to their answers, and try to put what they were saying into our own words. By doing so, we gradually came to find a common language. This method worked well for discussions overseas, too.
EIZO's Commitment to Manufacturing Excellence
What would you say is EIZO's greatest strength?
Nakashima: All of our products are manufactured by the EIZO Group, and every one of our monitors for the domestic market is manufactured at our own factory in Ishikawa, Japan. We also develop and manufacture imaging products for a broad range of industries, allowing us to leverage synergy.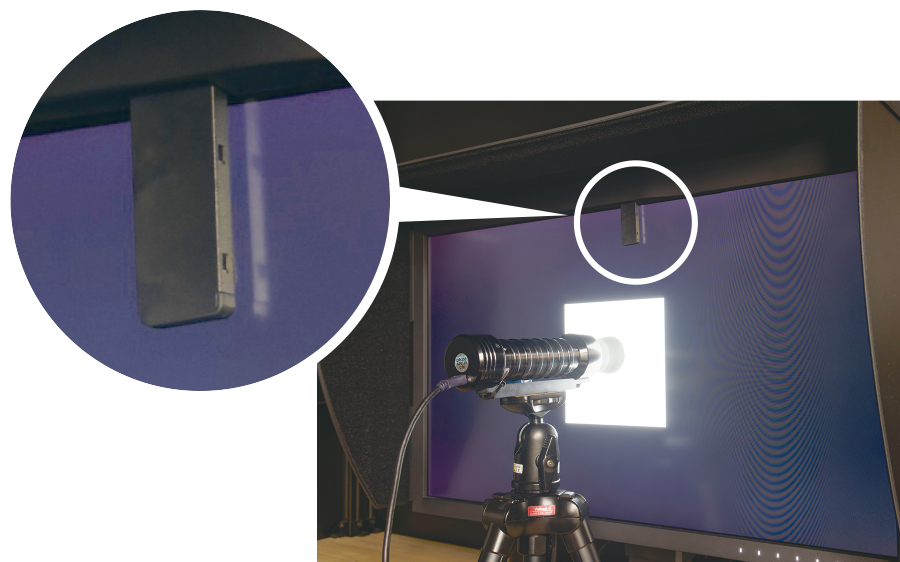 What are the most important steps of the monitor manufacturing process?
Sakuda: After monitors are assembled on the production line, there is a key step that we call "aging," where the monitors are turned on for a certain length of time to allow the screen to stabilize. Aging is crucial for the steps that follow because it makes it possible for us to accurately grasp the characteristics of each monitor for the adjustments to come. ColorEdge monitors are aged for at least twice as long as standard monitors to prepare them for particularly exacting adjustments.

The adjustment step, which comes next, is unique to ColorEdge. Before adjustment, the LCD panel in each monitor will have some deviations in brightness and color rendition between the center and the edges of the screen. We have a unique technology to address this, as Ueno mentioned earlier: we call it Digital Uniformity Equalizer (DUE). After aging, ColorEdge monitors are placed in a darkroom where we use special measurement devices for highly exacting adjustments to increase uniformity across the screen.

Even though these monitors are seemingly identical units built using the same parts, there will still be individual differences in their display characteristics, and they won't quite look the same. In order to adjust each monitor to meet product specifications and standards, we use dedicated instruments to measure multiple points on the screen and adjust the gamma, white balance, and brightness. The resulting ColorEdge monitors are capable of highly accurate color display with minimal variation between monitors.
With the addition of automated processes in 2016, how does this balance with processes done manually during manufacturing?
Sakuda: Wherever possible, we introduced the latest in automated lines with deep-learning-based AI. Since we follow a high variety low volume (HVLV) method of production for ColorEdge, we can create adjustment "recipes" for each model, and our system can output adjusted monitors based on those recipes.

We don't do automatic CCD (charge-coupled device) camera inspections of ColorEdge monitors. ColorEdge monitors are used by creators who have a keen eye for detail, so all inspections for things like image quality and gradations are handled through strict visual inspections performed by our seasoned experts. Because the quality of the blacks and dark gradations is particularly important, these inspections take place in a darkroom.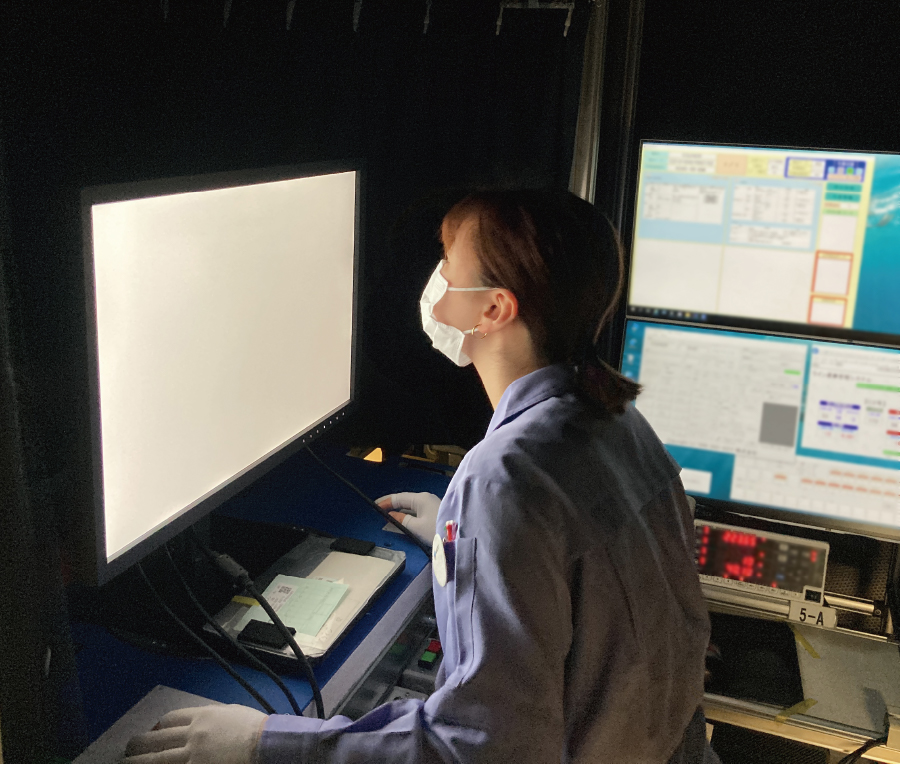 Detailed visual inspection being performed at the factory.
 
Highly Acclaimed Self-Calibration Sensor
Yonemitsu: From the start, the ColorEdge series has earned praise for its fast calibration times, to the point where customers used to other companies' calibration software would actually ask us if there was something wrong, because they felt like calibration was finishing too fast. Behind this feature is a manufacturing process designed to maximize each monitor's potential.
So, how did you go from that to self-calibration?
Yonemitsu: We began with the premise that fast calibration was the way to go and thus, determined that we needed to try to eliminate calibration work. We already had experience integrating a monochrome sensor for our medical monitors, so as we continued our discussions about developing a color sensor for ColorEdge monitors, we thought, well, if there's such a need for this, why not make the monitors able to calibrate themselves?
Is that how self-calibration led in turn to batch management of monitors over a network?
Ueno: Usually, administrators are more concerned than creators are with monitor adjustments, including calibration, so allowing administrators to centrally manage monitors helps improve their workflow. That's why we developed the ColorNavigator software (ColorNavigator NX features have since then been integrated into ColorNavigator 7). It lets you manage adjustment data for multiple monitors from a single notebook PC, even over a network.

Nakashima: There are certain trends in today's market. The increasing use of CG and VFX means that some production companies use and manage hundreds of computers. Even though Hollywood is still the center of movie production, more and more production-related companies are located elsewhere all over the world. To address these changes in production environments, EIZO has developed solutions to reduce engineers' workloads and enable batch adjustments to monitors over a network. Our customers have been able to take advantage of these solutions to fit the latest production workflows.
The Ultimate Goal: "Calibration-Free"
Does this award make you feel more confident in building your vision for the future?
Ueno: In light of our work to date, we consider "calibration-free" to be our eventual future target — that one day, you could simply turn your monitor on and it would be in proper condition without having to make any adjustments.

Yonemitsu: We've aimed to automate any monitor adjustment to free the user from this work, but we believe that for further evolution of this technology, we should work to have monitors handle calibration such that users won't even notice it.

Sakuda: I expect that monitor characteristics may pose some difficulties, but I'd love to try to bring this goal even a single step closer to reality.

Nakashima: Our other vision is to further simplify integrations with other systems through the SDK that helped earn us this award, with ColorEdge playing a role. The rapid expansion of OTT media services has led to more and more content being produced, while the decrease in on-location shoots we've seen during the coronavirus pandemic has brought about new opportunities for creators to use CG. We hope this award serves as a jumping-off point toward further progress, and we look forward to continuing to contribute to the video production market.
Hopefully the award leads to further evolution in color management monitors, enabling creators to bring works to their audience that more accurately reflects their intentions.