EIZO NEW ColorEdge CS Monitors
NEW CS2740 4K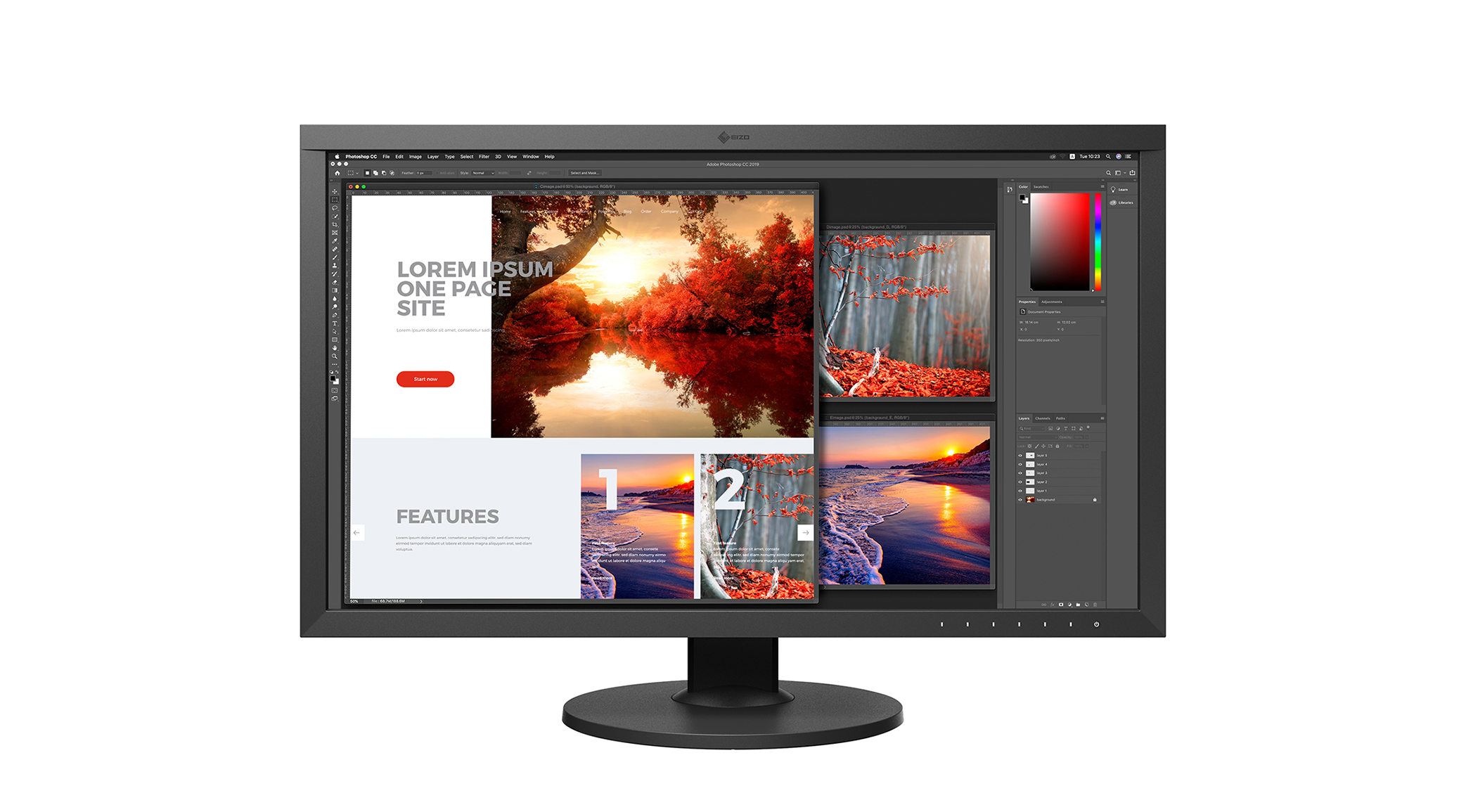 Precision and Color
Ultra-sharp, detailed and, above all, precise, the CS2740 shows exactly what it is supposed to do: pictures, videos and graphics. 4K UHD resolution for filmmakers, ultimate sharpness for photographers, absolute precision and rich colors for everyone - with its USB-C connection, the all-rounder of the CS series is the visual core of the color-binding, digital workflow and guaranteed by loss-free hardware calibration permanently stable results.
Watch the Product Video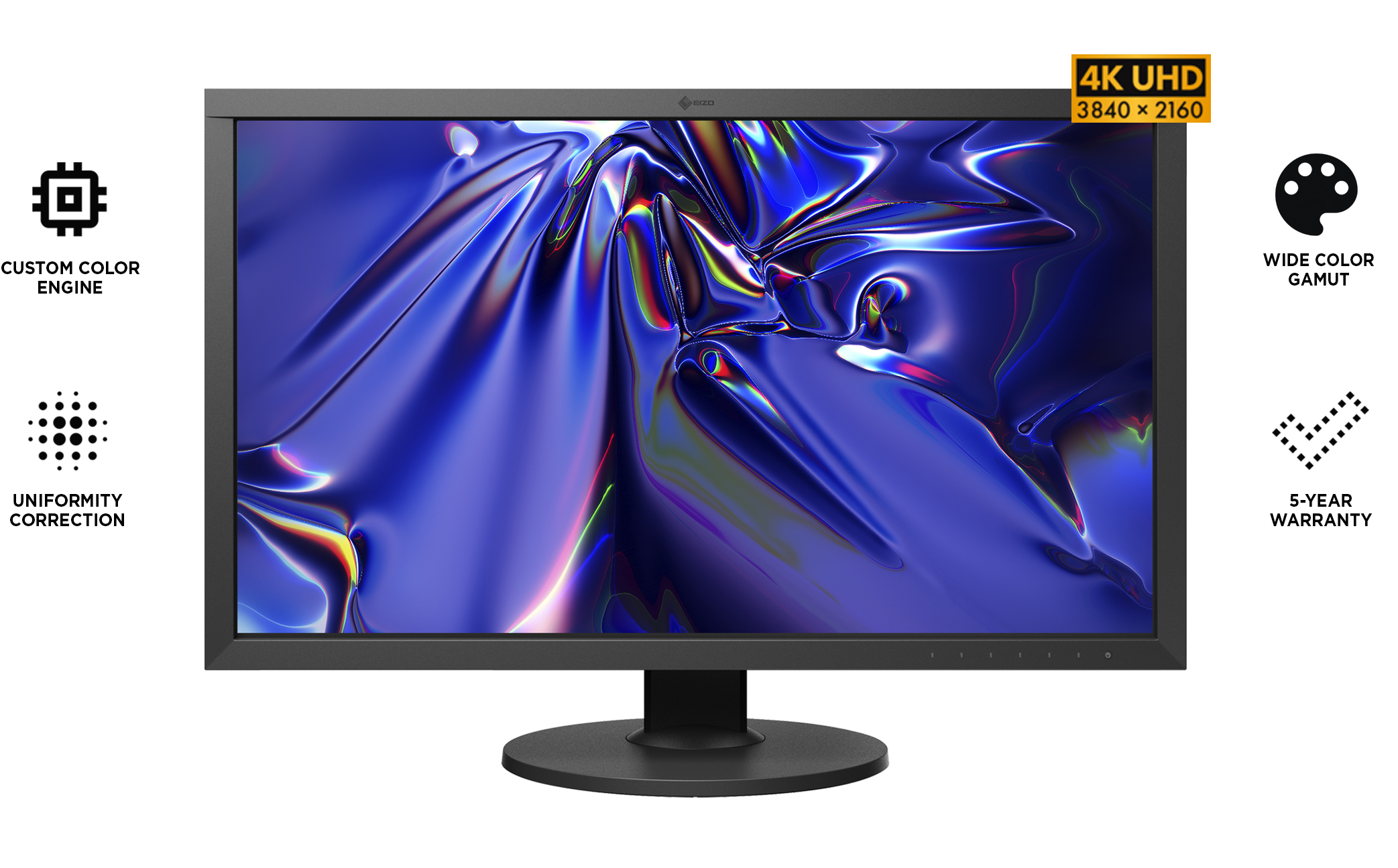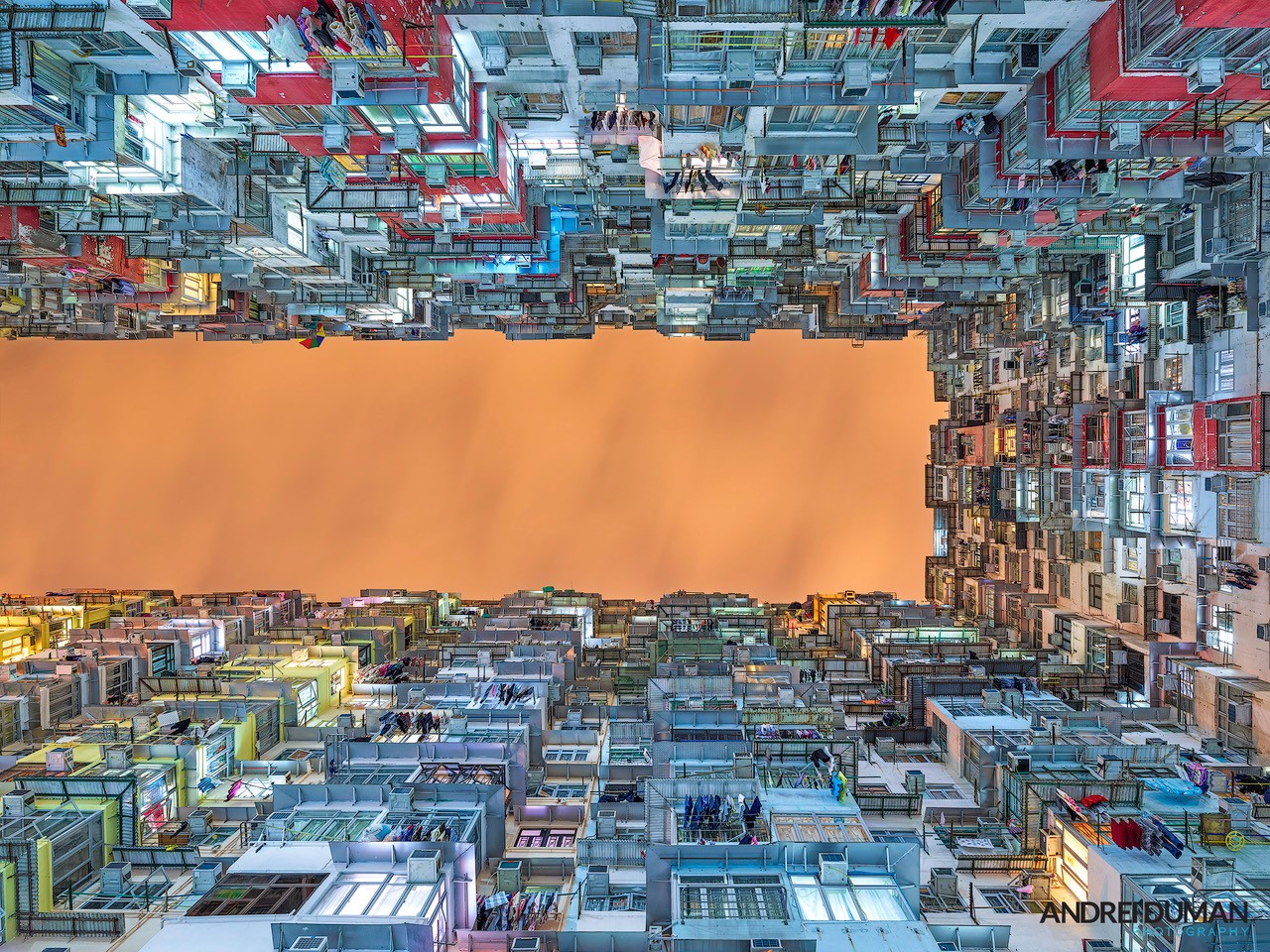 Photo Credit: Andrei Duman
Wide Gamut-Color Space for Saturated Colors
To be able to use the entire color spectrum of modern cameras, you need a monitor with the largest possible color space . Otherwise, a visual assessment and processing of the saturated colors contained in the file are not possible. That is why the IPS panel of the ColorEdge CS2740 covers 99% of the large photo color space AdobeRGB as well as the CMYK printing color space ISO-Coated V2. In this way, the full color spectrum of modern cameras is displayed in an unadulterated and complete manner. And a precise simulation of the print result in the soft proof view is guaranteed.
Outstanding Image Quality for Sharp Images
The screen convinces with the highest resolution (3840 x 2160 (4K UHD)), a very good contrast ratio of 1000: 1 and a brightness of 350 cd / m 2 . For example, you can edit graphics and images with pixel accuracy. And: the text contours are clear and precise. The LCD module with IPS ( Wide Gamut ) panel allows a viewing angle of 178 degrees. This means that colors and contrasts in the user's cone of vision remain stable.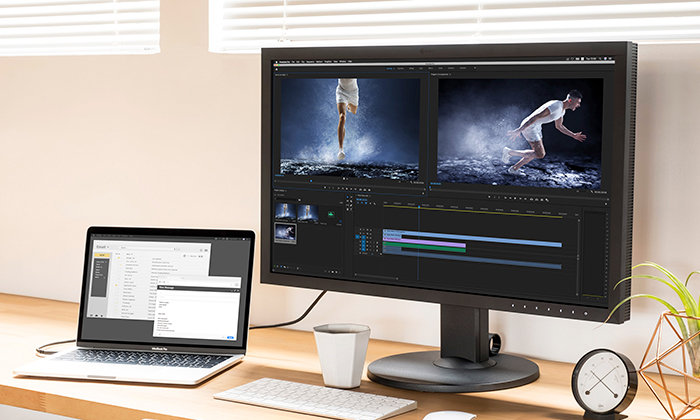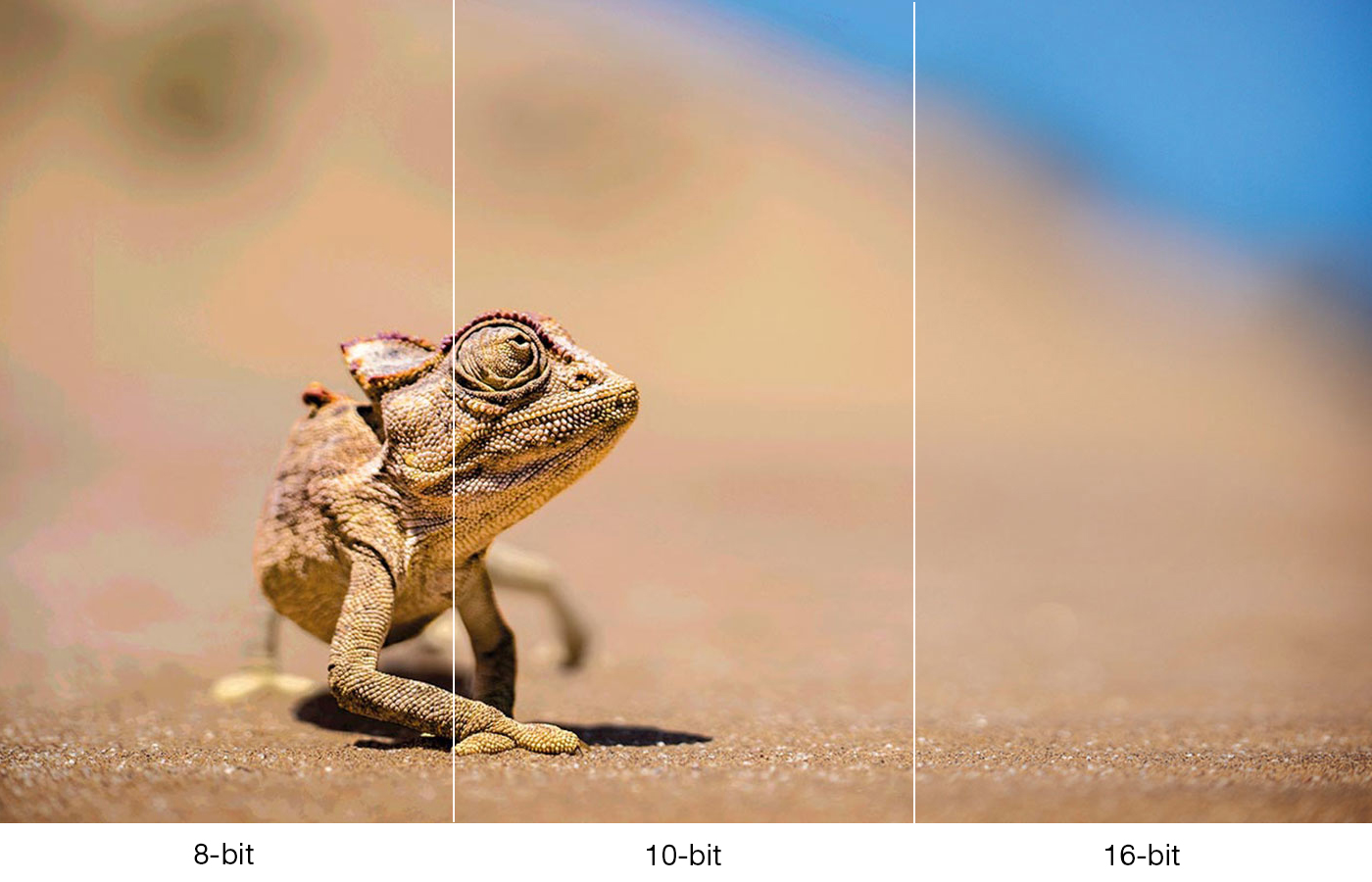 Smooth Transitions and Gradients Thanks to 16-bit LUT and 10-bit Display
The LUT (Look-Up-Table) of the CS2740 calculates internally with an extremely high color depth of 16 bits and the panel then outputs the signals with up to 10 bits. This means that billions of color tones are available to calculate the precise monitor display. Display errors caused by the monitor, such as banding or clipping, which have an effect in tone value breaks in gradients or color casts in the grayscale, are thus effectively prevented. Even fine nuances and structures in dark or highly saturated areas of the image are still differentiated and displayed in great detail.
Digital Uniformity Equalizer - Perfection Across the Entire Screen
Each individual monitor panel is precisely measured over the entire area in the EIZO factory. Any inconsistencies in brightness and color casts are recognized and removed. This process (Digital Uniformity Equalizer) guarantees that identical colors always look the same over the entire service life of the monitor, regardless of where they are displayed. This is the only way to achieve precise image editing and retouching.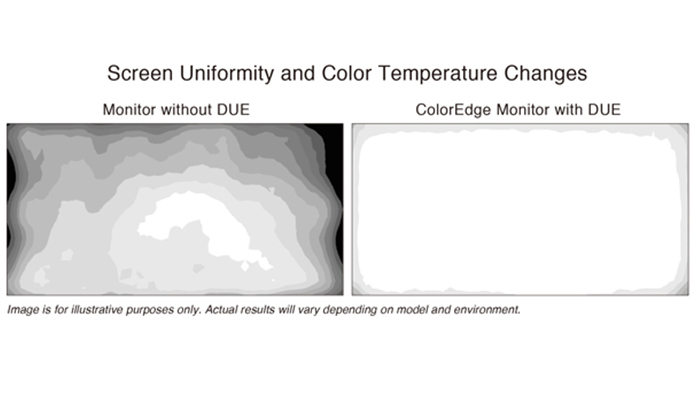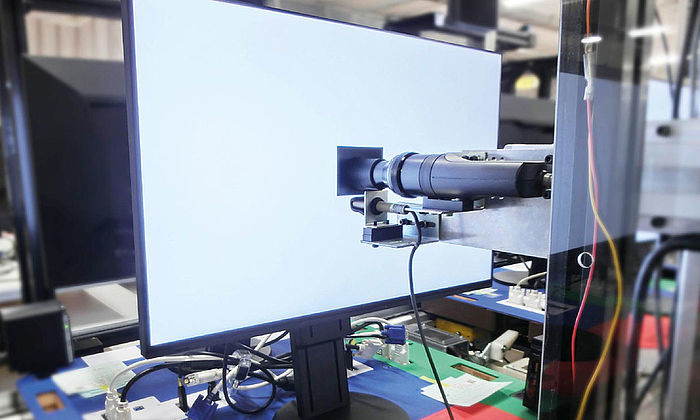 Ready to use out of the box
So that a ColorEdge is ready for use immediately after unpacking, each individual ColorEdge CS2740 is individually measured and optimally set in the factory. For this purpose, the gamma curves of the red, green and blue channels are checked closely and, if necessary, corrected. This unique EIZO factory calibration allows the user to use the monitor with the preset color spaces immediately after unpacking - out of the box. This complex factory calibration is also the reason why recalibration with the ColorNavigator is so quick for the user.
ColorNavigator Software for fast Calibration
Each monitor ages and changes its display properties. For this reason, graphic monitors, which require absolutely constant image display over the entire service life, must be regularly calibrated and corrected. With the free calibration software ColorNavigator 7 from EIZO, the ColorEdge CS2740 can be corrected easily and without loss within 90 seconds (measured with MacBook Pro and EX4). So that the same image will still look the same on the monitor in five years.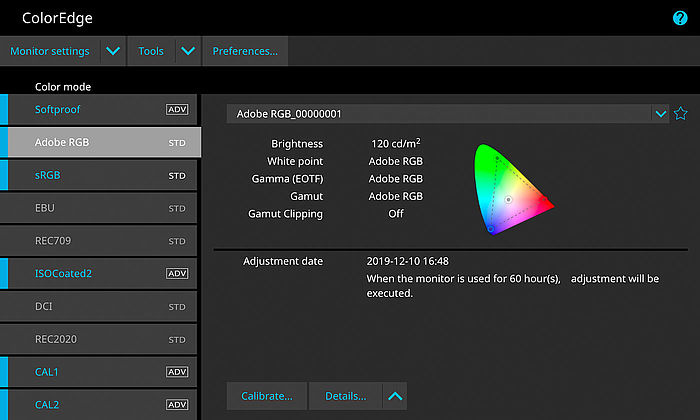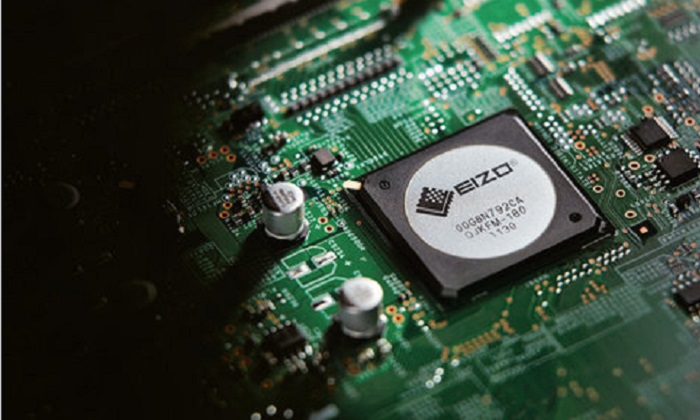 EIZO Color Engine for Optimal Color Rendering
The CS2740 has a custom high-quality microchip (ASIC, Application-Specific Integrated Circuit), which EIZO has developed especially for the special requirements of color-accurate work. This microchip is the brain of a ColorEdge and is the guarantor for the precise, uniform and constant image display for which EIZO is so famous.
Variety of Connections
More and more creatives are not only incorporating mobile computers, often a powerful notebook is the only computer. That is why there is an increasing desire to integrate the mobile computer as easily as possible into the fixed workplace at home or at work. EIZO supports this trend with the ColorEdge graphic monitors.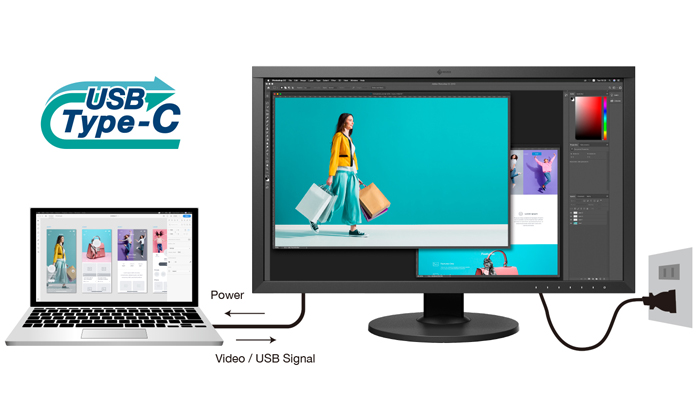 State-of-the-art Connectivity with USB-C
Monitor signal, fast data transfer and power supply with up to 60 watts, all of this and more can be achieved with a single USB-C cable. This turns the ColorEdge CS2740 into the central dock of the graphic workflow. Peripherals such. B. Mouse and keyboard, hard drives, card readers or printers can be connected directly to the two side and two bottom USB-A ports. Mobile devices such as laptops or tablets can even be charged with up to 60 watts via the USB-C cable. The laptop and the CS2740 can be turned into a fully-fledged desktop workstation in just a few steps.
Monitor Connections
The CS2740 supports a wide range of video formats via USB-C, HDMI and DisplayPort . This means that the monitor can not only be integrated into PC-based workflows, but can also be used with HDMI players.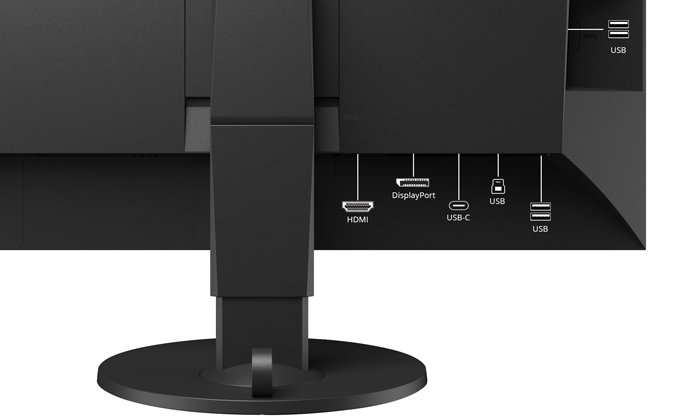 Sustainability
Longevity, socially responsible production and environmental friendliness are key components of product quality for EIZO. Therefore, our monitors are produced in accordance with international environmental regulations and conserve resources thanks to their long service life. With the CS2740, EIZO shows that image and product quality go hand in hand with responsible planning, material procurement and production. This intrinsic value enables a safe investment in a modern and reliable monitor.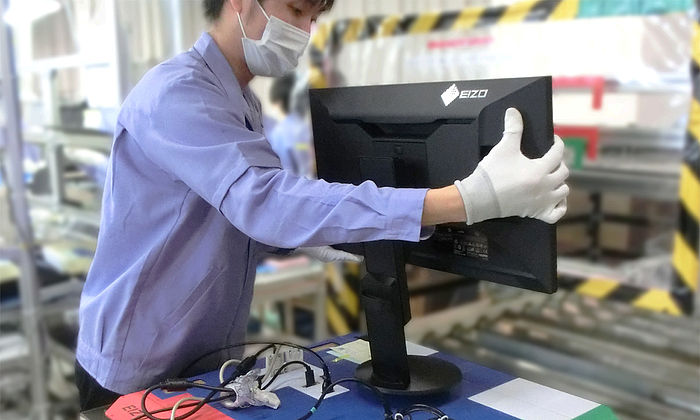 Socially Responsible Production
The CS2740 is produced in a socially responsible manner, without child and forced labor. Suppliers along the supply chain have been carefully chosen and are also committed to this responsibility. This applies in particular to suppliers of so-called conflict minerals. We voluntarily submit a detailed report on our social responsibility every year.
Environmentally and Climate Friendly
Each CS2740 is produced in our own factory, which has an ISO 14001 certified environmental management system. This includes measures to reduce waste, wastewater and emissions, resource and energy consumption and the promotion of environmentally conscious behavior among employees. As an important part of our CSR report, we are publicly accountable for these measures every year.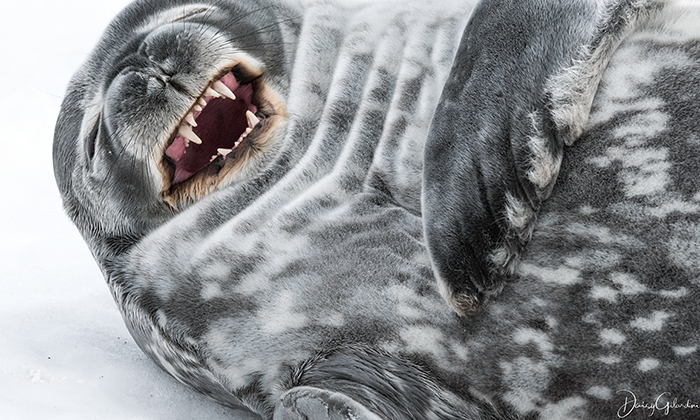 Photo Credit: Daisy Gilardini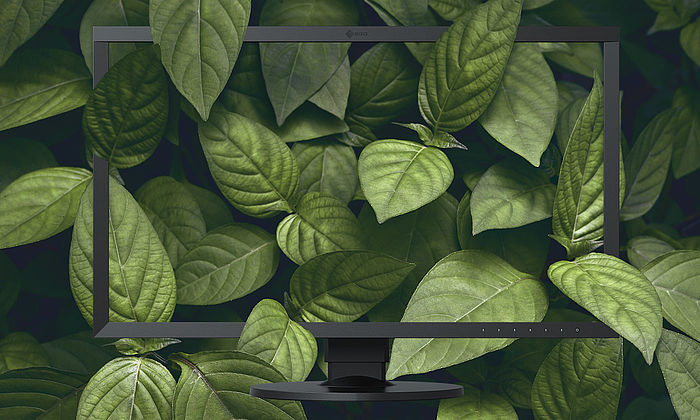 Sustainable and Durable
The CS2740 is designed for a long service life - usually well above the five-year warranty. Spare parts are available up to five years after the end of production. The entire usage cycle takes into account the impact on the environment, because longevity and the ability to repair save resources and the climate. When designing the CS2740, we paid attention to the low use of resources with high-quality components and materials as well as careful production.
5 Year Warranty
Our innovative service concept sets standards and creates planning security. Security that convinces and you can count on. Due to constant research, further development and meticulous quality control, EIZO can give a 5-year warranty on all ColorEdge models. For you, this means maximum investment security and low TCO (Total Cost of Ownership).