Case Studies
St. Francis Hospital | EIZO
12-Megapixel Resolution for a Stress-Free Reading Experience
St. Francis Hospital is a general hospital located in Nagasaki, Japan that has contributed to the city's regional healthcare services for over 70 years. The hospital recently implemented the RadiForce RX1270 monitor to their reading environment for displaying mammography and tomosynthesis images. We asked deputy director Dr. Ichiro Isomoto about his impressions of the RadiForce RX1270.

 

Tell us about the mammography reading environment at St. Francis Hospital

Our hospital diagnoses and treats many patients for breast diseases. We installed a new mammography system (Fujifilm AMULET Innovality) for breast tomosynthesis imaging to improve our diagnostics and treatment of those patients. For mammography and tomosynthesis images, we use the SYNAPSE EX-V extended mammography viewer software.

Dr. Ichiro Isomoto
Deputy Director and General Manager of the Department of Radiology,
St. Francis Hospital
Why did you choose the RX1270?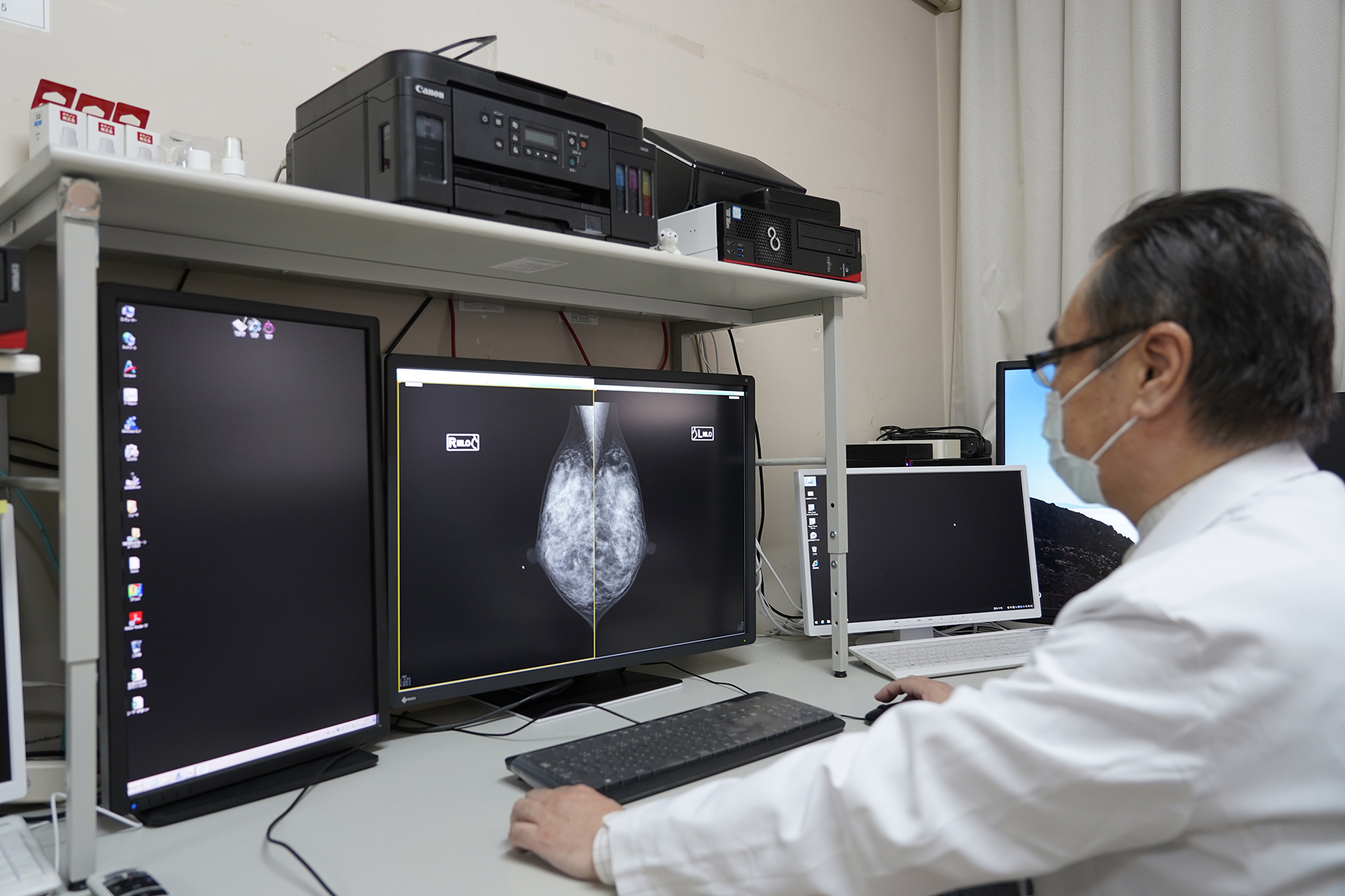 We took the new mammography system as an opportunity to also introduce the 12-megapixel high-resolution 30.9-inch color monitor, RadiForce RX1270. We were already using the SYNAPSE Picture Archiving and Communication System (PACS) for unified image management of all modalities except for echocardiography at our hospital. This includes radiography, CT, MRI, echography, and endoscopy. Before when we used two 5-megapixel color monitors to read these images, the left and right would have to be displayed on separate monitors, which were separated from each other because the frames got in the way. The RX1270 can display both images on a single screen at a higher resolution, and at a larger size compared with the two 5-megapixel monitors that we had been using so we decided to make the switch. We also liked the thoughtful little features that improve the reading environment, such as the comfort light built into the back of the monitor, and the attached spotlight to see documents.
The RX1270 has been approved by the US Food and Drug Administration (FDA) for not only reading regular 2D mammography, but also tomosynthesis images which is what we use it for at our hospital. I think our timing in implementing this monitor in our reading environment was particularly good.
What changed with the installation of the RX1270?
| | |
| --- | --- |
| | With the RX1270 we can now compare images side-by-side, on one screen, including comparisons of current and past images, without any obtrusive monitor frames. When viewing certain sections of mammography images, even at 100x zoom we can see more on one side of the screen, so we don't have to pan around the images as often. When used in combination with our new mammography system, we can now identify and evaluate calcifications much easier. We can also easily compare 2D mammography images with images from other modalities, such as tomosynthesis, echography, and MRI, for stress-free, effective image reading. |
Tell us about your future plans.
I think that the RX1270 is an indispensable monitor for a smooth image-reading workflow for modern diagnosis work, which requires a multi-modality approach alongside 2D mammography and tomosynthesis. Our hospital currently has only a single RX1270 monitor, but we hope to eventually replace all the monitors used by our radiologists with RX1270 monitors.
 
Deployed Products