Case Studies
Commercial Vocational and Extended Training Centre St. Gallen (GBS) | EIZO
Sound training for future design professionals
The College of Design at Commercial Vocational and Extended Training Centre St. Gallen (GBS) relies on ColorEdge monitors from EIZO for the vocational training and further education of its apprentices and students in the design disciplines.

At GBS, apprentices receive solid training in around 50 commercial and industrial occupations. This includes a wide range of continuing education courses, from basic courses to federally recognized courses, at the College of Design. It is the most important training centre in the eastern part of Switzerland which underscores the importance of practical vocational training. A total of over 5,000 students are taught there.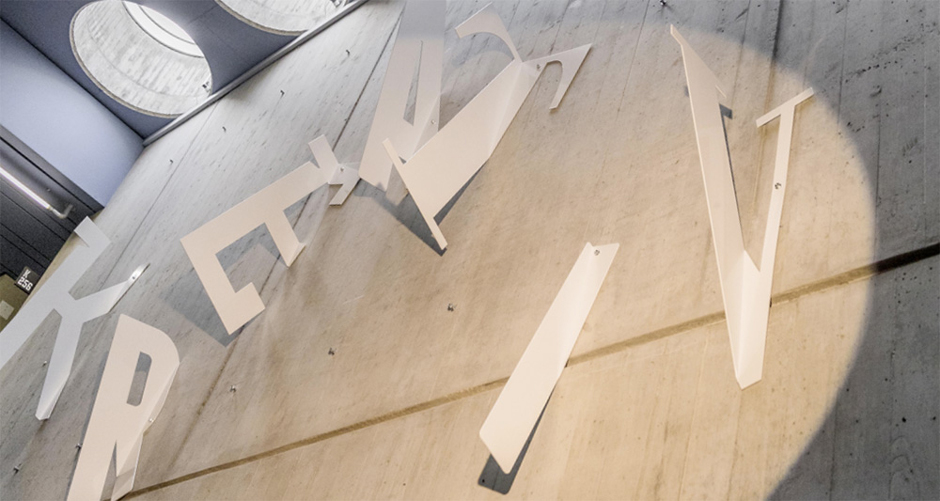 Quality monitors for quality training
Students work diligently in the school's classrooms. They attentively follow the lecturer and immediately put what they have learned into practice on the PC. Or they each work independently on their own tasks in the classrooms, equipped with their own notebooks and monitors and, depending on the direction of training, with additional equipment.

EIZO ColorEdge monitors are used in basic and advanced training in design and art. In professional 3-year training, they study to become photographers or a qualified designers in Visual Design or in Interactive Media Design, and in basic vocational training, graphic designers and interactive media designers. In addition, a large number of future professionals are working with ColorEdge monitors at GBS during their training in typography, polygraphs, graphic art, interactive media design, and printing technology.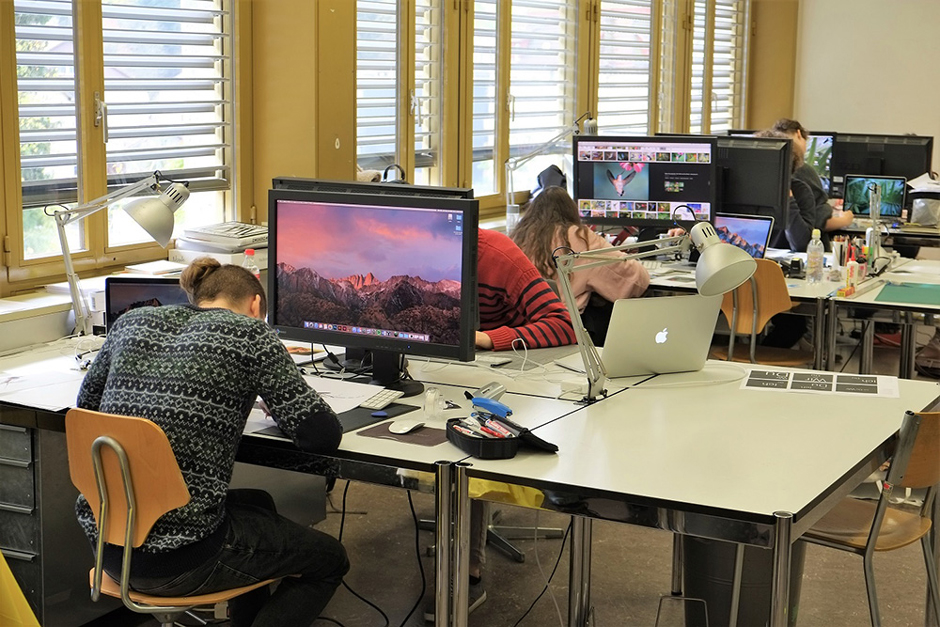 Manifold use
The apprentices and students are the future specialists of modern communication and design. In order to meet the associated requirements, they must learn their craft with every associated aspect – this also includes dealing with the latest technologies. Future polygraphs, for example, must know how to calibrate monitor hardware. After all, this is one of the demands placed on trained professionals. It is therefore essential that they are able to learn and apply such processes during their training. Prospective graphic designers work with iMacs and need a large screen on which their work is clearly visible. Illustrations must be able to be displayed in high resolution because they must also be coherent in small details.

The programs that are used, such as InDesign, Photoshop, video editing with Cinema 4D, and a wide range of other creative tools, require a monitor that offers true color reproduction and a high resolution. These are all reasons why the use of professional monitors is an important aspect of their training. ColorEdge monitors from EIZO ensure that the processes and functions that are important for professional life can be learned and used.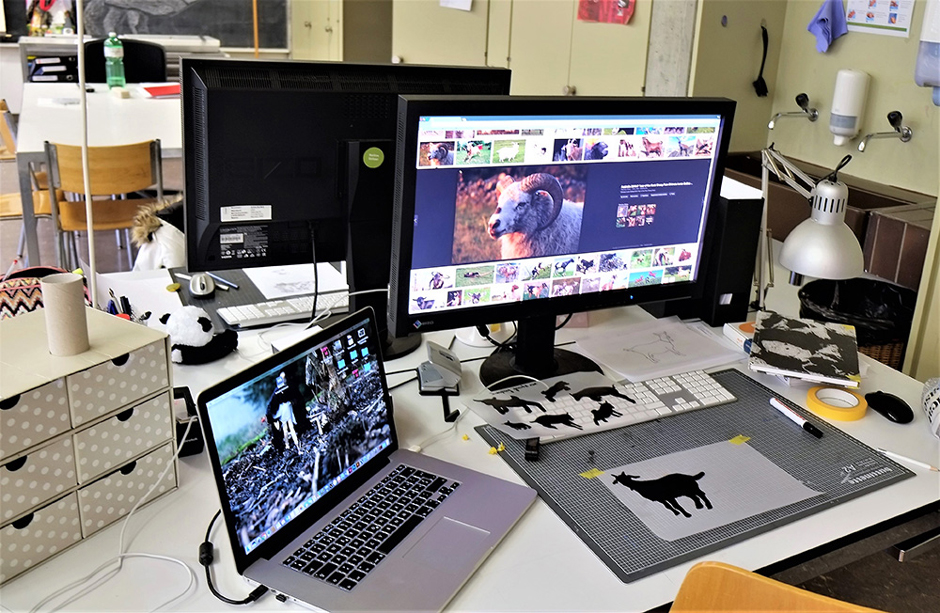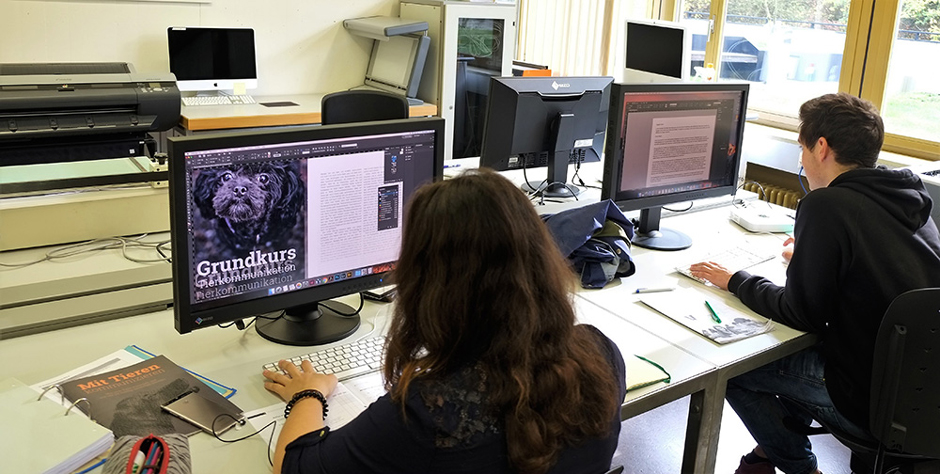 Interview: Daniel Brülisauer

A good long-term investment
Daniel Brülisauer, what is your function at GBS?
I am the Mac system administrator at GBS and, among other things, responsible for the installation of hardware and software and the technical clarification of the devices we use. Together with other departments, I am also involved in the decision-making process as to which devices are to be used at GBS.
Why did GBS choose monitors from EIZO?
During a re-evaluation we were able to try out the EIZO monitors and test them under real conditions. For example, how accurate the color reproduction from monitor to print is. We then compared this output with monitors from other manufacturers. EIZO came off best with a wide variety of settings. In addition, the latest software is always available: ColorEdge monitors are delivered with the ColorNavigator calibration software. The fact that this software is always up to date and can be downloaded very quickly for the new versions of Mac and Windows was another decisive argument for us. And it was also one of the lecturers' wishes that ColorEdge monitors be used.
Which special requirements have to be considered for a school?
At a school, monitors are in use all day long and are used intensively and by different people within one day of class. That's why they need to be sturdy, adaptable to the user, and able to withstand the rigors of sliding back and forth. In addition, we want to be able to use the monitors over a long period of time without the picture quality deteriorating. After all, every student, including future students, should be able to work with the same image quality.
How do EIZO monitors support you in your work?
Students work with laptops on which they perform their tasks and store their work. Compatibility with them must work. We don't have any problems with EIZO monitors. Another plus is EIZO's 5-year on-site warranty. We invest in quality because it pays for itself in the long run.
Your final conclusion?
We are very satisfied with the ColorEdge monitors from EIZO!

A total of around 70 EIZO ColorEdge monitors are in use at GBS including CS2730, CS270, and CG247 for the professional training of photographers.