Case Studies
Remote Film Production - The Making of Rurouni Kenshin: The Final/The Beginning | EIZO
This is a translation of an article written by Taku Koike published by PRONEWS on April 19, 2021
Original article (Japanese)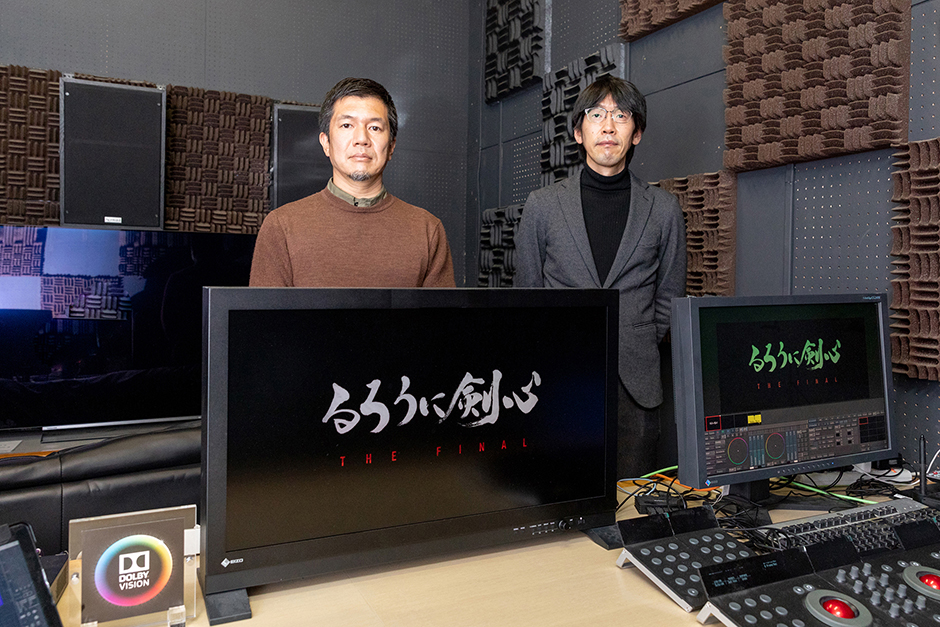 Remote Work During the Coronavirus Pandemic
The development of EIZO's ColorEdge CG series of color management monitors for creative fields recently won an Academy of Motion Picture Arts and Sciences Scientific and Technical Award. It was an incredible honor for EIZO's employees who contributed to the research and development of the built-in self-calibration technology of the ColorEdge CG series to be recognized for their work — an exciting day indeed for the video industry! We will take a closer look at two films which were created using the ColorEdge CG series.

We spoke with the colorist Seiji Saito and the cinematographer Takuro Ishizaka, who worked on the films Rurouni Kenshin: The Final and Rurouni Kenshin: The Beginning, about their experience with the ColorEdge series, including the latest reference monitor, ColorEdge PROMINENCE CG3146. We also talked about the remote production workflow brought about by the coronavirus pandemic.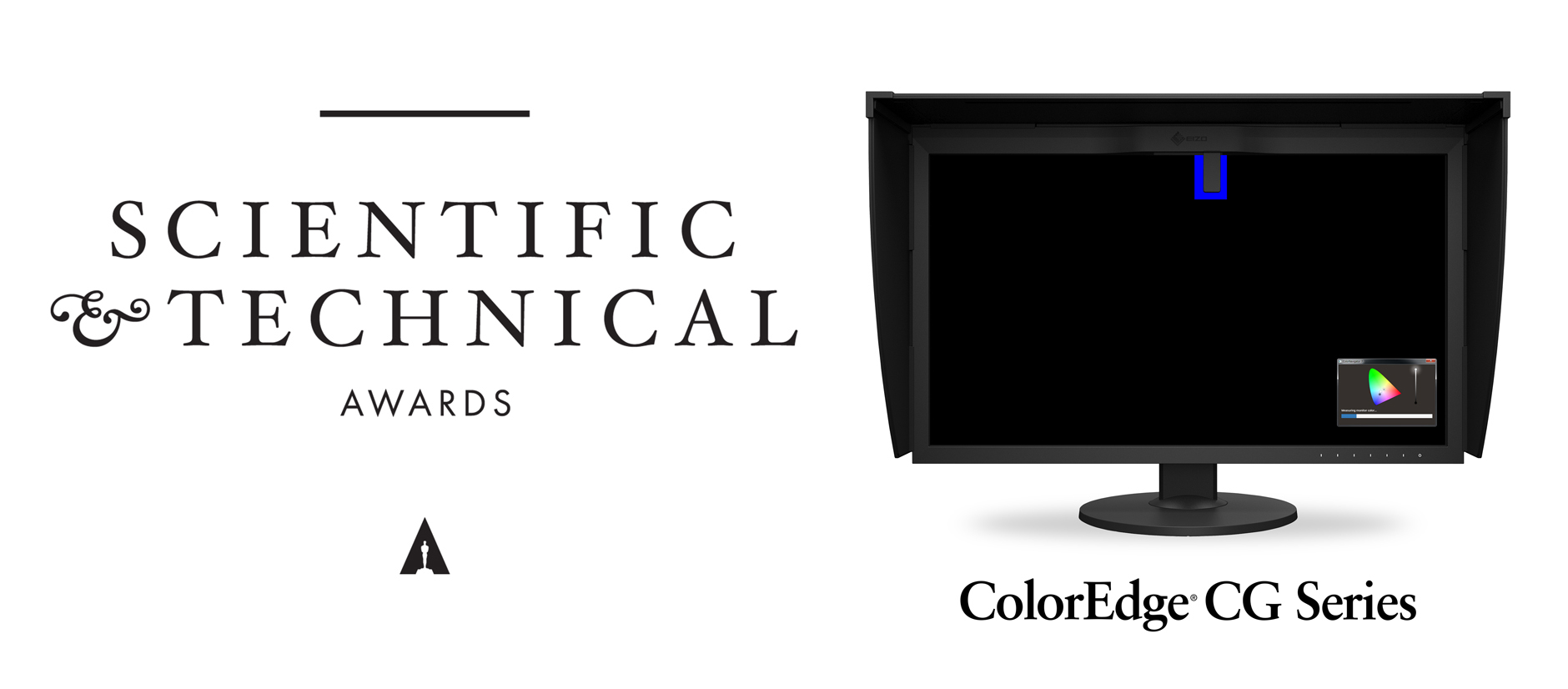 Using ColorEdge for Remote Production Workflow during the Coronavirus Pandemic


From left to right: cinematographer Takuro Ishizaka, colorist Seiji Saito
Please tell us about your involvement, your impressions, and the production process of the films.
Ishizaka: I've been involved as the cinematographer since the first film. Having a protagonist who is a historical figure who may have actually existed gives the film a certain sense of realism. In combination with the appearances of other characters, such as the Shinsengumi military government police force, made us feel that we should be able to do something spectacular. Samurai films tend to be solemn yet emotional, but everyone on the staff wanted to make a really entertaining film with exciting action sequences. The first film was a hit, and ever since then it's felt like a celebration that comes around every few years. It's been very hard work, but these films have also been a lot of fun to work on.

Saito: I've worked as a colorist since the second film. The first one was a success, and then I took over from there. When I was first given the script to read, I felt like the color tones should add a sense of dramatic weight to the performance. I was worried that the film would turn out looking like a cosplay video if I didn't handle it with care. I believe that color grading establishes a film's worldview. Adjustments have to be made incredibly delicately to avoid overly simplistic and abrupt color changes. The main look of a film is determined in the pre-production testing phase before the shoot begins. This testing is the most difficult part of the process.

Ishizaka: Although the actors might be wearing their costumes during the testing phase, we might not be shooting on the actual sets, so it can be hard to imagine how the finished scene will look. For instance, if we're using a certain color to express a specific emotion, we'll discuss how we should use that color – whether we use it in the costumes or in the background, and how we find a balance that avoids focusing too much on that color, so as not to undermine the image as a whole. Sometimes color placement changes when we move on to actual shooting, but sometimes we learn through trial and error that our initial idea is often the correct one. Therefore, I think it's very important to determine exactly what we want to do during testing.

Saito: The films use bold color tones but it was hard to make subtle adjustments.

Ishizaka: The color tones Mr. Saito produced at first were very "beautiful." That's obviously not a bad thing, but after consulting with director Otomo, we decided we wanted the film to feel a bit more lively, so we chose to go in a direction with slightly less balanced colors. Serious period dramas will often have low saturated colors. For these films, however, we wanted striking colors without making them look cheap. With this in mind, I asked Mr. Saito to tweak the base LUT, but it was a real challenge to figure out just how far we could take them.

Saito: As someone who has worked with film, I tend to think of color expression in terms of not only saturation, but also color density, color value, and color depth. This served as a common language for the two of us throughout the film and helped us understand what the other had in mind to set the visual tone.
How did you communicate during film production, given the guidelines and restrictions during the pandemic?
Ishizaka: Shooting for Rurouni Kenshin: The Final ended around June 2019, and it looked like Rurouni Kenshin: The Beginning would be wrapped up in January 2020. The state of emergency was declared right when we were planning to start the polishing work on the former.

Saito: At the time, Toho Studios was closed, as were most of the post-production companies overseas. This made it a challenge to work remotely with Mr. Ishizaka who was living in Los Angeles. I never expected to be in a situation like that and certainly not so suddenly. When we worked together in the past, we would just share the same reference monitor or projector screen. We had no clue where to even begin.

Ishizaka: At the time, I was essentially stuck in Los Angeles. It wasn't until June 2020 or so that I came back to Japan, so until then we had to communicate remotely between Japan and the US.

Saito: First of all, there was the challenge of sending files back and forth. Compressing files would make it easier to send them to each other, but then we'd lose gradations in the image.

Ishizaka: One particular problem was how compression would cause the colors to shift in the blacks, so we couldn't get an accurate feel for the overall tone. This made it hard to figure out what still needed to be done, so we wound up using uncompressed data, but that meant slow file transfers. Beyond that, at first I tried displaying the video using the video I/O device I had, but it didn't support DCI-P3. After some trial and error, I gave up on that. Then I talked with someone at EIZO, who told me that I could connect a ColorEdge monitor to my PC and set the color space to DCI-P3. So I ordered a ColorEdge CG319X while I was in LA. It wound up being a really simple solution to the problem I was having.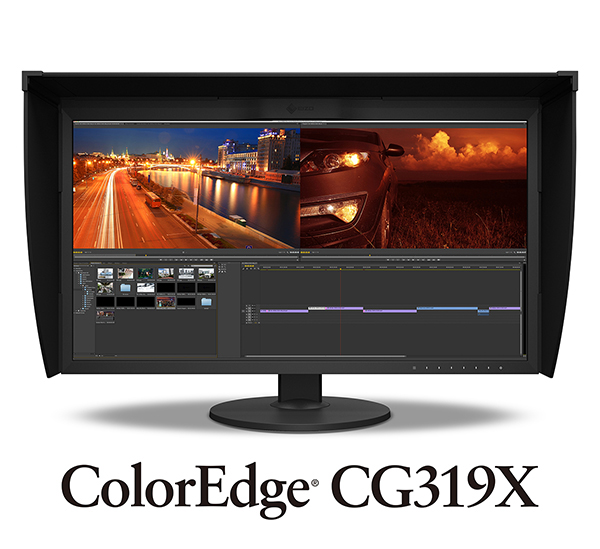 ColorEdge CG319X : professional 31.1" 4096 x 2160 4K HDR monitor with built-in calibration sensor for video editing.

Saito: Back then, I was using a ColorEdge PROMINENCE CG3145, the predecessor to the CG3146 reference monitor. I also had a CG319X, which I used when working with Mr. Ishizaka, so that we both had exactly the same display environment for communicating remotely.

Ishizaka: When working remotely on different monitors, you can't be sure you're both seeing the exact same image. With the CG319X, though, I could trust that we both saw the same thing on our monitors because their built-in calibration sensors were adjusted at the factory to ensure that they both displayed colors identically. One thing I didn't realize at first was that the DCI-P3 color space has a low brightness, at 48 cd/m², so your work environment needs to be pitch-black. At first, I'd wait until nighttime to work, but I eventually just covered the windows. I suppose that was another thing I learned that came out of working remotely from an ordinary home.

Saito: Before this, I had this sort of default notion that I needed to see the grading work that had been done on a reference monitor projected onto a screen to see how it would really look. I rarely made judgments based on what I saw on a monitor. For our remote production workflow, though, we used CG319X monitors from the same ColorEdge series as my trusty CG3145 reference monitor. These made it possible to make decisions based only on what I saw on the monitor. The last steps obviously still needed to be done on a screen, but I felt that the work we had done before that on our monitors was very significant.
4K HDR films are becoming more common. What are your thoughts on HDR?
Saito: I've worked on 4K HDR films myself, but 4K HDR film production is becoming a prerequisite for online streaming distribution.

Ishizaka: Shooting and mastering at the highest possible resolution is an investment in the future and I think that's the best thing to be doing now. However, 2K mastering is still the norm for films made in Japan, so these films are also mastered in 2K.

Saito: We shot at 6K, so in theory, it should be possible to master these at 4K. In practice, though, it is feasible at the moment given our limited production budget and considering the extra work it would take for the CG department. In addition, movie theaters have both 2K and 4K screens, so if you want to screen a film in 4K, you have to deliver the 4K version on top of the 2K version. Furthermore, theaters need to make certain investments on their end too, like servers with 4K support.

On the other hand, mastering in 4K HDR would presumably be valued higher for online streaming services. So, it might be a good idea for the Japanese film industry as a whole to consider that transition, with eyes on doing business in the global market. As it stands, I worry that the younger generation of creators might wind up releasing straight to online platforms to the most of the latest, high-end production technologies, skipping theaters entirely.

Ishizaka: Depending on the film's budget, you may need to consider less expensive options, but in doing so, you might not be able to keep up with the international standards and trends.

Saito: We colorists can also fully master new technologies through firsthand experience — with just information, it's possible to understand new technologies, but not to master them. I think that firsthand experience is critical, including working on films made with the latest technology.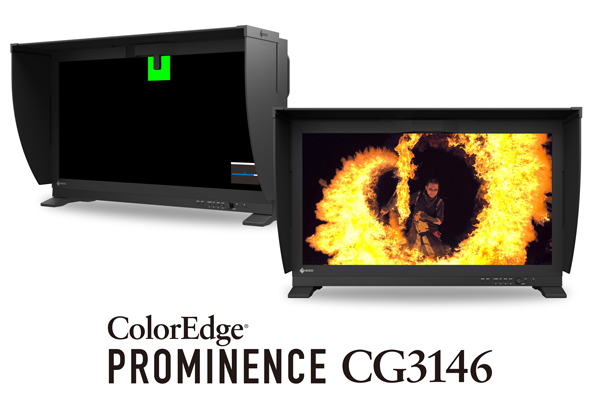 ColorEdge PROMINENCE CG3146 : The world's first 31.1" true HDR reference monitor with a built-in calibration sensor.
You have been using the ColorEdge series for years. What are your impressions and what requests might you have for the future?
Saito: I feel I can trust these monitors because of their built-in calibration sensors. In fact, the ColorEdge PROMINENCE CG3146 reference monitor, the successor to the CG3145, came out while we were working on the color grading for the Rurouni Kenshin films. We adopted it immediately. We've used it to make 4K HDR films ever since, and it's very consistent. When using EIZO monitors, I've never felt any major differences from one monitor to another. They're incredibly reliable.

We were able to work together on these films remotely in total confidence. I think that the biggest improvement that came from upgrading from the CG3145 to the CG3146 was the addition of SDI support. This allowed us to connect all sorts of equipment to the monitor directly, and we stopped needing to worry about how far apart the equipment was. We've been gradually making the shift to 12G interfaces, so the addition of SDI support is a very big deal.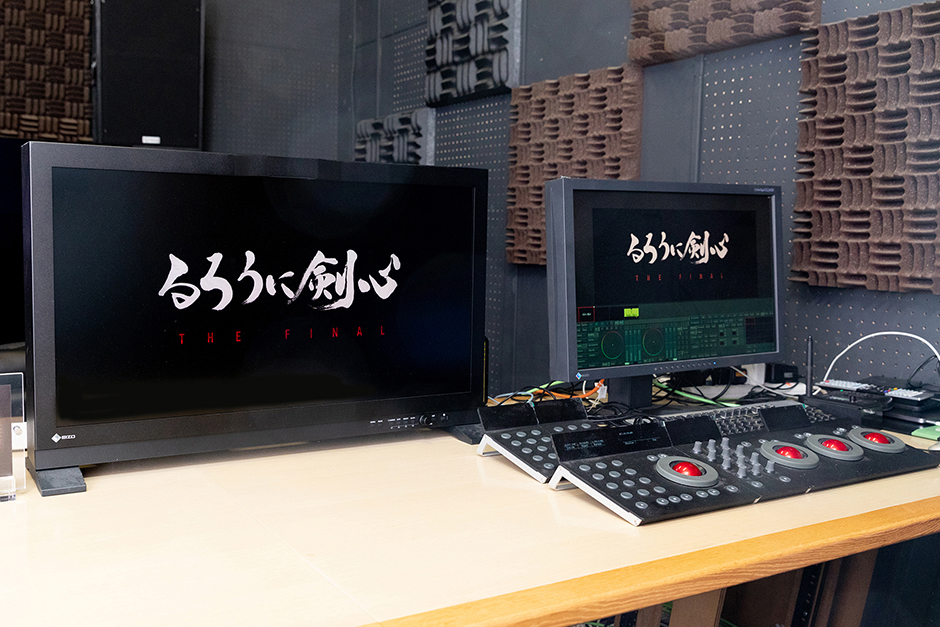 The ColorEdge PROMINENCE CG3146 used by Saito in the editing room.


Ishizaka: Using the ColorEdge monitor made communication very smooth between us while working remotely on these films. On the other hand, it could still be tricky at times when I needed to work directly with director Otomo — getting feedback on my work still required finding opportunities to meet up, which could be tough to arrange. I think that it would be really useful if EIZO had a compact monitor that could properly display HDR for situations like that. For shooting in HDR, we usually use simple HDR monitors that are designed for durability on the set. They often make it hard to tell whether we got the shot we wanted, so I'd love a smaller monitor that can display accurate colors in HDR.

Saito: In HDR checking environments. master monitors are very expensive, so consumer-grade TVs are often used instead for editing or VFX work. But that also means that often, you can't do an accurate check unless a post production company brings in a master monitor. Right now, we use the CG3146 as the main monitor, but it would be nice if there were also a line of compact secondary HDR monitors that could accurately display colors. This would allow directors or creators to do proper checks and make judgment calls on the set. If everyone involved in the production used the same monitors for checking, it would make color management that much easier for remote work.

 
Deployed Products