Case Studies
ColorEdge Relied on by Tokyo's New National Stadium Architect, Kengo Kuma and Associates | EIZO
EIZO's ColorEdge CS2731 Brought About Dramatic Changes to the CG Team's Production Environment at Kengo Kuma and Associates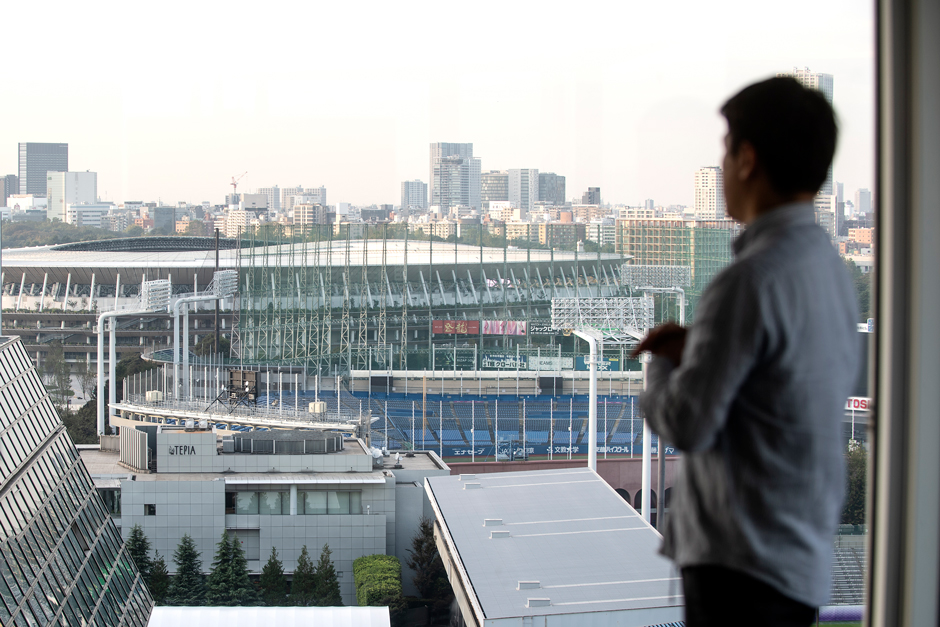 View of the New National Stadium from Kengo Kuma and Associates Office
| | |
| --- | --- |
| Kengo Kuma and Associates is an architectural firm known for the renovated designs on the Kabukiza Theater in Ginza and the Mitsukoshi department store in Nihonbashi, and the New National Stadium, where the world's most renowned sporting events and ceremonies will be hosted in 2020. Their buildings are artfully designed to blend in with the surrounding environment and culture. This famous leading architectural firm also boasts a rather unique advantage: they have their own in-house CG team. Their CG team recently added eight ColorEdge CS2731 monitors to their workflow. We spoke with the head of the design office, Tomohiro Matsunaga, who told us about their experiences with the monitors. | Tomohiro Matsunaga (Kengo Kuma and Associates) |
Adding Texture to 3D Building Designs
With the recent adoption of BIM (building information modeling), the field of architecture has seen a rapid transition to 3DCG. Kengo Kuma and Associates were no exception: their design team uses 3D modeling in the design process. They recently added EIZO ColorEdge monitors to their workflow, not for the design team, but for the CG team. So, what does the CG team at Kengo Kuma and Associates do?

According to Tomohiro Matsunaga, the head of the design office where the CG team is located, the CG team's job is to create digital architectural renderings that visualize the intended materials, lighting, and other elements of finished projects, based on 3D models built by the design staff. There are many companies out there who specialize in producing these renderings; in fact, it's a rarity for a company to have their own specialized team in-house to handle this task.

The Kengo Kuma and Associates Office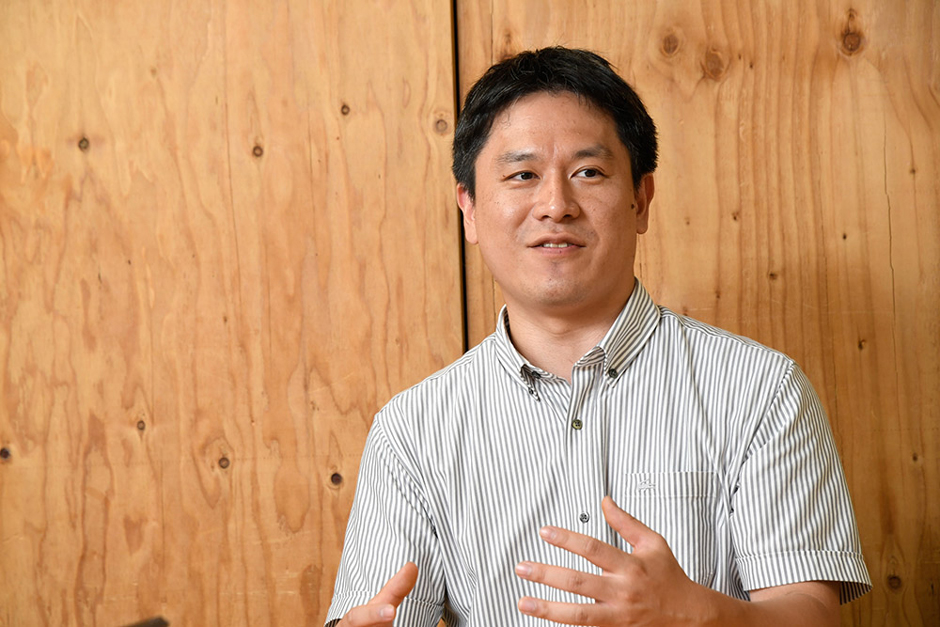 Tomohiro Matsunaga (Head of the Design Office at Kengo Kuma and Associates)

Right now, there are eight people on the CG team. For each project handled in-house, the same members on the CG team work with the design staff until the project is complete. Each member of the CG team works on multiple projects simultaneously, so over the course of a given month, a single person will be involved in a considerable number of different projects. According to Matsunaga, "We start by producing concept renderings for competitions. If we win a competition, we begin work on a more detailed design, and keep producing architectural renderings until just before the building is complete, so a member of the team can be involved in a given project for a pretty long time." For instance, when Matsunaga handled BIM work for the V&A Dundee design museum in Scotland, that project took about eight years from start to finish.
 
The Need for Color Management
The CG team at Kengo Kuma and Associates added CS2731 monitors to their workflow in June 2019. Before then, the CG team had no real consistency between their monitors and other equipment, leading to different work environments for each person. "Because a single person from the CG team would be involved in each project, there wasn't much need for collaboration within the CG team itself, so we didn't really notice the differences between our work environments," noted Matsunaga in retrospect.

However, in recent years, architectural renderings have come to be used more and more on the web or in advertisements, and clients began pointing out color mismatches increasingly often. As Matsunaga put it, "Based on your work on your own monitor, you wouldn't think there were any problems with the colors, but when the clients looked at it on their own computers, the colors would be completely different, so we had to do more and more revisions." The team wasn't particularly familiar with color management at the time, and had no real means of ensuring that their colors matched. As a result, there was a strong desire for monitors that would be able to display colors accurately, based on a color standard.

It was then that Matsunaga tested an EIZO ColorEdge monitor, which had attracted his notice some time before. "I was stunned by how beautiful the picture was — it was like no screen I had ever seen before," recalled Matsunaga. After they tested a variety of monitors, the ColorEdge earned high acclaim from the entire team; the CS2731 had just come out, so they decided the time was right to officially make these monitors a part of their workflow.

The CG Team Hard at Work
 
Accurate Reproduction of Even Fine Gradations on Wood
"By introducing these CS2731 monitors, we were able to achieve an internal standard for accurate colors," explained Matsunaga. "For example, if we're using wood for timberwork, the wood isn't all going to be the exact same color. We've always made sure to introduce slight variations in the wood in our CG work, but before, most of the colors would lose their detail in printouts, so it wasn't possible to tell. With the CS2731, though, we get accurate color reproduction during our production work, even for fine gradations, which makes the work a lot more satisfying." In addition, the ColorEdge has outstanding reproduction of gradations in dark areas, excellent for displaying night scenes or showing finely detailed texture even in shadows.

The display has also proven to be extremely valuable when trying to show architectural renderings in the best possible light for competitions. According to Matsunaga, "For overseas competitions, it's especially important — the impression given by a rendering can vary tremendously depending on how delicate gradations are reproduced, like the color of the sky during magic hour in northern Europe. Whether you can reproduce those sorts of subtle gradations or not is a big deal."

Having an internal standard for accurate colors gave the team more confidence in their work and led to a significant reduction in revision requests from clients. As Matsunaga told us, "Cutting down on needless back-and-forth helped speed up our production work. Combined with the efficiency improvements that came from switching to larger screens, it felt like we could handle almost twice as much work as before." The CG team is involved in producing architectural renderings up until buildings are nearly completed, which inevitably leads to a great deal of work. Being able to reduce the amount of work that needed to be redone due to revision requests was immeasurably valuable.

The team also used to work with a pair of HD monitors from another company at each desk, but because the color and brightness on these monitors couldn't be finely calibrated, they would cause severe eyestrain after hours of work. After switching to the CS2731 as the main monitor, the team noted that they hardly experienced eyestrain, even after a full day of looking at the monitor — so the change led to health benefits as well.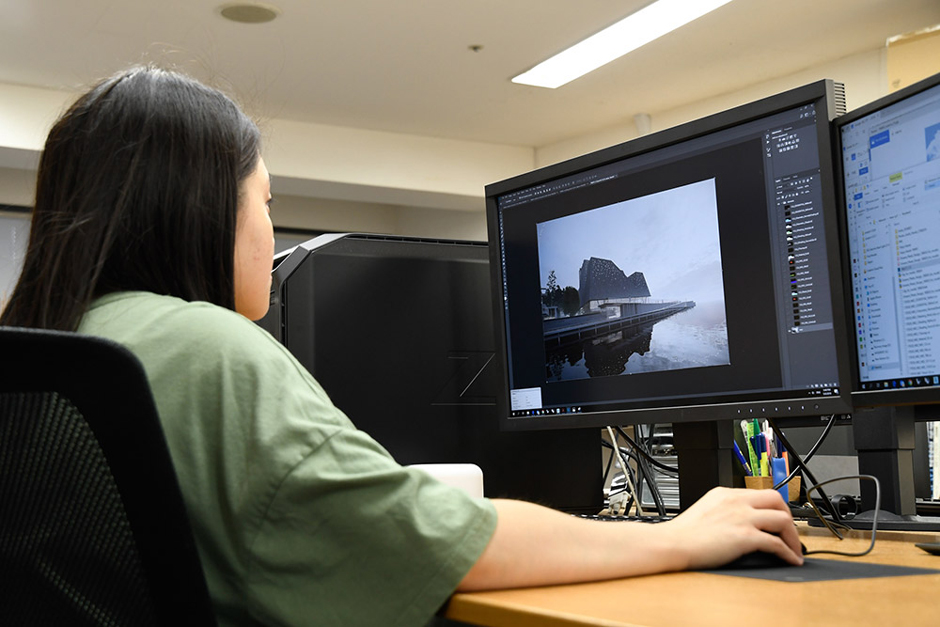 Today, the members of the CG team each use a CS2731 as their main monitor for CG work.

At 27 inches, the CS2731 is a fairly large display, making it great for design work too: it can display a whole A3 plus page at actual size, and its WQHD resolution (2560 x 1440) makes it easy to see fine details. "We looked into 4K monitors as well, but we found that 4K was more than we really needed for our work, so the CS2731 was just right for us. And because the monitor itself is as large as it is, tool palettes don't wind up displayng too small, so it's easy to check the details of what we work on. It's the perfect size," Matsunaga noted. The monitor can also display a wide color gamut, covering 99% of the Adobe RGB color space, and each unit is calibrated individually before leaving the factory. This calibration is done after each unit undergoes a test run to stabilize its rendition, to ensure consistent, even colors and brightness across the entire screen, for a monitor that has earned exceptional acclaim for its reliable image rendition.

The CS2731 utilizes hardware calibration: using a color calibration sensor (available as an additional accessory) and the free included software, it can be regularly recalibrated to ensure color accuracy for years to come. At Kengo Kuma and Associates, they have only recently implemented a major reform by unifying their monitor environments, so they plan on looking into teaching the team how and when to perform calibration in the future — a sign of their trust in the factory calibration on these monitors. The CS2731 looks likely to serve as a big step forward for their future efforts, as well.


This is a translation from Japanese of an article published by CGWORLD.jp November 7, 2019 (link). Original text by Kazuya Hayashi. Photos by Yuka Kani and Mitsuru Hirota.
 
Deployed Products
Special thanks to Kengo Kuma and Associates for their cooperation.
Website