Case Studies
Sadowara High School, in Miyazaki Prefecture, Japan | EIZO

Deployed Products:
Sadowara High School creates a clean and restriction-free learning environment for its students.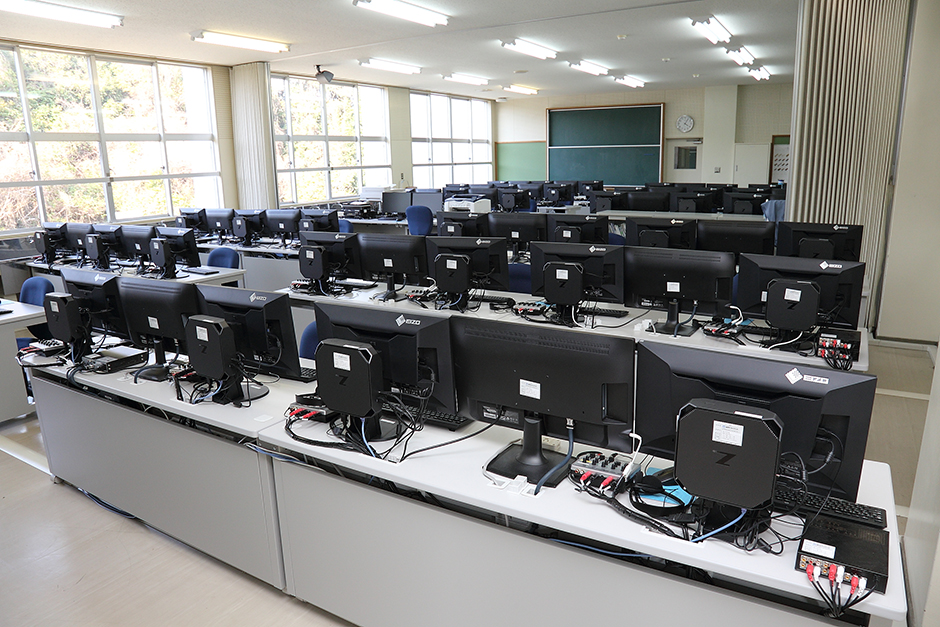 "We wanted to create an environment where creator software could be used comfortably with correct colors."
Sadowara High School installed the EIZO FlexScan EV2451, EV2456, and HP Z2 Mini G3 Workstation. What considerations were involved with this decision? 
One of the main reasons for our consideration was that it coincided with the timing of our system upgrade. In Miyazaki Prefecture, it is protocol to replace the computers used in classrooms every 5 to 6 years, so with this upgrade began our considerations for the new setup.

As the head of the department of industrial design, I encourage the students to take the Adobe Illustrator Creator Certification Exam which uses Adobe Creative Cloud – especially Illustrator and Photoshop. This also includes 3DCG software such as AUTODESK's 3ds Max and video editing software such as After Effects and Premiere Pro.

To maintain this creative environment, it was important to choose high performance computers with high quality monitors that were capable of producing correct colors. After explaining this to vendors, EIZO's FlexScan monitors and the HP Z2 Mini G3 Workstation were chosen.

 

Mr. Kazirou Ohki
Director of Industrial Design
Sadowara High School
While making your decision, did you have any problems or issues regarding computer equipment?
In the department of industrial design, each class consists of a maximum of 40 students, however we don't have a classroom that is big enough to house that many computers. Until this recent upgrade we had been using computer workstations, however it's very difficult to neatly arrange so many workstations and monitors together due to their large size.
Because of this, our previous set up required multiple students to share a single workstation and monitor.  With this recent upgrade, we decided that no matter what we had to create an environment where each student had access to their own workstation and monitor.
Furthermore, when using 3DCG software, our previous workstations were really pushed to their limits. The fan noise and heat coming off of the workstations and monitors was a real problem. In summer, the air conditioning in our southern classroom was unable to cope, and we had to use fans in combination with the air conditioning to manage the heat. That was another point that we wanted to fix.
"We created an environment where in each class, every student has access to their own workstation."
Did you have any difficulties during the installation process in the classroom?
The installation took place for multiple classrooms in August of 2017, and consisted of 137 Z2 Mini G3 Workstations, and 94 FlexScan EV2451 and EV2456 monitors. Each classroom used 43 of the HP Workstations, but all we had to do was place the EIZO monitors on the desk, as the workstations were attached to the back of the monitors with EIZO's PCSK-03 stand bracket.
Both the workstations and the monitors took up very little space, which made the installation a breeze. To be honest, when we were first discussing the installation, we weren't entirely convinced that all the monitors and workstations would fit onto the desks. However, because the workstations were able to be attached to the rear of the monitors, and the monitors themselves had such thin bezels, the overall footprint was much smaller than we initially imagined. Overall the installation took only 2 days.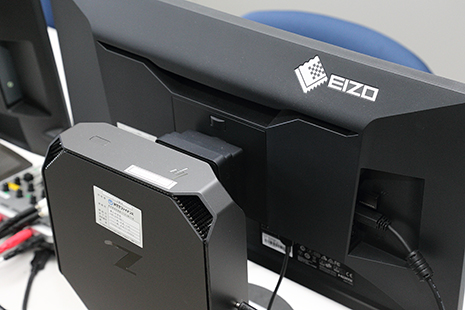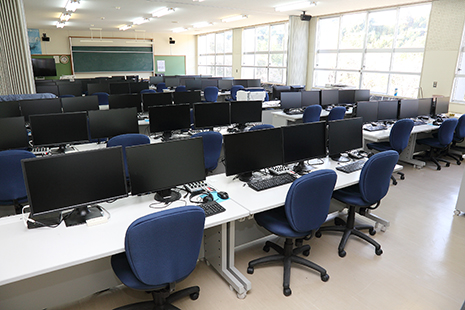 Were you able to solve your previous problems with this installation?
Yes. The biggest improvement from this new installation is that we were able to fit enough workstations and monitors to serve a class of 40 people. Of course the students were delighted by this, and the teachers are also happy with the change.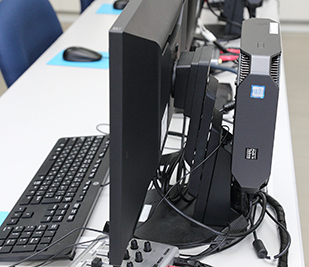 When I saw the Z2 Mini G3 Workstation, because it's so small and stylish, at first I was concerned as to whether or not it was actually a powerful workstation. But as soon as I put it to work, I realized that it had no problem running heavy 3DCG and video editing software. The quality of the monitors is unquestionable, and even though the workstations are attached to the rear of the monitor, there is no wobbling or signs of unbalance.
Additionally, the fan noise and heat from our previous setup has completely disappeared. At first I wondered whether the small enclosure of the workstation would be able to withstand the heat put out by the PC. Conversely, due to several factors such as the new workstation being SSD (solid state drive) rather than HDD (hard disk drive), and using just an AC adapter instead of an entire power supply unit, the power efficiency has greatly improved. Likewise, we expect there to be far less malfunctions due to the reduced number of moving parts.
Apart from this, the fact that we can place the workstations on the rear of the monitors is a very smart idea. I think there are still several students who haven't realized that the unit on the back is actually a workstation!
Not only were the previous problems erased, but the quality of the curriculum has improved.
After the installation, did you notice anything new?
Because we were able to build such a fantastic classroom, there's been a big influence on the lesson planning. For example, previously the students would break into groups who would use the workstations in rotation while the teacher spoke. Now, we can teach everything all at once. Thanks to this the quality of lessons has improved, much to the delight of students and teachers.
Furthermore, in the industrial design department there has been in increase in the amount of students interested in video editing. First and second year students take a class that requires them to make a simple movie, but third years must create a three minute video for their graduation work. Nearing the end of the school year, there is an increased need for students to work on their projects after school.
Until now we distributed students across multiple classrooms and workstations, which was very stressful for the staff who had to constantly move between classrooms to supervise the students. Now all the students who wish to work after school can fit into the one classroom, making it much easier on the staff.
Tell us about your future installation ideas and ambitions.
According to Prefectural guidelines, we will probably upgrade the classrooms in approximately 6 years. Kids these days are very familiar with smart phones and tablets, so we expect that by that time there will a greater need for direct operation with LCD screen devices. If LCD tablets continue to be developed and improved like we see today, then the education of information technology will also change.
With the ever changing times, I believe that the need for a high-quality computer environment is increasing. 
I have been working at this school ever since it was founded. Initially there were not that many computers, but we started with a few PCs with high graphics. Following this we delved into Macs which held a large share of design needs. Then, after Adobe released a Windows version, we moved to using workstations. Our school is constantly changing computers to adjust to the times.

Recently within society, but also within the interests of students, we've seen a big movement toward the world of video, leading to an increase in the needs for high performance workstations and monitors.

Up until recently the casing of workstations have been mostly large and bulky, meaning that there was not enough space to allow every student access to their own workstation. Thanks to the ability to attach the Z2 Mini G3 Workstation to the rear of EIZO's Four-Sided Frameless monitors, my wish has finally come true.

From now on, I'd like to focus on making classes where students can use this environment to really develop their skills.

 

Mr. Kazirou Ohki
Director of Industrial Design
Sadowara High School

 

In Cooperation With: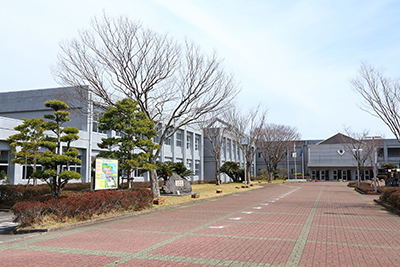 Sadowara High School, Miyazaki Prefecture, Japan
Home Page (Japanese): http://www.miyazaki-c.ed.jp/sadowara-th/
Sadowara High School opened in April 1988, and was celebrating its 30th anniversary at the time of this interview. "Independence, cooperation, and imagination" are the characteristics of this school which has raised many valuable and responsible members of society. It leads in creating specialized departments for various fields regarding the progress of information technology and the advancement of computers and development of applied technology. Thanks to this it enables students to learn a wide range of advanced fields used in information technology (IT) society. The school has a post-graduate employment rate of 100%, and was ranked number one technical high school in Kyushu, and number three nationwide.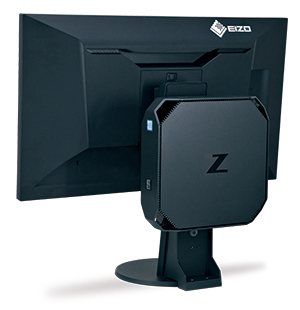 HP Z2 Mini G3 Workstation
Within Japan, EIZO has been collaborating with Hewlett Packard to sell special packs that combine the HP Z2 Mini G3 Workstation with an EIZO FlexScan monitor (EV2451, EV2456, EV2785 and EV3285), along with the PCSK-03 stand bracket to attach the workstation to the rear of the monitor. This collaboration helps to provide compact and high performance computers and monitors for many organizations throughout Japan.