EIZO Monitors among the First to Fulfill Requirements for TCO Certified Displays 7
Hakusan, Japan, November 12, 2015 – EIZO Corporation (TSE: 6737) announced that three of its monitors are among the first products to meet the new TCO Certified Displays 7 criteria. The certified monitors are the FlexScan EV2750, FlexScan EV2455, and FlexScan EV2450. EIZO plans to receive certification for additional models in the coming months.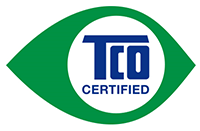 TCO Certified is a sustainability certification for IT products from TCO Development of Sweden that covers socially-responsible manufacturing, the environment, ergonomic design, and usability. EIZO has actively participated in the TCO labeling system for monitors since its inception in 1992.
New criteria for TCO Certified Displays 7 include prohibiting the use of mercury and phthalates (plasticizers) as well as stipulating stricter changes to CSR (corporate social responsibility) requirements such as establishing a conflict-free supply chain of tantalum, tin, tungsten, and gold (3TG).
About EIZO
EIZO (TSE:6737), which means image in Japanese, is a visual technology company that develops and manufactures high-end display solutions. EIZO integrates hardware and software technologies with consulting, web hosting, and other services to help customers in business, graphics, gaming, medicine, maritime, air traffic control, and other fields work more comfortably, efficiently, and creatively. Headquartered in Hakusan, Japan, EIZO has R&D and manufacturing facilities in Japan, China, Germany, and the US, and representation in more than 80 countries.
EIZO and FlexScan are registered trademarks of EIZO Corporation.