EIZO Releases 23" Monitor with Real-Time Visibility-Enhancing Technology for Security and Surveillance Environments
Cypress, CA, September 18, 2015 – EIZO announced the release of the DuraVision FDF2306W, a 23-inch full HD monitor (1920 x 1080) for security and surveillance equipped with EIZO's unique visibility-enhancing technology called Visibility Optimizer.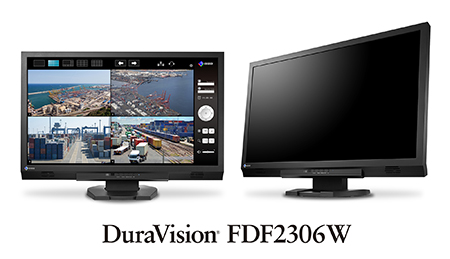 Visibility Optimizer includes several functions for improving the clarity of dark, foggy, or blurry images in real time for security and surveillance environments.
The Defog function enhances images that are affected by fog, snow, or other environmental factors that cause the video to appear hazy and unclear.
 Low-Light Correction detects areas of the screen that are dark and difficult to see and adjusts the brightness of each pixel. This reproduces highly visibly images by brightening dark areas and keeping lighter areas from becoming washed out.
The Outline Enhancer function analyzes the displayed content and ensures that noise is not accentuated while correcting blurred areas for sharper, crisper images. For images with a great deal of depth, it sharpens the foreground more strongly to maintain a real-world sense of focus.
For environments where the monitor is placed above eye level, the DuraVision FDF2306W includes an Up View function that minimizes the washing out of colors that may occur from viewing an LCD screen from below. This ensures that the screen can be viewed clearly whether the monitor is placed on a desk or mounted on a wall or ceiling.
The DuraVision FDF2306W is equipped with an environmentally friendly backlight that has a wide dimming range, adjustable to as low as 3 cd/m2. This makes the monitor more comfortable to use in environments with low or changing ambient lighting.
Additional Features
Compact remote control included for easily adjusting settings and functions
Height-adjustable stand with tilt and swivel capability.
DVI-D x 1, D-Sub mini x 1, and HDMI x 2 inputs for connecting to a PC or AV devices
2-year, 24-hour use manufacturer's warranty for long-term reliability
Product Information
For more information, call +1(800) 800-5202 or e-mail
About EIZO
EIZO, which means image in Japanese, is a visual technology company that develops and manufactures high-end display solutions. EIZO integrates hardware and software technologies with consulting, web hosting, and other services to help customers in business, graphics, gaming, medicine, maritime, and other fields work more comfortably, efficiently, and creatively. Headquartered in Hakusan, Japan, EIZO has R&D and manufacturing facilities in Japan, China, Germany, and the US, and representation in more than 80 countries.
Media Contact:
Annie N. Rivera, M.A.
Marketing and Public Relations Specialist
(800) 800-5202 x140 | annie.rivera@eizo.com
All product names are trademarks or registered trademarks of their respective companies. EIZO and DuraVision are registered trademarks of EIZO Corporation.