EIZO to Unveil 5MP Digital Mammography Monitor with a Long Service Life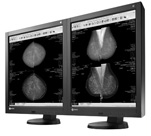 Hakusan, Japan, November 18, 2010 – Eizo Nanao Corporation (TSE: 6737) today announced that at RSNA 2010 it will unveil the RadiForce GX530, a 5 megapixel (2048 x 2560 native resolution) monochrome LCD monitor with a long service life.
As hospitals continue to switch to a filmless environment, doctors, nurses, and radiologists are spending more time working with monitors and require monitors that offer long-term quality and reliability. To meet this requirement, EIZO equipped the RadiForce GX530 with a new IPS panel that improves maximum brightness from 700 cd/m² to 1,200 cd/m² compared to the previous model, the RadiForce GS521. Furthermore, when it is used at the recommended brightness for calibration of 500 cd/m², the RadiForce GX530 offers a longer usage time guarantee of 40,000 hours, up from 30,000 hours. This contributes to a reduction in long-term asset management and maintenance costs.
The contrast ratio will also be increased from 800:1 to 1200:1 to further bring out the subtle differences in similar shades of gray and sharper rendering of details when displaying monochrome images such as the digital mammography, MRI, and ultrasound images.
Like all RadiForce diagnostic monitors, the grayscale tones for each RadiForce GX530 unit are adjusted at the factory to comply with DICOM Part 14. For quality control over its lifetime, the RadiForce GX530 includes an Integrated Front Sensor housed within the front bezel to provide independent verification measurement of the grayscale tones and to perform calibration compliant to DICOM Part 14. By installing the bundled RadiCS LE software, the Integrated Front Sensor and RadiCS SelfQC function allows QC tasks to be performed by the monitor itself even when the connected workstation is switched off. This dramatically cuts monitor quality control workload and maintenance costs.
The RadiForce GX530 also comes with an integrated presence sensor that offers convenience and energy savings. The presence sensor will prompt the monitor to switch to power save mode when it detects the user is away from the monitor and then resume normal operation when the user returns. Furthermore, the sensor determines whether to start QC tasks such as calibration at scheduled times. If the user is working, then the task will only be performed once the user has moved away from the monitor.
The RadiForce GX530 features a Sub-Pixel Drive (SPD) function capable of displaying a 2048 x 7680 super high resolution by controlling each sub-pixel separately. With 15 mega sub-pixels (MsP), sufficient information volume of the original medical image will be displayed, making the monitor suitable for rendering the outline of a detailed digital mammography image more sharply.
To meet the need of different mammography reading environments, the RadiForce GX530 is available in two model configurations: GX530 with an anti-glare panel and GX530-AR with an anti-reflective coating panel.
See product page for more details.
Availability
Mass production of the RadiForce GX530 is scheduled for May of 2011. Availability varies by country so please contact the EIZO subsidiary or distributor in your country for details. Visitors to the EIZO booth #4203 at RSNA (Radiological Society of North America) 2010 in Chicago, Illinois, USA can have a first look at the GX530.
About EIZO
Eizo Nanao Corporation is a leading global manufacturer of high-end visual display products with a wide range of LCD monitor systems. The image quality, long-term reliability, and innovative features of EIZO monitors make them the products of choice in many financial trading rooms, hospitals, back offices, and design studios. EIZO is based in Japan and represented in more than sixty countries by a network of exclusive distributors.
For more information, please contact:
Eizo Nanao Corporation
153 Shimokashiwano
Hakusan, Ishikawa 924-8566
Japan
Phone: +81 76 277-6792
Fax: +81 76 277-6793
EIZO and RadiForce are registered trademarks of Eizo Nanao Corporation.