EIZO to Start Quality Control Management Server Hosting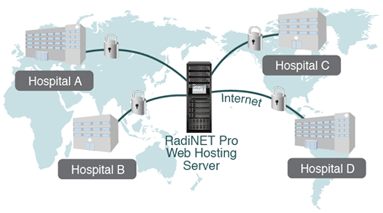 Hakusan, Japan, November 21, 2011 – Eizo Nanao Corporation (TSE: 6737) today announced RadiNET Pro Web Hosting, a network quality control (QC) server hosting service for hospitals around the world.
By moving from film to filmless, more and more monitors are installed and used in hospital facilities for displaying medical images. Quality of the monitor changes slowly over time, thus periodic QC such as checking and calibration is required to maintain quality. This workload of hospital monitor administrators for QC management is growing in accordance to the monitor multiplication.
EIZO has been selling RadiNET Pro software enabling centralized QC management of multiple monitors via an intra-hospital network to ease the workload. Though with this solution, hospitals needed to install and manage the RadiNET Pro server within their own facilities.
With RadiNET Pro Web Hosting, QC data of all monitors can be stored in the RadiNET Pro server managed by EIZO. The monitor administrator of the hospital accesses this EIZO server through a secure Internet gateway connection and he/she can perform centralized QC management of all the monitors within his/her facilities by making full use of RadiNET Pro. Since the installation of the server is not required, hospitals can eliminate the cost of installing, operating, and maintaining their own servers.
See product page for more details.
Availability
EIZO will start RadiNET Pro Web Hosting from January of 2012. Availability varies by country so please contact the EIZO subsidiary or distributor in your country for details.
About EIZO
Founded in 1968, Eizo Nanao Corporation is a leading global manufacturer of high-end visual display products. The image quality, long-term reliability, and innovative features of EIZO monitors make them the products of choice in many financial trading rooms, back offices, hospitals, air traffic control centers, and design studios throughout the world. EIZO is based in Japan and listed on the first section of the Tokyo Stock Exchange. It is represented in over sixty countries by a network of subsidiaries and exclusive distributors.
For more information, please contact:
Eizo Nanao Corporation
153 Shimokashiwano
Hakusan, Ishikawa 924-8566
Japan
Phone: +81 76 277-6792
Fax: +81 76 277-6793
EIZO, RadiForce, RadiCS and RadiNET are registered trademarks of Eizo Nanao Corporation.