EIZO Releases Ultra-Slim, Fully Flat Monitor for Business Environments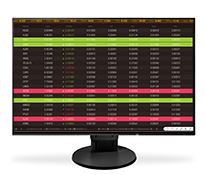 Hakusan, Japan, March 14, 2018 – EIZO Corporation (TSE: 6737) announced the release of The 24.1-inch FlexScan EV2456 for business environments such as trading rooms, back offices and control rooms.
This monitor features a frameless design around all four sides. In addition, it comes with EIZO's newest and most advanced ergonomic stand to maximize viewing comfort.
The native resolution is 1920 x 1200. It uses an LED-backlit IPS (in-plane switching) LCD panel with 178° viewing angles and 1000:1 contrast ratio. The typical brightness is 350 cd/m2.
The bezel sizes are 1 mm on the sides and top and 4.6 mm on the bottom. The surface is flat from edge to edge for virtually borderless viewing in dual or multi-screen environments. Even with this slim bottom bezel the monitor includes electrostatic switches on the front of the screen for navigating the on-screen display menu.
The newly-designed stand includes the following.
Height-adjustment range of 158.6 mm – an increase of more than 20% over the previous models
40° (5° down, 35° up) tilt, 344° swivel, and 90° pivot for viewing in portrait mode
A quick-release button for detaching the monitor and installing on a VESA-compatible mounting device
Basic cable holder and cable cover for cable management
The brightness dimming methods of conventional LED-backlit monitors cause many people to see flicker which results in eye fatigue. EIZO uses its own hybrid technology that makes flicker unperceivable even at low brightness levels. Furthermore, in dimly-lit work environments, brightness is adjustable to 1 cd/m2 which is less than 1% of the maximum.
EIZO incorporates its own EcoView technologies to cut down on power consumption. EcoView Optimizer 2 saves power by reducing the backlight brightness and increasing the gain on screens consisting mostly of dark content. Auto EcoView automatically adjusts the screen's brightness in accordance with changes in the ambient brightness to trim power usage while reducing eye fatigue.
With these technologies, typical power consumption is just 11 watts, allowing it to achieve the EU Energy Label's highest rating of A++ for energy efficiency.
Newly-developed EIZO proprietary software called Screen InStyle lets users adjust the color, circadian dimming, and power settings. The settings can be applied to all monitors in a multi-monitor setup eliminating the need to adjust each monitor manually. A server application for Screen InStyle allows an administrator to control the settings of compatible monitors in an installation from a central location. This is especially helpful for enterprises that want to ensure all units are adjusted properly and the power-save settings are activated.
Additional Features
One DisplayPort, HDMI, DVI-D, and D-Sub input terminal each
USB 3.0 hub with one upstream and two downstream ports
Dual 1-watt internal speaker and a headphone jack
sRGB, Movie, Paper, DICOM, and two user-adjustable preset modes
Zero watts of power consumed when the main power switch is off
Overdrive circuit with 5 ms gray-to-gray response time for smooth display of moving images
Energy Star 6 and TCO Certified Displays 7 compliance
Compatible with EIZO Monitor Configurator software which lets system administrators apply the settings of one monitor to other client monitors via USB or the office network
Available in a choice of black or white cabinets with cable colors to match
Product Information
About EIZO
EIZO (TSE:6737), which means image in Japanese, is a visual technology company that develops and manufactures high-end display solutions. EIZO integrates hardware and software technologies with consulting, web hosting, and other services to help customers in business, graphics, gaming, medicine, maritime, and other fields work more comfortably, efficiently, and creatively. Headquartered in Hakusan, Japan, EIZO has R&D and manufacturing facilities in Japan, China, Germany, and the US, and representation in more than 80 countries.

For more information, please contact:
EIZO Inc.
5710 Warland Drive
Cypress, CA 90630
USA Phone: (562) 431-5011
Fax: (562) 431-0991
eizo.com
Facebook
http://www.facebook.com/eizoUSA
Twitter
http://www.twitter.com/eizoUSA