EIZO Releases Six Highly Durable Monitors in Multiple Mounting Configurations for Industrial Environments
Hakusan, Japan, November 11, 2014 – EIZO Corporation (TSE: 6737) announced the release of six highly durable monitors in its DuraVision lineup for industrial environments – the10.4-inch FDX1003 and FDX1003T, the 12.1-inch FDX1203 and FDX1203T, and the 15-inch FDX1501-A and FDX1501T-A.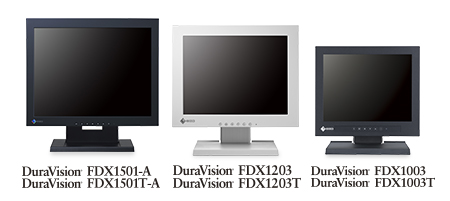 To meet the needs of different industrial environments, each monitor is available in four configurations: desktop, VESA mount, panel mount, and chassis. In addition, they are built to operate in both standard horizontal positions and non-standard positions, such as attached to a mounting device or tilted at an extreme angle, to ensure optimum installation and viewing flexibility.
The monitors feature high brightness ranging from 320 cd/m2 up to 1000 cd/m2 (varies by model) for excellent screen visibility in bright ambient environments. The brightness of all models is also adjustable to as low as 0.5 cd/m2, making them easy to view even under low ambient lighting conditions.
The monitors are built for high durability, capable of withstanding temperatures ranging from 0 - 50°C in industrial environments. In addition, the cabinets do not contain any ventilation holes, making them impervious to liquids and dust.
The DuraVision FDX1003T, FDX1203T, and FDX1501T-A are the touch panel variations equipped with analog resistive touch technology. They accept touch input from both bare and gloved hands as well as styluses and feature higher resistance to dust and water compared to other touch technologies.
Additional Features
D-Sub mini 15 pin analog and DVI-D 24 pin digital inputs
180° image rotation for flexible positioning (10.4-inch and 12.1-inch only)
Key lock support
Reliable 24/7 operation
Product Information
Availability
The DuraVision FDX1003, FDX1003T, FDX1203, FDX1203T are now shipping. The DuraVision FDX1501-A and FDX1501T-A will be available in mid-November. Date of availability varies by country so please contact the EIZO group company or distributor in your country for details.
About EIZO
EIZO (TSE:6737), which means image in Japanese, is a visual technology company that develops and manufactures high-end display solutions. EIZO integrates hardware and software technologies with consulting, web hosting, and other services to help customers in business, graphics, gaming, medicine, maritime, and other fields work more comfortably, efficiently, and creatively. Headquartered in Hakusan, Japan, EIZO has R&D and manufacturing facilities in Japan, China, Germany, and the US, and representation in more than 70 countries. For more information, please visit www.eizoglobal.com.
All product names are trademarks or registered trademarks of their respective companies. EIZO and DuraVision are registered trademarks of EIZO Corporation.