EIZO Releases Network LCD Monitors with LAN Connection to Remote PCs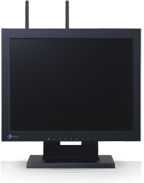 Hakusan, Japan, August 28, 2012 – Eizo Nanao Corporation (TSE: 6737) today unveiled the DuraVision FDX1502N and the DuraVision FDX1502NT, two 15-inch monitors that transmit audio and video and connect to PCs over a local area network (LAN)

By connecting the monitor to a remote PC over a network, long distance video and audio signal transmission is possible with a single LAN cable or with a wireless LAN. The monitors can be used to control the PC either with a mouse and keyboard connected by USB or with the FDX1502NT's touch panel interface. The monitors meet the high-speed IEEE802.11n wireless networking standard ensuring moving image display and touch panel operation.

EIZO anticipates these monitors will be used in positions that are difficult to wire such as suspended from a ceiling or hanging from a wall, or where installation space for PCs is limited. Examples include a retail outlet for displaying advertisements and a factory production line where the monitors' resistance to dust and shock will provide further value.

Both monitors come with a 1024 x 768 native resolution and have a high brightness of 400 cd/m2 for the FDX1502N and 320 cd/m2 for the FDX1502NT. Both monitors are backed by EIZO's 2 year, 24-hour use warranty.
Additional Features
Compliant with IEEE802.11a/b/g/n、10BASE-T、100BASE-TX、and 1000BASE-T LAN standards.
Compliant with R&TTE directive (European Union) and has FCC/IC certification (USA/Canada) concerning electromagnetic compatibility and radio frequency.
Maximum of 6 units of the FDX1502N/FDX1502NT can be connected to one PC via a LAN.
Supports connection with USB peripherals such as keyboards and mice.
FDX1502NT uses analog resistive touch technology and accepts touch input from bare and gloved hands.
Dual 0.5-watt built-in speakers.
Operates at 0 – 50° C and 20-90% relative humidity. 
Top of monitor contains no ventilation holes to prevent dust and debris from entering.

See product pages for more details.
Availability
The DuvaVision FDX1502N and FDX1502NT are now shipping. Date of availability varies by country so please contact the EIZO subsidiary or distributor in your country for details.
About EIZO
Founded in 1968, Eizo Nanao Corporation is a leading global manufacturer of high-end visual display products. The image quality, long-term reliability, and innovative features of EIZO monitors make them the products of choice in many financial trading rooms, back offices, hospitals, air traffic control centers, and design studios throughout the world. EIZO is based in Japan and listed on the first section of the Tokyo Stock Exchange. It is represented in over sixty countries by a network of subsidiaries and exclusive distributors.
For more information, please contact:
Eizo Nanao Corporation
153 Shimokashiwano
Hakusan, Ishikawa 924-8566
Japan
Phone: +81 76 277-6792
Fax: +81 76 277-6793
www.eizo.com

# # #