EIZO Releases Its First Limited Edition 21.6-inch OLED Monitor for Private Entertainment of 4K and HDR Content
Hakusan, Japan, October 2, 2019 – EIZO Corporation (TSE: 6737) today announced the FORIS NOVA – EIZO's first 21.6-inch OLED monitor. This special edition monitor is perfect for private entertainment of 4K videos, streaming, and gaming, including HDR content. The FORIS NOVA launches with limited availability of 500 units worldwide.

The FORIS NOVA is developed with expertise culminating from years of dedication to EIZO's ColorEdge color management monitor solutions, which are widely used by the media & entertainment industry for color-critical work.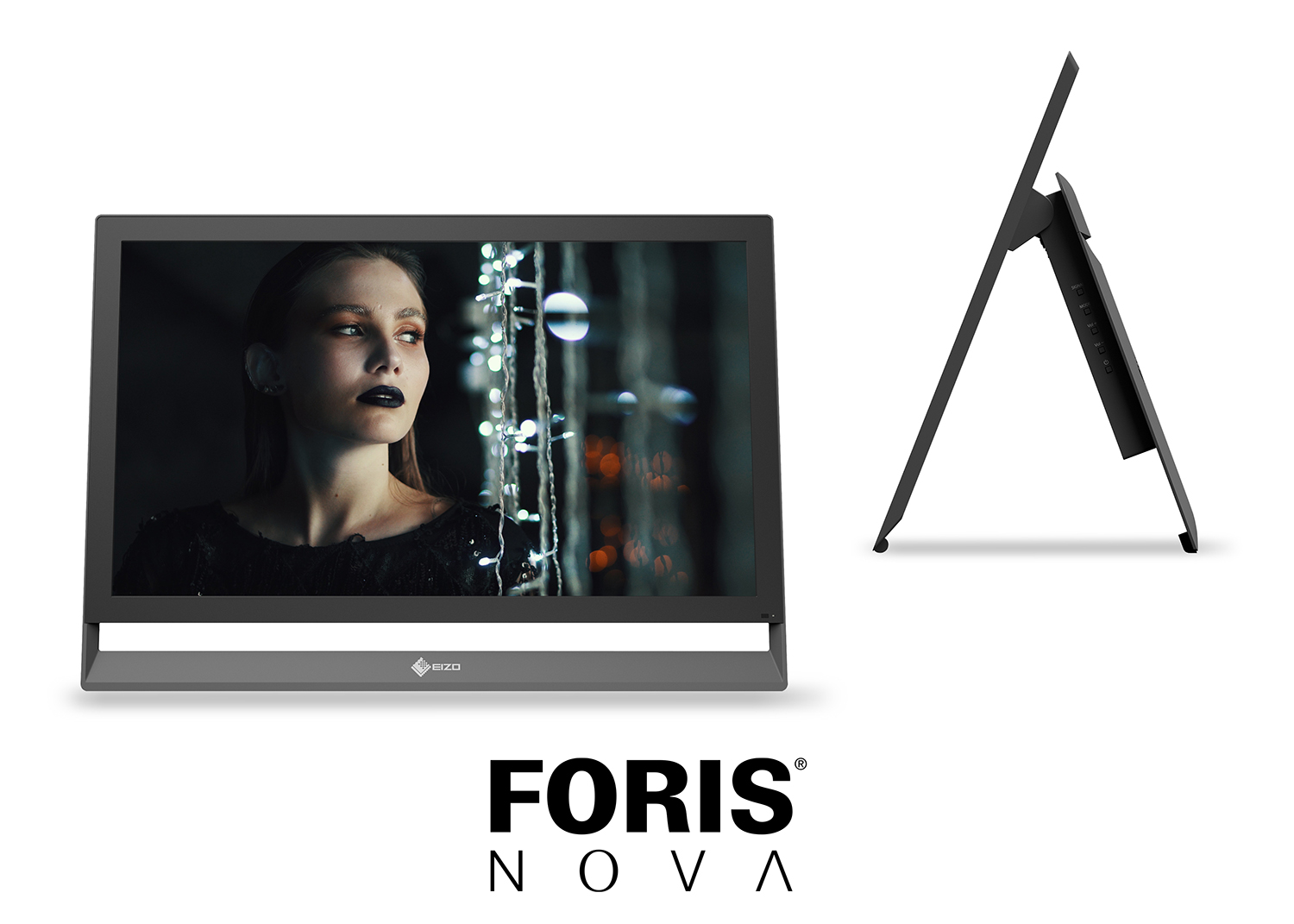 This unique monitor incorporates a 21.6-inch OLED panel which is made up of organic light-emitting diodes (OLED) for precise lighting control of individual pixels.

The incredible 1,000,000:1 contrast ratio allows it to display deep blacks and draw out subtly nuanced highlights and shadows, which are not typically visible with a conventional monitor. Furthermore, the monitor supports HDR10 and HLG (hybrid log-gamma). HDR (High Dynamic Range) approximates the human perception of color and light for an experience truer to the real world. These features, combined with 80% BT.2020 coverage and the capability to display over 1 billion colors, allow users to immerse themselves in a unique and captivating experience.

Additionally, the incredibly low response time of 0.04 ms offers an enhanced gaming experience. When playing full screen at 4K/60p or full HD (1920 x 1080), the input lag is as low as 1.67 ms.

With a compact size of 21.6-inch, the barely-there footprint is perfect for relaxing to enjoy quality content in a private space. The sleek bezel is made with aluminum diecast to enhance the viewing experience, while holding an extraordinarily thin OLED panel. The gray tricolor scheme was carefully selected to be unimposing in any environment.
Additional Features
2 x HDMI inputs supporting 4K/60p
USB charging port for digital media players such as the Fire TV Stick
3-year manufacturer's warranty
Availability
The FORIS NOVA is now shipping in the US, Europe, China, and Japan. Date of availability varies by country so contact the EIZO group company or distributor in your country for details.
Product Information
About EIZO
EIZO (TSE:6737), which means image in Japanese, is a visual technology company that develops and manufactures high-end display solutions. EIZO integrates hardware and software technologies with consulting, web hosting, and other services to help customers in business, graphics, gaming, medicine, maritime, air traffic control, and other fields work more comfortably, efficiently, and creatively. Headquartered in Hakusan, Japan, EIZO has R&D and manufacturing facilities in Japan, China, Germany, and the US, and representation in more than 90 countries.


EIZO, the EIZO logo, FORIS, and ColorEdge are registered trademarks of EIZO Corporation in Japan and other countries. All other company names, product names, and logos are trademarks or registered trademarks of their respective companies.