EIZO Releases Its First ColorEdge Monitor with Power Delivery USB Type-C for Creative Enthusiasts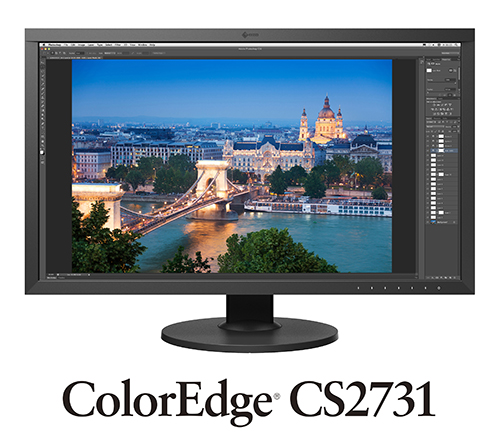 Cypress,CA, February 28, 2020 – EIZO Inc. (TSE: 6737) today announced the new ColorEdge CS2731 – a 27-inch color management monitor for enthusiasts in photography, illustration, video creation, and other creative fields. It is the successor to the ColorEdge CS2730.

The monitor is the first in the ColorEdge lineup to feature USB Type-C connectivity with 60 watt power delivery. With a single USB Type-C cable, users can display video, transmit USB signals, and supply power to a connected device such as a smartphone or notebook PC. The USB Type-C terminal supplies up to 60 watts of power, so even high-end notebook PCs stay charged while working. This eliminates the need for an additional external AC adapter and streamlines the creative workspace.

The spacious 27-inch screen has a native resolution of 2560 x 1440, giving creatives ample space to work with images, tool palettes, and other windows.

The monitor's wide color gamut reproduces 99% of the Adobe® RGB color space, ensuring colors are reproduced faithfully. To counter fluctuations in brightness and chromaticity characteristic of LCD monitors, EIZO's unique digital uniformity equalizer (DUE) corrects deviations in every tone across the screen for stable display.

The ColorEdge CS2731 supports EIZO's ColorNavigator 7 color management software, so users can regularly calibrate and quality control their monitor quickly and reliably for predictable color results. It also supports EIZO's Quick Color Match software, which simplifies the screen-to-print color matching process into just a few steps.
Additional Features
•    Smooth gradations with 10-bit display from a 16-bit LUT (look-up-table)1
•    USB Type-C, HDMI, DisplayPort, and DVI-D inputs
•    Optional light-shielding hood
•    5-year manufacturer's warranty2
Availability
The ColorEdge CS2731 will begin shipping from the st quarter of 2020. Date of availability varies by country so contact the EIZO group company or distributor in your country for details.
Product Information
About EIZO
EIZO (TSE:6737), which means image in Japanese, is a visual technology company that develops and manufactures high-end display solutions. EIZO integrates hardware and software technologies with consulting, web hosting, and other services to help customers in business, graphics, gaming, medicine, maritime, air traffic control, and other fields work more comfortably, efficiently, and creatively. Headquartered in Hakusan, Japan, EIZO has R&D and manufacturing facilities in Japan, China, Germany, and the US, and representation in more than 80 countries.


1 A graphics board and software which support 10-bit output are also necessary for 10-bit display.
2 Usage time is limited to 30,000 hours.

EIZO, the EIZO logo, and ColorEdge are registered trademarks of EIZO Corporation in Japan and other countries. All other company names, product names, and logos are trademarks or registered trademarks of their respective companies.