EIZO Releases 5 Megapixel Medical Monitor with Unique Technology for Ease-of-Use and FDA 510(k) Clearance for Breast Tomosynthesis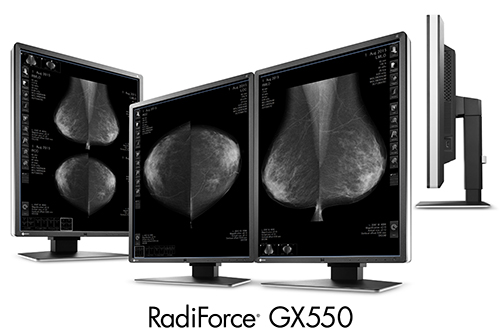 CYPRESS, Calif., November 1, 2016 – EIZO Inc. today announced the release of the RadiForce GX550, a 21.3-inch 5 megapixel monitor for viewing detailed digital breast tomosynthesis and mammography images. It is the successor model to the RadiForce GX540 and features superior imaging capability and ease-of-use.

A medical monitor needs to be capable of high brightness in order to meet performance standards. However, in order to achieve high brightness in an LCD panel, the pixel aperture ratio has to be increased. This causes a typically unavoidable decline in sharpness. The RadiForce GX550 features EIZO's unique Sharpness Recovery technology, with which the decrease in sharpness (MTF) is restored. This allows healthcare professionals to display an image safely on the monitor that is true to the original source data, even at high brightness levels.
The monitor's new design features thinner, black front bezels, making it easier to focus on images in dark reading rooms, while the original white stripe design around the sides of the monitor presents a fresh, clean aesthetic to promote a comfortable, user-friendly environment. For keeping workspace efficient, the monitor's width, height, and depth were reduced by 21 mm, 36 mm, and 45.5 mm respectively - a 28% difference compared to its predecessor. The width of the side bezels were reduced by approximately half to 13.5 mm - the thinnest in the industry for 5 megapixel monitors. This allows users to comfortably view two monitors side by side to compare images.
 
EIZO has received FDA 510(k) clearance for digital breast tomosynthesis and digital mammography from the U.S. Food and Drug Administration for the RadiForce GX550. Digital breast tomosynthesis is a method of breast screening that allows the radiologist to view detailed 3-dimensional images of the breast assembled from multiple X-ray pictures. When used in combination with digital mammography, tomosynthesis provides radiologists with multiple screening techniques that can be utilized together for increased diagnostic precision in breast cancer detection.

 
EIZO will be showing the RadiForce GX550 at the 2016 Radiological Society of North America (RSNA 2016) at McCormick Place in Chicago, Illinois from November 27-December 1. Visit South Hall A, Booth 3706 to see the product.
 
Product Information
Availability
The RadiForce GX550 will begin shipping in December.
About EIZO
EIZO (TSE:6737), which means image in Japanese, is a visual technology company that develops and manufactures high-end display solutions. EIZO integrates hardware and software technologies with consulting, web hosting, and other services to help customers in business, graphics, gaming, medicine, maritime, and other fields work more comfortably, efficiently, and creatively. Headquartered in Hakusan, Japan, EIZO has R&D and manufacturing facilities in Japan, China, Germany, and the US, and representation in more than 80 countries. For more information, please visit www.eizo.com.
For more information, please contact:
Media Contact:
Annie N. Rivera, M.A.
Marketing and Public Relations Specialist
annie.rivera@eizo.com
(800) 800-5202 x140
Facebook
http://www.facebook.com/eizoUSA
Twitter
http://www.twitter.com/eizoUSA
All product names are trademarks or registered trademarks of their respective companies. EIZO and RadiForce are registered trademarks of EIZO Corporation.