EIZO Releases 3 Megapixel Color Medical Monitor with Features for Improved Work Efficiency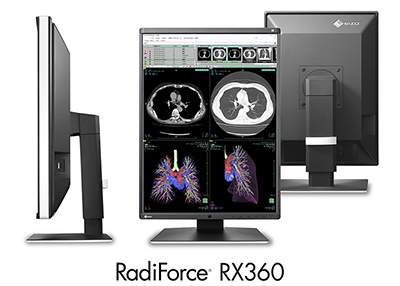 Cypress, CA, October 30, 2018 – EIZO Inc. (TSE: 6737) today announced the release of the RadiForce RX360, a 21.3-inch 3 megapixel color medical monitor ideal for viewing monochrome and color medical images. It comes with unique features to improve work efficiency and save space in the reading room.
The RadiForce RX360 is the successor model to the RadiForce RX350. The monitor comes equipped with an LTSP (low-temperature polysilicon) panel with LED backlight which ensures a maximum brightness of 1100 cd/m2. This makes it ideal for accurately viewing PACS images such as grayscale X-ray, CR, and DR, as well as color images such as 3D rendering and image fusion.
Compared to the 13.8 mm bezel width of the RX350, the RX360's bezel has been reduced by 46% to only 7.5 mm. When using two monitors side by side the total distance between screens measures only 15 mm, making it easier to focus as the eye passes from one monitor to the other.
In order to make diagnosis more efficient and comfortable, the monitor comes with multiple Work-and-Flow features to improve work efficiency. These include Point-and-Focus, Hide-and-Seek, and Switch-and-Go. With Point-and-Focus you can highlight specific areas of the screen, making it easier to concentrate on interpretation. Hide-and-Seek allows a secondary input to be displayed in the corner of the screen as necessary by hovering the cursor over that corner. This is ideal for quick referencing and reduces the need for an additional monitor. The Switch-and-Go function allows multiple monitors connected to two PCs or workstations to be controlled with a single mouse and keyboard, simply by moving the cursor from one monitor to the next. This removes the need for two keyboards and mice, improving efficiency and saving space.
The monitor also comes with EIZO's unique Hybrid Gamma PXL function which automatically distinguishes between monochrome and color images, pixel by pixel, creating a hybrid display. Monochrome pixels are displayed with the optimum DICOM Part 14 grayscale, while color pixels are displayed with the ideal Gamma 2.2 grayscale. In this way, both color and monochrome images can be correctly displayed side by side on the same monitor.
EIZO will be demonstrating the RadiForce RX360 at Booth 6328 in North Hall B at the 104th Scientific Assembly and Annual Meeting of The Radiological Society of North America (RSNA) 2018 from November 25 to 29 in McCormick Place, Chicago, Illinois (USA).
 
Product Information
Availability
The RadiForce RX360 will begin shipping from December 2018. Date of availability varies by country so contact the EIZO group company or distributor in your country for details.
About EIZO
EIZO (TSE:6737), which means image in Japanese, is a visual technology company that develops and manufactures high-end display solutions. EIZO integrates hardware and software technologies with consulting, web hosting, and other services to help customers in business, graphics, gaming, medicine, maritime, and other fields work more comfortably, efficiently, and creatively. Headquartered in Hakusan, Japan, EIZO has R&D and manufacturing facilities in Japan, China, Germany, and the US, and representation in more than 80 countries.
For more information, please contact:
EIZO Inc
5710 Warland Dr.
Cypres, CA 90630
USA
Phone: (800) 800-8202
Fax: (562) 431-4811
www.eizo.com
All product names are trademarks or registered trademarks of their respective companies. EIZO and RadiForce are registered trademarks of EIZO Corporation.