EIZO Releases 27-Inch IP Decoding Monitor with 2nd Generation Decoding Platform for Security & Surveillance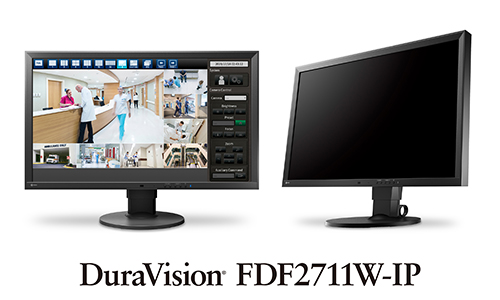 Cypress, CaA USA, January 16, 2020 – EIZO Corporation (TSE: 6737) today announced the release of the DuraVision FDF2711W-IP, a 27-inch IP decoding monitor utilizing EIZO's 2nd generation IP decoding platform. It joins EIZO's lineup of 23 and 46-inch IP decoding monitors (1st generation) and external IP decoding box solution (2nd generation) to further expand on the options for the security & surveillance market.

The DuraVision FDF2711W-IP connects directly to an IP camera or switch to display video streams delivered over a network. It does not require a PC, software, or other hardware to operate, greatly simplifying installation and saving on time and labor costs. This also eliminates several points of failure and addresses security concerns typical of a conventional setup by heavily reducing the amount of equipment needed to manage sensitive visual data.

The new monitor features EIZO's 2nd generation IP decoding platform that allows it to decode H.265 (HEVC), as well as H.264 and MJPEG codecs in real time. It maintains high framerates, even when streaming high-resolution video across multiple channels. For example, 16 Full HD (1920 x 1080) video feeds displayed simultaneously on the monitor achieve a consistent 20 fps (frames per second). 

Up to 48 IP cameras can be registered to the DuraVision FDF2711W-IP with support for cameras with ONVIF Profile S, Axis VAPIX, and Panasonic protocols, in addition to RTSP.

With the user-friendly web UI, users can easily adjust the layout of the video streams, displaying up to 32 streams simultaneously. In addition, the monitor is equipped with an HDMI output for connection to a second monitor with up to Full HD resolution. This provides a multi-monitor environment that allows users to flexibly manage video from the same network source across two screens.

When using the sequential image display setting, users can select an image to remain static, even through page changes. This allows operators to keep eyes on a single focus point while maintaining coverage in several other areas. In addition, users can assign static privacy masks directly to the image displayed on the monitor, without altering the source stream. This ensures operators can reliably monitor activity while observing necessary privacy rules and regulations and original data can remain securely stored separately.

EIZO's in-house development team continues to provide upgraded features and functions to its IP decoding solutions through periodic firmware updates. Users can also subscribe to a supplementary Enterprise License which includes advanced features, such as LDAP protocol support, to meet specific environment or application requirements. The Enterprise License is available for the DuraVision FDF2711W-IP, as well as EIZO's IP decoding box solution, the DuraVision DX0211-IP.

EIZO works with security & surveillance industry leaders to ensure technical compatibility and functional support with various VMS (video management system). Events or alarm monitoring can be communicated from the VMS to the IP decoding monitor, instructing it to respond to a given event (for example, automatic screen layout adjustment in response to an entry being accessed).
Additional Features
HTTPS protocol for authenticated network communication
VESA support for convenient mounting
Built-in power supply, keeping installation area clear of additional clutter
24-hour use, 2-year warranty
Availability
The DuraVision FDF2711W-IP is now shipping and inquiries regarding Enterprise License are now being accepted. Date of availability varies by country so contact the EIZO group company or distributor in your country for details.
Product Information
About EIZO
EIZO (TSE:6737), which means image in Japanese, is a visual technology company that develops and manufactures high-end display solutions. EIZO integrates hardware and software technologies with consulting, web hosting, and other services to help customers in business, graphics, gaming, medicine, maritime, and other fields work more comfortably, efficiently, and creatively. Headquartered in Hakusan, Japan, EIZO has R&D and manufacturing facilities in Japan, China, Germany, and the US, and representation in more than 90 countries.

  
EIZO, the EIZO Logo, and DuraVision are registered trademarks of EIZO Corporation in Japan and other countries. All other company names, product names, and logos are trademarks or registered trademarks of their respective companies.