EIZO Releases 15" LCD Monitor with LED Backlight and 5-Year Warranty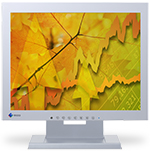 Hakusan, Japan, July 26, 2013 – EIZO Corporation (TSE: 6737) today announced the FlexScan S1503, a 15-inch square monitor with a 1024 x 768 native resolution. The release of the FlexScan S1503 ensures EIZO will continue to offer a stable supply of 15-inch monitors for customers that need to retrofit their legacy systems.
The FlexScan S1503 uses an energy-saving LED backlight and comes with EIZO's five-year manufacturer's warranty*. It offers excellent visibility with maximum 400 cd/m2 brightness and an ambient brightness sensor that automatically adjusts the screen to the ideal brightness level under any ambient lightning condition.
Several preset modes including sRGB, Text, and Custom (user-defined settings) are included for viewing comfort. A modulated light adjustment function prevents flicker at low brightness settings to reduce eye fatigue.
Availability
The FlexScan S1503 is now shipping. Date of availability varies so please contact the EIZO subsidiary or distributor in your country for details.
Product Information
About EIZO
Founded in 1968, EIZO Corporation is a leading global manufacturer of high-end visual display products. The image quality, long-term reliability, and innovative features of EIZO monitors make them the products of choice in many financial trading rooms, back offices, hospitals, air traffic control centers, and design studios throughout the world. EIZO is based in Japan and listed on the first section of the Tokyo Stock Exchange. It is represented in over sixty countries by a network of group companies and exclusive distributors.
For more information, please contact:
EIZO Corporation
153 Shimokashiwano
Hakusan, Ishikawa 924-8566
Japan
Phone: +81 76 277-6792
Fax: +81 76 277-6793
www.eizo.com
*The usage time is limited to 30,000 hours from the date of purchase.
All product names are trademarks or registered trademarks of their respective companies. EIZO and FlexScan are registered trademarks of EIZO Corporation.