EIZO Receives FDA 510(k) Clearance for RadiForce RX850 Monitor in Mammography and General Radiography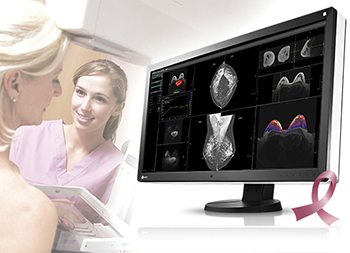 Hakusan, Japan, May 16, 2014 – EIZO Corporation (TSE: 6737) announced that it has received FDA 510(k) clearance for mammography and general radiography from the U.S. Food and Drug Administration for its 8 megapixel color multi-modality monitor, the RadiForce RX850. In 2012, EIZO introduced the industry's first multi-modality color widescreen monitor with FDA 510(k) clearance for mammography and general radiography, the RadiForce RX840-MG. With FDA clearance for the RadiForce RX850, EIZO continues to provide the same high degree of customer assurance to medical professionals.
The RadiForce RX850 acts as a replacement for multi-monitor setups for a more user-friendly environment when viewing numerous medical applications at once. The high-resolution screen of the RadiForce RX850 is capable of displaying 8 megapixels of information, allowing users to view images in exceptional detail. This makes it ideal for displaying not only MRI, CT, and ultrasound images, but also digital mammography images where high performance is essential.
Product Information
About EIZO
Founded in 1968, EIZO is a leading global manufacturer of high-end visual display products. The image quality, long-term reliability, and innovative features of EIZO monitors make them the products of choice in many financial trading rooms, back offices, hospitals, air traffic control centers, design studios, and eSports organizations throughout the world. EIZO is represented in over 70 countries and regions by a network of group companies and exclusive distributors.
For more information, please contact:
EIZO Corporation
153 Shimokashiwano
Hakusan, Ishikawa 924-8566
Japan
Phone: +81 76 277-6792
Fax: +81 76 277-6793
www.eizo.com

EIZO supports the pink ribbon campaign for early detection of breast cancer.
All product names are trademarks or registered trademarks of their respective companies. EIZO and RadiForce are registered trademarks of EIZO Corporation.