EIZO Receives FDA 510(k) Clearance for Breast Tomosynthesis for RadiForce GX540 Medical Monitor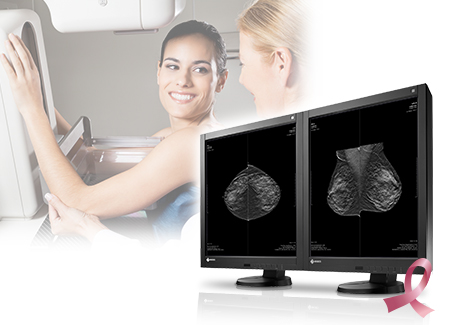 Cypress, CA, August 25, 2015 – EIZO Inc. announced that it has received FDA 510(k) clearance for breast tomosynthesis from the U.S. Food and Drug Administration for its 5 megapixel monochrome medical monitor, the RadiForce GX540.

Digital breast tomosynthesis is a method of breast screening that allows the radiologist to view detailed 3-dimensional images of the breast assembled from multiple X-ray pictures. When used in combination with digital mammography, tomosynthesis provides radiologists with multiple screening techniques that can be utilized together for increased diagnostic precision in breast cancer detection. With FDA 510(k) clearance for the RadiForce GX540 in tomosynthesis, mammography, and general radiography, EIZO continues to provide a high degree of customer assurance to medical breast screening professionals and their patients.

The RadiForce GX540's high resolution of 5 megapixels (2048 x 2560) makes it ideal for viewing the fine details in breast images. To detect the smallest structures, the monitor offers a high contrast ratio of 1200:1. The deeper black levels distinguish similar shades of gray for sharper monochrome image reproduction.
Product Information
About EIZO
EIZO (TSE:6737), which means image in Japanese, is a visual technology company that develops and manufactures high-end display solutions. EIZO integrates hardware and software technologies with consulting, web hosting, and other services to help customers in business, graphics, gaming, medicine, maritime, air traffic control, and other fields work more comfortable, efficiently, and creatively. Headquartered in Hakusan, Japan, EIZO has R&D and manufacturing facilities in Japan, China, Germany, and the US, and representation in more than 80 countries.

EIZO supports the pink ribbon campaign for early detection of breast cancer.
All product names are trademarks or registered trademarks of their respective companies. EIZO and RadiForce are registered trademarks of EIZO Corporation.