EIZO RadiCS Monitor Quality Control Software Now Supports Mac OS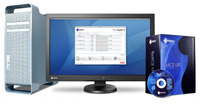 Hakusan, Japan November 21, 2012 – Eizo Nanao Corporation (TSE: 6737) today announced version 4.1.4 of its EIZO RadiCS medical monitor quality control (QC) software. This new version will now support Mac OS X v10.7 Lion.
RadiCS checks and calibrates the display quality of monitors to consistently ensure refined rendering of medical images. This update thereby expands the realization of state-of-the-art checking and calibration of monitors connected to workstations running not just Windows but also with Macintosh.
This update also scales up the capability of RadiNET Pro software which offers centralized QC management of multiple monitors via an intra-hospital network. It will reduce the time and expertise requirements for system administrators and maintenance service managers.
Mac OS X v10.8 Mountain Lion will be supported with next RadiCS upgrade currently scheduled for release in May 2013.
EIZO will demonstrate RadiCS Version 4.1.4 at RSNA 2012 (98th Scientific Assembly and Annual Meeting of the Radiological Society of North America) to be held from November 25th to 29th in Chicago, Illinois, USA at the McCormick Place. EIZO will be located in Hall A, Booth #3821.
See product page for more details.

Availability
Release of RadiCS Version 4.1.4 is scheduled for January of 2013. Availability varies by country so please contact the EIZO group company or distributor in your country for details.
About EIZO
Founded in 1968, Eizo Nanao Corporation is a leading global manufacturer of high-end visual display products. The image quality, long-term reliability, and innovative features of EIZO monitors make them the products of choice in many financial trading rooms, back offices, hospitals, air traffic control centers, and design studios throughout the world. EIZO is based in Japan and listed on the first section of the Tokyo Stock Exchange. It is represented in over sixty countries by a network of subsidiaries and exclusive distributors.
For more information, please contact: 
Eizo Nanao Corporation
153 Shimokashiwano
Hakusan, Ishikawa 924-8566
Japan
Phone: +81 76 277-6792
Fax: +81 76 277-6793