EIZO Offers Full HDR Workflow with ColorEdge PROMINENCE 31.1" DCI-4K Reference Monitor and HDR Gamma Support for Current Products
CYPRESS, Calif., April 18, 2017 – EIZO Inc. today announced the new ColorEdge PROMINENCE CG3145 – a 31.1-inch reference monitor with DCI-4K resolution (4096 x 2160) for the professional HDR post production workflow.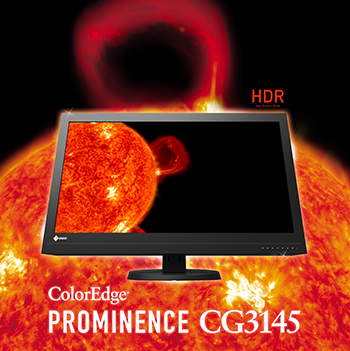 HDR (high dynamic range) approximates the human perception of color and light as content is shown on a display device. ColorEdge PROMINENCE CG3145 is able to correctly show both very bright and very dark areas on the screen without sacrificing the integrity of either – a process which cannot be achieved with SDR (standard dynamic range) monitors. The monitor achieves the 1000 cd/m2 (typical) high brightness level needed for HDR content display. It is also the world's first LCD monitor to achieve a typical contrast ratio of 1,000,000:1 for displaying true blacks. The name "PROMINENCE" refers to the phenomenon known as a solar prominence – a flame-like eruption which extends from the Sun's surface. This image of the bright sun shining against the deep black of space lends to the monitor's ability to accurately display both bright and dark content.
This professional color grading monitor is the first to overcome the severe drawbacks of other HDR technologies that are available in the market today – ABL and local dimming. ABL (Auto Brightness Limiter) is equipped in other HDR OLED monitors and limits the monitor's ability to display lighter scenes with tones over a specific range in order to prolong the device's lifetime. This causes those light areas to appear dimmer and the color duller as a result. Local dimming uses an area control backlight system which adjusts the brightness in sections of the screen depending on the content displayed. However, when an object on the screen falls outside of the area of the backlight that is adjusted, a "halo" effect appears, making it impossible to achieve full color accuracy in smaller details. ColorEdge PROMINENCE CG3145 achieves a true HDR visual experience without ABL or the "halo" effect to ensure users always see accurate colors and brightness in every pixel.
There are two gamma curves used for HDR video creation – HLG (hybrid log-gamma)1 and PQ (perceptual quantization) curve. HLG is suitable for live television broadcasting and the PQ curve approximates the human visual system in terms of color and light perception, making it ideal for films, streaming, and other video content. ColorEdge PROMINENCE CG3145 supports these gamma curves so professional creators can rely on a monitor compliant with industry standards for HDR video.
ColorEdge PROMINENCE CG3145 supports various video formats including HDMI input compatible with 10-bit 4:2:2 at 50/60p. The DisplayPort input supports up to 10-bit 4:4:4 at 50/60p.
Additional Features
98% of the DCI-P3 color space2
Smooth gradations with 10-bit display from a 24-bit LUT (look-up-table)3
Light-shielding hood included
HDR Gamma Support for Current ColorEdge Products
In addition to the new ColorEdge PROMINENCE CG3145 HDR reference monitor, EIZO now offers optional HLG and PQ curves for many of its current CG Series monitors. The optimized gamma curves render images to appear more true to how the human eye perceives the real world compared to SDR. This HDR gamma support is available as an option for ColorEdge CG318-4K, CG248-4K, CG277, and CG247X. Both gamma curves were standardized by the International Telecommunication Union (ITU) as ITU-R BT.2100. In addition, the PQ curve was standardized by the Society of Motion Picture and Television Engineers (SMPTE) as ST-2084.
With the new ColorEdge PROMINENCE CG3145 monitor and HDR gamma support for a range of other monitors, EIZO now offers a wide selection of solutions to cover HDR video creation, VFX, compositing, color grading, and more. 
EIZO will be showing the ColorEdge PROMINENCE CG3145 and its line of HDR gamma-supported monitors at the NAB Show 2017 in Las Vegas, USA from April 24 – 27. Visit Booth SL13916 to see the products in a specially designed booth.
Product Information
Availability
The ColorEdge PROMINENCE CG3145 will begin shipping in early 2018. Select ColorEdge CG Series monitors are now eligible for HLG and PQ curve gamma support. Date of availability varies by country so contact the EIZO group company or distributor in your country for details.
About EIZO
EIZO (TSE:6737), which means image in Japanese, is a visual technology company that develops and manufactures high-end display solutions. EIZO integrates hardware and software technologies with consulting, web hosting, and other services to help customers in business, graphics, gaming, medicine, maritime, air traffic control, and other fields work more comfortably, efficiently, and creatively. Headquartered in Hakusan, Japan, EIZO has R&D and manufacturing facilities in Japan, China, Germany, and the US, and representation in more than 80 countries. For more information, please visit www.eizo.com.

1 System gamma 1.0.
2 Final coverage figure TBD.
3 A graphics board and software which support 10-bit output are also necessary for 10-bit display.


For more information, please contact:
Media Contact:
Annie N. Rivera, M.A.
Marketing and Public Relations Specialist
annie.rivera@eizo.com
(800) 800-5202 x140
Facebook
http://www.facebook.com/eizoUSA
Twitter
http://www.twitter.com/eizoUSA

All product names are trademarks or registered trademarks of their respective companies. EIZO and ColorEdge are registered trademarks of EIZO Corporation.