EIZO Monitors Among First to Fulfill TCO Certified Generation 8 Requirements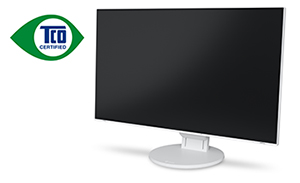 Cypress, CA, December 4, 2018 – EIZO Inc. (TSE: 6737) today announced that eleven of its FlexScan EV series monitors are among the first products to meet the new TCO Certified Generation 8 criteria.

TCO Certified, organized by TCO Development Sweden, is the world's most comprehensive sustainability certification for IT products. It concerns socially-responsible manufacturing and environmental awareness, including the handling of hazardous substances and recycling, as well as user ergonomics. EIZO has actively participated in the TCO labeling system for monitors since its inception in 1992.

Under the new TCO Certified Generation 8, criteria has become stricter, including not only product requirements, but also company requirements. Some of the new guidelines include:
Use of safer chemicals in cable insulations
Provide enhanced after-service information in consideration of the life cycle of products
Structure safer chemical management in the manufacturing process
Manage appropriate working hours for employees
Prepare an anti-corruption management system
Responsible procurement of minerals (now including cobalt)
Disclose information regarding energy management
In addition to the below listed models, EIZO plans to receive certifications for future products.
Certified Monitors:
FlexScan EV2216W
FlexScan EV2316W
FlexScan EV2430
FlexScan EV2450
FlexScan EV2451
FlexScan EV2456
FlexScan EV2457
FlexScan EV2750
FlexScan EV2780
FlexScan EV2785
FlexScan EV3285
About EIZO
EIZO, which means image in Japanese, is a visual technology company that develops and manufactures high-end display solutions. EIZO integrates hardware and software technologies with consulting, web hosting, and other services to help customers in business, graphics, gaming, medicine, maritime, air traffic control, and other fields work more comfortably, efficiently, and creatively. Headquartered in Hakusan, Japan, EIZO has R&D and manufacturing facilities in Japan, China, Germany, and the US, and representation in more than 80 countries.
For more information, please contact:        
EIZO Inc
5710 Warland Dr.
Cypres, CA 90630
USA
Phone: (800) 800-8202
Fax: (562) 431-4811
www.eizo.com
All product names are trademarks or registered trademarks of their respective companies. EIZO, the EIZO logo, and FlexScan are registered trademarks of EIZO Corporation in Japan and other countries.