EIZO Introduces Its First IP Decoding Box with Dual 4K Output and Direct Connection to up to 64 IP Cameras for Security & Surveillance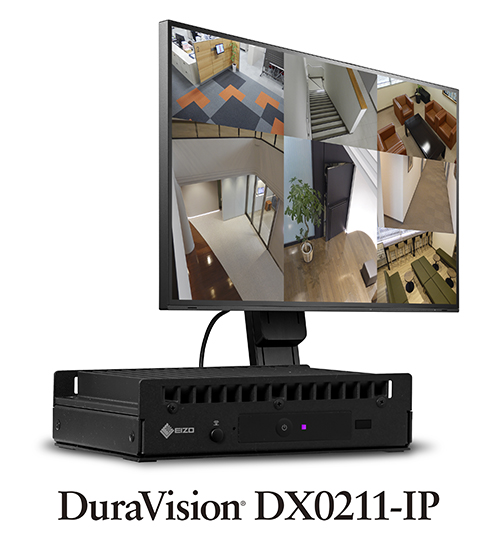 Cypress, CA, March 14, 2019 – EIZO Inc. (TSE: 6737) today announced the new DuraVision DX0211-IP – EIZO's first IP decoding box ideal for video walls and multi-monitor environments in security & surveillance.

The DuraVision DX0211-IP brings EIZO's innovative decoding technology from its unique IP decoding monitors (DuraVision FDF2304W-IP and FDF4627W-IP) to an external box format. It decodes multiple feeds from IP cameras that display video in real time. It can be used with varying monitor sizes and resolutions, making it ideal for video walls and multi-monitor environments.

EIZO's IP decoding box is an integrated solution that connects directly to the switch connecting IP cameras. It does not require a PC, software, or other hardware to operate, greatly simplifying installation and saving on time and labor costs. This also eliminates several potential points of failure typical of a conventional setup by heavily reducing the amount of equipment needed to manage sensitive visual data.

Equipped with two HDMI outputs, the DuraVision DX0211-IP supports 4K UHD resolution (3840 x 2160) on up to two* monitors simultaneously. It can decode and compress H.265*, H.264, and MJPEG codecs while maintaining high framerates, even when streaming high-resolution video. For example, 16 Full HD (1920 x 1080) video feeds displayed simultaneously on a single monitor achieve a consistent 20 fps (frames per second).

Up to 64* IP cameras can be registered to the DuraVision DX0211-IP, including 4K cameras. It supports cameras with ONVIF Profile S, Axis VAPIX, and Panasonic protocols*, in addition to RTSP. Direct connection to IP cameras allows for the live streaming of video without a decentralized recording solution, such as edge recording or cloud archiving. This provides a solution for scenarios which require live streaming but where the storage of recorded images is not necessary.

With the user-friendly web UI, users can easily adjust the layout of the video streams, displaying up to 32 screens per monitor. In addition, the custom layout allows users to merge or split individual windows to fulfill individual viewing needs.

EIZO works with security & surveillance industry leaders to ensure technical compatibility and functional support with various VMS (video management system). Events or alarm monitoring can be communicated from the VMS to the IP decoding box, instructing it to respond to a given event. The DuraVision DX0211-IP then adjusts the display of the receiving monitor to behave accordingly (for example automatic screen layout adjustment in response to key car usage).
Additional Features
USB downstream port for connecting to a USB mouse, keyboard, or programmable joystick
Attaches directly to the back of any VESA supported monitor using the optional VOP-01 mounting plate
PoE+ hub for staying powered without an AC adapter
Fanless operation with low heat output for long-term reliability
24-hour use, 2-year warranty
Availability
The DuraVision DX0211-IP is now shipping. Date of availability varies by country so contact the EIZO group company or distributor in your country for details.
Product Information
About EIZO
EIZO (TSE:6737), which means image in Japanese, is a visual technology company that develops and manufactures high-end display solutions. EIZO integrates hardware and software technologies with consulting, web hosting, and other services to help customers in business, graphics, gaming, medicine, maritime, air traffic control, and other fields work more comfortably, efficiently, and creatively. Headquartered in Hakusan, Japan, EIZO has R&D and manufacturing facilities in Japan, China, Germany, and the US, and representation in more than 80 countries.
*Dual monitor output, H.265, 64 channel (current 16), Axis VAPIX and Panasonic protocol support are planned for the end of 2019.
  
EIZO, the EIZO logo, and DuraVision are registered trademarks of EIZO Corporation in Japan and other countries. All other company names, product names, and logos are trademarks or registered trademarks of their respective companies.