EIZO Enhances Its Medical Market Business by Expanding Its Line of Surgical Monitor Solutions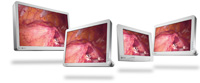 Hakusan, Japan October 15, 2010 – Eizo Nanao Corporation (TSE: 6737) today announced it will expand the line of surgical monitors, the RadiForce E-Series. This series consists of four models in different sizes from 15" to 24" wide.
In its "Mid-Term Business Plan" for fiscal years 2009 – 2011* EIZO states that one of its goals is to reach the undisputed top position in the medical market business as all-around medical monitor supplier. EIZO has been supplying the RadiForce G&R-Series of diagnostic monitors to display X-ray, CT, and MRI images and in order to achieve its goal, EIZO will add the RadiForce E-Series of surgical monitors which can be connected to endoscopic video cameras to offer smooth rendering of the video images.
The RadiForce E-Series supports multiple input signals to allow connections with both legacy and state-of-the-art endoscopic systems without the need of other optional devices or accompanying costs. With loop-through output support, the monitors are also ideally suited for multi-monitor integration or archiving in the operating room.
The color, hue, saturation, brightness, contrast, temperature and tones of the RadiForce E-Series can be adjusted to best fit the physician's color preference. With Picture-in-Picture (PiP), Picture-and-Picture (PaP), and Picture-over-Picture (PoP) functions, archived images or patient data can be reviewed simultaneously during an operation.
The RadiForce E-Series consists of four models in different sizes and resolutions: the 24" wide EX240W with a 1920 x 1200 native resolution, the 21.3" EX210 with a 1600 x 1200 native resolution, the 19" wide EX190W with a 1680 x 1050 native resolution, and the 15" ES150 with a 1024 x 768 native resolution. All models offer compliance with stringent medical, safety, and EMC emissions standards including EN60601-1 and UL60601-1.
See product page for more details.
Availability
RadiForce E-Series will begin shipping in December. Date of availability varies by country so please contact the EIZO subsidiary or distributor in your country for details.
About EIZO
Eizo Nanao Corporation is a leading global manufacturer of high-end visual display products with a wide range of LCD monitor systems. The image quality, long-term reliability, and innovative features of EIZO monitors make them the products of choice in many financial trading rooms, hospitals, back offices, and design studios. EIZO is based in Japan and represented in more than sixty countries by a network of exclusive distributors.
For more information, please contact:
Eizo Nanao Corporation
153 Shimokashiwano
Hakusan, Ishikawa 924-8566
Japan
Phone: +81 76 277-6792
Fax: +81 76 277-6793