EIZO DuraVision FDF2304W-IP Named 2016 ESX Innovation Award Winner
CYPRESS, CA – May 24, 2016 – The EIZO DuraVision® FDF2304W-IP, a 23-inch IP security monitor (1920 x 1080 resolution) for security and surveillance equipped with technology that decodes up to 16 cameras with no computer or additional software required, was named the 2016 ESX Innovation Award Winner and will be featured at the Electronic Security Expo 2016 at the Fort Worth Dallas Convention Center in Dallas, Texas from June 8-10.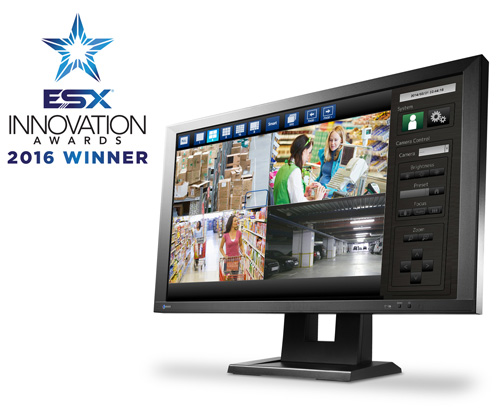 "We are pleased to have been selected for this prestigious award by ESX as the top manufacture in the Video Surveillance Monitors category," said EIZO Product Manager Brian Cote. "Customers have been asking for easier and effective solutions to display live video, EIZO developed the IP monitor to meet those demands."
The DuraVision® FDF2304W-IP offers five different video layout options, detects areas of the screen that are too dark and difficult to see by adjusting the brightness, gamma and gain; produces highly visible images by brightening dark areas and keeping light areas from becoming washed out.
The monitor's Smart Resolution blur-reduction technology corrects blurred areas without over accentuating noise for a sharper, clearer image. In addition, noise-reduction technology minimizes the amount of block noise resulting from video compression.
The FDF2304W-IP has been use in healthcare, retail and to monitor public areas. The setup is extremely easy. Users can setup the monitor to display up to 16 cameras within 15 minutes. We can simultaneously support multiple camera brands, protocols and resolutions.
Additional Features include:
Non-glare IPS panel with 178°wide viewing angles
Day and Night preset modes
VESA mounting option also available
Built-in AC power supply for easy connection using a single cord
2-year, 24-hour use manufacturer's warranty
Product Information
About ESX
ESX (Electronic Security Expo) brings together professionals who are passionate about the business of electronic security and life safety. Dealers, integrators and monitoring professionals attend ESX to connect with like-minded peers, learn from business thought leaders, and discover emerging trends and technologies. Exceptional peer-to-peer education delivers strategies that help security and life safety professionals run, grow, and maximize their businesses--as well as rethink the future. The exhibit hall showcases the latest products, technologies and services, while dynamic networking events offer professionals opportunities to engage and collaborate. Learn more at ESXweb.com or follow us on Twitter @ESXweb and Facebook at Facebook.com/ESXweb.
About EIZO
EIZO (TSE:6737), which means image in Japanese, is a visual technology company that develops and manufactures high-end display solutions. EIZO integrates hardware and software technologies with consulting, web hosting, and other services to help customers in business, graphics, gaming, medicine, maritime, air traffic control, and other fields work more comfortably, efficiently, and creatively. For more information, please visit http://www.eizo.com/company/
Media Contact:
Annie N. Rivera, M.A.
Marketing and Public Relations Specialist
(800) 800-5202 x140 | annie.rivera@eizo.com
All product names are trademarks or registered trademarks of their respective companies. EIZO and DuraVision are registered trademarks of EIZO Corporation.