EIZO ColorEdge CS2740 4K Monitor Wins EISA Monitor of the Year 2020-2021 for Photography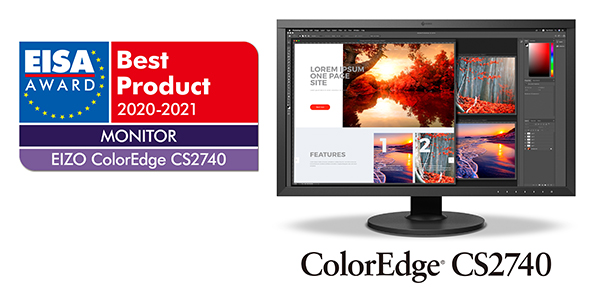 Cypress, Ca August 18, 2020 – EIZO Inc. today announced that its ColorEdge CS2740 monitor has been named Monitor of the Year 2020-2021 by the Expert Imaging and Sound Association (EISA).

EISA is a unique association of 61 special interest magazines from 29 countries. Every year, the EISA Awards celebrate the best in imaging technology that offer the most advanced features, functional ergonomics, and optimal cost performance. EIZO's ColorEdge CS2740 won Monitor of the Year in the Photography category and was cited as follows:

"The EIZO ColorEdge CS2740 is a 27-inch monitor with a 4K UHD resolution of 3840 x 2160 pixels, or four times the resolution of Full HD. This high-quality monitor is ideal for creative tasks such as photo and video editing and offers a wide gamut with vivid and accurate color reproduction in the Adobe RGB space. Thanks to its high pixel density, images are displayed with pin-sharp clarity. It offers essential features such as color calibration with the ColorNavigator 7 software, along with modern and versatile connectivity options including USB-A, HDMI, DisplayPort, and crucially, USB Type-C ports."
About EISA
EISA is the world's largest independent collaboration of experts in multimedia technologies and offers a unique, global viewpoint of the consumer electronics market. For nearly 40 years EISA's Awards have provided the ultimate independent consumer technology buying recommendations. The EISA Awards are chosen annually by Expert Groups representing 61 leading Photography, Home Theatre Video, Home Theatre Audio, Hi-Fi, In-Car, and Mobile Electronics magazines and websites from 29 countries. The Expert Groups work independently but collaborate under the umbrella of EISA.
About EIZO
EIZO (TSE:6737), which means image in Japanese, is a visual technology company that develops and manufactures high-end visual solutions to enrich people in their professional and personal lives. EIZO offers total imaging solutions with a range of monitors, software, video capture, processing, and distribution solutions, cameras, and advanced integrated technologies, to meet the specialized needs of customers in business, creative fields, healthcare, air traffic control, maritime, security & surveillance, and more. Headquartered in Hakusan, Japan, EIZO has R&D and manufacturing facilities in Japan, China, Germany, and the United States, and representation in more than 90 countries.
Approved Monitors:
EIZO, the EIZO Logo, ColorEdge, and ColorNavigator are registered trademarks of EIZO Corporation in Japan and other countries. All other company names, product names, and logos are trademarks or registered trademarks of their respective owners.