EIZO ColorEdge CG276 to Offer Input Support for 4K x 2K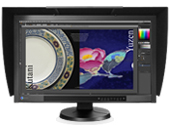 Hakusan, Japan, April 4, 2013 – EIZO Corporation (TSE: 6737) today announced that its ColorEdge CG276 LCD monitor will offer input support for 4K x 2K resolutions through a downscaling function. All ColorEdge CG276 monitors manufactured as of this month (April 2013) come with downscaling capabilities.

The ColorEdge CG276 will accept 4K x 2K resolutions of 4096 x 2160 and 3840 x 2160 at up to 30 frames/second via its DisplayPort input then downscale them to its native resolution of 2560 x 1440.

EIZO is adding this functionality to the ColorEdge CG276 in response to the growing use of 4K x 2K resolutions in digital television and digital cinematography. Ultra high-definition televisions with a resolution of 3840 x 2160 are becoming widely available, and the Digital Cinema Initiatives consortium of major Hollywood motion picture studios has established a resolution of 4096 x 2160 for 4K film projection.

EIZO will exhibit the ColorEdge CG276 with 4K x 2 K input support at the NAB (National Association of Broadcasters) Show 2013 in Las Vegas, Nevada, USA from April 8-11. EIZO will be in booth SL14813.

ColorEdge CG276 monitors with input support for 4K x 2K are now shipping. Availability differs by country. Please contact the EIZO group company or sales distributor in your country for details.
Product Information
About EIZO
Founded in 1968, EIZO Corporation is a leading global manufacturer of high-end visual display products. The image quality, long-term reliability, and innovative features of EIZO monitors make them the products of choice in many financial trading rooms, back offices, hospitals, air traffic control centers, and design studios throughout the world. EIZO is based in Japan and listed on the first section of the Tokyo Stock Exchange. It is represented in over sixty countries by a network of group companies and exclusive distributors.
For more information, please contact:
EIZO Corporation
153 Shimokashiwano
Hakusan, Ishikawa 924-8566
Japan
Phone: +81 76 277-6792
Fax: +81 76 277-6793
www.eizo.com