EIZO Becomes the First Manufacturer to Obtain Soft Proofing Display & System Certification from Idealliance with ColorEdge CG247X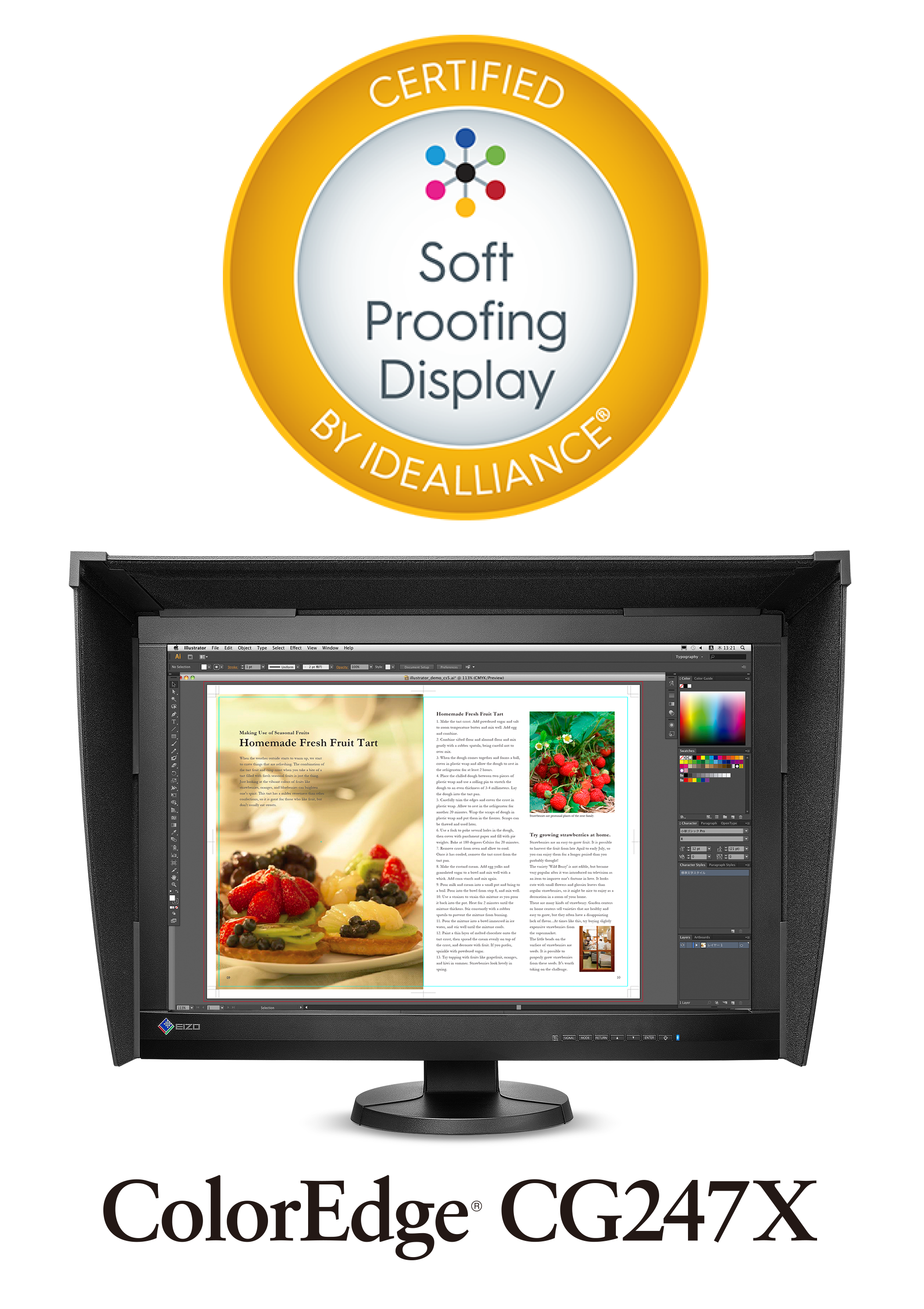 Cypress, CA, March 8, 2018 - EIZO Inc. (EIZO) today announced that it is the first company to obtain Soft Proofing Display & System Certification from Idealliance with its ColorEdge CG247X color management monitor.
Idealliance is a global association which develops, validates, and publishes technical guidelines and specifications for the visual communications industry, comprised of content and media creators and their print and digital service providers, material suppliers, and technology partners.Their newly updated Soft Proofing Display and System Certification program tests whether a monitor's image accurately simulates the appearance of a hard copy proof calibrated to a specific reference point.
The ColorEdge CG247X was certified under this process, which confirmed that color stability, tone uniformity, and angular viewing consistency meets global industry standards for high-quality proofs.
The ColorEdge CG247X is part of the CG Series of monitors for professionals who benefit from both accurate color and convenience in the creative workflow. The monitor features a built-in sensor to automate the color management workflow, 99% coverage of the Adobe RGB color space, and a high contrast ratio of 1500:1 for producing true blacks.
About EIZO
EIZO (TSE:6737), which means image in Japanese, is a visual technology company that develops and manufactures high-end display solutions. EIZO integrates hardware and software technologies with consulting, web hosting, and other services to help customers in business, graphics, gaming, medicine, maritime, air traffic control, and other fields work more comfortably, efficiently, and creatively. Headquartered in Hakusan, Japan, EIZO has R&D and manufacturing facilities in Japan, China, Germany, and the US, and representation in more than 70 countries. For more information, please visit www.eizoglobal.com.
For more information, please contact:
EIZO Inc.
5710 Warland Drive
Cypress, CA 90630
USA Phone: (562) 431-5011
Fax: (562) 431-0991
eizo.com
Facebook
http://www.facebook.com/eizoUSA
Twitter
http://www.twitter.com/eizoUSA

All product names are trademarks or registered trademarks of their respective companies. EIZO and ColorEdge are registered trademarks of EIZO Corporation.