EIZO Announces Re/Vue Mini Upgrade with Support for Higher Resolution Recording and Compression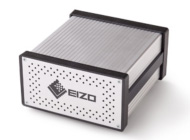 Altamonte Springs, Florida, USA, August 1, 2012 –EIZO today announced the release of a technical advancement to its Re/Vue Mini, a digital recording and compression solution for Air Traffic Control (ATC) and defense markets.

The upgrade provides the capability of lossless recording and compression of digital video signals of up to 4096 x 2160 by synchronizing two Re/Vue Mini solutions. The Re/Vue Mini can now be used to record larger monitors with higher resolutions, such as the EIZO DuraVision FDH3601 (36"W) and the RadiForce LS560W (56"W) enhancing EIZO's position as a complete supplier of visual solutions for the ATC and defense markets. This is particularly important, given the changing nature of video display technology to higher resolution monitors in these environments.

With this technical advancement, EIZO is positive this will greatly enhance its product range for future ATC and defense solutions. EIZO has appointed a business development manager dedicated exclusively to the Re/Vue series, Mr. David Hindon. David comments, "As a manufacturer of ATM visual solutions for more than twenty years, EIZO has thrived by listening to our customers. Our core expertise in visual display technology ensures that we are well positioned to adapt to the changing needs of video recording in the ATM market and this latest enhancement is testament to this. We will continue to develop our products to meet market requirements as they inevitably evolve."

See product page for more details.
About EIZO
Founded in 1968, EIZO is a leading global manufacturer of high-end visual display products. The image quality, long-term reliability, and innovative features of EIZO monitors make them the products of choice in many financial trading rooms, back offices, hospitals, air traffic control centers, and design studios throughout the world. EIZO is based in Japan and listed on the first section of the Tokyo Stock Exchange. It is represented in over sixty countries by a network of group companies and exclusive distributors.
For more information, please contact:
Eizo Nanao Technologies
442 Northlake Blvd.
Altamonte Springs, FL 32701 USA
Phone (US): +1-407-262-7100
Phone (Alt): +44 (0) 203-617-1373
+ 44 (0) 7875-563-237
www.eizo.com
atc@eizo.com
# # #
Re/Vue is a trademark, and EIZO is a registered trademark of Eizo Nanao Corporation.