EIZO Announces New Lineup of ColorEdge Monitors for Graphics Users of All Levels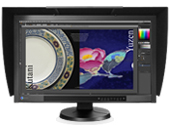 Hakusan, Japan, July 31, 2012 – Eizo Nanao Corporation (TSE: 6737) today unveiled a new lineup of ColorEdge monitors to appeal to both its traditional core of high-end graphics professionals as well as to middle and entry level users requiring monitors that provide accurate color for their creative endeavors.

The new lineup consists of three series and five models. The three series contain different feature sets, options, and price points for their intended audiences, but retain the hallmarks common to all ColorEdge monitors such as hardware calibration, brightness uniformity, and adjusting the gamma curve of each model on the EIZO factory line before shipping.

The three product series are as follows.
CG Series
The CG series is carried over from the current ColorEdge lineup and will continue to be targeted at professionals in photography, prepress, video editing, post production, and other graphics fields requiring the most advanced monitors available. Common features include easy maintenance with a built-in SelfCalibration sensor, a wide color space, bundled calibration software and shading hood, and several preset modes for common broadcast standards. The new models are the 27-inch ColorEdge CG276 and 24.1-inch ColorEdge CG246.
CX Series
This new series is targeted at Mid-range series for professionals, prosumers and trade schools in photography and design. It comes with a new built-in SelfCorrection sensor that maintains the calibration results after the monitors have been calibrated by an external sensor. It covers most of the Adobe RGB color space. Calibration software and shading hood are available as options. The first models in this series are the ColorEdge CX270 (27") and ColorEdge CX240 (24.1").
CS Series
This series is also new to the ColorEdge lineup and is targeted at entry level users in photography and design. Like the CX series, it comes with a built-in SelfCorrection sensor, but a narrower color space covers most of sRGB. The first CS series model is the ColorEdge CS230 (23").

The built-in SelfCalibration sensor of the CG series is carried over from past ColorEdge monitors. Housed within the front bezel, it swings out and calibrates according to a user-determined schedule. It can calibrate after hours when the computer it is connected to has been turned off.

The built-in SelfCorrection sensor of the CX and CS series is also housed within the cabinet. With the optional EIZO ColorNavigator software, the sensor offers easy maintenance by adjusting the monitor to a calibration result previously obtained by using ColorNavigator and an external sensor.

With the CG and CX series, EIZO has added two technological innovations to improve image stability. The first is a reduction of more than 75% from 30 minutes to just seven minutes in the time it takes for the brightness and chromaticity to stabilize after the monitor is powered on. The other is EIZO's DUE (digital uniformity equalizer) function which corrects uniformity errors in brightness like in previous ColorEdge monitors, but now also keeps the monitor's color temperature and brightness stable in an environment with fluctuating ambient temperature changes such as an outdoor photo shoot.

All ColorEdge monitors come with one DVI-I, HDMI, and DisplayPort terminal each for connecting to different types of graphics boards. HDMI offers the additional benefit of direct connection with digital cameras. A USB hub with two upstream and two downstream ports are also included.
Additional Features
10-bit display1 (more than 1 billion colors simultaneously) via the DisplayPort input.
Ergonomic stand on all models with tilt, swivel, portrait mode, and height adjustment.
3D look-up table on all models for better additive color mixture and device emulation on CG series models.
I/P (interlace/progressive) conversion on CG and CX series models.
Mercury-free LED backlight with CG246, CX240, and CS230.
Five-year manufacturer's limited warranty including the LCD panel for all models and a 12-month pixel defect warranty for the CG series2.
 
See product pages for more details.
Availability
The new ColorEdge lineup begins shipping in August. Date of availability varies by country so please contact the EIZO subsidiary or distributor in your country for details. EIZO will unveil all new models at Photokina 2012 from September 18 – 23 in Cologne, Germany. The EIZO booth will be in hall 4.1, E31/E39.
About EIZO
Founded in 1968, Eizo Nanao Corporation is a leading global manufacturer of high-end visual display products. The image quality, long-term reliability, and innovative features of EIZO monitors make them the products of choice in many financial trading rooms, back offices, hospitals, air traffic control centers, and design studios throughout the world. EIZO is based in Japan and listed on the first section of the Tokyo Stock Exchange. It is represented in over sixty countries by a network of subsidiaries and exclusive distributors.
For more information, please contact:
Eizo Nanao Corporation
153 Shimokashiwano
Hakusan, Ishikawa 924-8566
Japan
Phone: +81 76 277-6792
Fax: +81 76 277-6793
www.eizo.com
# # #
 
1A graphics board and software which support 10-bit output are also necessary for 10-bit display.
2The usage time is limited to 30,000 hours. RGB full pixel failure is zero for up to 12 months after date of purchase based on ISO9241-307 (pixel failure class I).