EIZO Announces ColorEdge PROMINENCE CG3145 is the First HDR Monitor in the World to be Awarded Class 1B by the IRT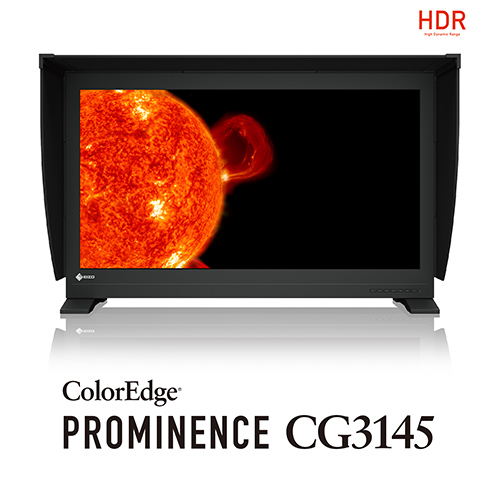 Cypress, CA, May 9, 2019 – EIZO Inc. (TSE: 6737) today announced that its ColorEdge PROMINENCE CG3145 is the first HDR monitor in the world to have its HDR and SDR reproducibility evaluated and awarded by the German Broadcast Technology Institute (IRT).

The IRT measured the ColorEdge PROMINENCE CG3145 according to the requirements of the EBU (European Broadcasting Union). It was in depth on its capability to accurately reproduce the BT.2100 HLG and BT.2100 PQ HDR standards as well the BT.2020 SDR standard. According to the report issued by the IRT, the monitor was awarded Class 1B in the categories of HLG and PQ transfer characteristics, color temperature, black level and dynamic range color production, and homogeneity. EIZO also had its SDR reproducibility reviewed and was awarded Class 1 in transfer function, color temperature, black level and dynamic range, color production, and homogeneity.

The ColorEdge PROMINENCE CG3145 achieves a high brightness of 1000 cd/m2 as well as a contrast ratio of 1,000,000:1. With its dual-layer LCD panel, it overcomes the severe drawbacks of other HDR technologies such as ABL (Auto Brightness Limiter) and local dimming. This ensures that users can display both bright and dark images with accuracy.

The IRT concluded, "The monitor is able to display large image areas with high brightness levels (irrespective of the size and brightness) while also achieving very low black levels thanks to dual-layer LCD technology."
Product Information
About the German Broadcast Technology Institute (IRT)
With 60 years of experience, the IRT is an internationally renowned research and innovation center for broadcasting and media technology. It monitors, evaluates, and develops new technologies in digital audio-visual media with the aim of strategically adapting broadcasting concepts towards new market conditions and requirements. The German broadcast companies ARD, ZDF, Deutschlandradio, ORF, and SRG/SSR are its partners. In addition, the IRT works with a wide range of clients from the broadcasting, media, and industrial sectors.
About EIZO
EIZO (TSE:6737), which means image in Japanese, is a visual technology company that develops and manufactures high-end display solutions. EIZO integrates hardware and software technologies with consulting, web hosting, and other services to help customers in business, graphics, gaming, medicine, maritime, air traffic control, and other fields work more comfortably, efficiently, and creatively. Headquartered in Hakusan, Japan, EIZO has R&D and manufacturing facilities in Japan, China, Germany, and the US, and representation in more than 80 countries.


EIZO, the EIZO logo, and ColorEdge are registered trademarks of EIZO Corporation in Japan and other countries.