EIZO Announces 27" Self-Calibrating Monitor for Graphics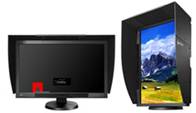 Hakusan, Japan, March 1, 2011 – Eizo Nanao Corporation (TSE: 6737) today announced the ColorEdge CG275W, a 27-inch monitor for professionals in prepress, digital photography, graphic design, video editing, post production, and other graphics fields.

The ColorEdge CG275W features a built-in calibration sensor for self-calibration. It becomes the second monitor in the graphics industry with this capability, following EIZO's ColorEdge CG245W which was released last year.
Self-calibration eliminates the need for a third-party external calibration device and improves work efficiency since the monitor can be scheduled to self-calibrate outside of work hours when the computer is turned off. The computer itself is not necessary so a self-calibrated ColorEdge CG275W can be used with any operating system.
The ColorEdge CG275W uses an IPS (in-plane switching) LCD panel with a native resolution of 2560 x 1440 (16:9 aspect ratio). This is more pixels than produced by two 19-inch monitors with a 1280 x 1024 native resolution so the monitor has ample space for displaying graphics applications and tool palettes. It has a maximum brightness of 270 cd/m2, contrast ratio of 850:1, 6 ms gray-to-gray response time, and 178° viewing angles.
Several features are included for accurate color display.
 
Gamma curve is calibrated on the factory line.
3D LUT improves the panel's additive color mixture (combination of red, green, and blue) for more accurate color and grayscale tones.
Digital Uniformity Equalizer (DUE) compensates for fluctuations in brightness and chroma uniformity that are characteristic of LCD panels.
EIZO-patented technology stabilizes the brightness after start up or coming out of sleep mode.
 
The ColorEdge CG275W uses hardware calibration so the monitor itself is calibrated rather than the computer's graphics card. This ensures no tones are lost in the calibration process for more predictable on-screen color. EIZO's bundled ColorNavigator calibration software2 is used for setting the target values for brightness, white point, and gamma and generating an ICC profile.
ColorNavigator includes a "Correlation Utility" that matches the measurement results of the ColorEdge CG275W's built-in calibration sensor to those of an external calibration device. This may be necessary in a work environment where the ColorEdge CG275W is used with other monitors and all measurement results need to be standardized.
The ColorEdge CG275W comes with six preset color modes that reproduce common color spaces used in pre-press, digital photography, broadcasting and digital cinema: Adobe RGB, sRGB, Rec709, EBU, SMPTE-C, and DCI.
Additional Features
Includes a shading hood that can be used in portrait mode as well as landscape mode.
FlexStand 2 with 90° portrait display, 151.5 mm height adjustment, 25° tilt, and 344° swivel.
Energy-saving presence sensor that detects when the user is absent and prompts the monitor to enter sleep mode. When the user returns, normal operation automatically resumes.
USB 2.0 hub with one upstream and two downstream ports.
Consumes less than one watt in power save mode and no power when turned off.
Simulation of two types of red-green (protanopia and deuteranopia) and one type of blue-yellow (tritanopia) color blindness.3 This helps designers to verify their color schemes can be recognized by people with all types of color vision.
Limited five-year manufacturer's warranty.4
See product page for more details.
Availability
The ColorEdge CG275W will begin shipping in late March. Date of availability and pricing will vary by country so please contact the EIZO subsidiary or distributor in your country for details. EIZO will exhibit the ColorEdge CG275W at Focus on Imaging exhibition in Birmingham, UK from March 6 – 9 in Hall 9 Booth C3.
A graphics board and software which support 10-bit output are necessary for 10-bit display.
Compatible OSes are Mac OS X 10.4 and later, Windows 7 (32-bit, 64-bit), Windows Vista (32-bit, 64-bit) and Windows XP (32-bit, 64-bit).
Requires use of EIZO's UniColor Pro software. This software is compatible with Microsoft Windows 7/Vista/XP and Mac OS 10.3.9 or later and can be downloaded free of charge from www.eizo.com.
The usage time is limited to 30,000 hours or less, and the warranty period of the LCD panel is limited to three years from the date of purchase.
All product names are trademarks or registered trademarks of their respective companies. ColorNavigator is a trademark, and EIZO and ColorEdge are registered trademarks of Eizo Nanao Corporation.