EIZO Announces 27" Monitor with Wide Color Gamut for Graphics and Digital Photography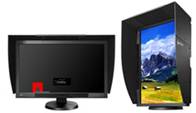 Hakusan, Japan, January 14, 2011 – Eizo Nanao Corporation (TSE: 6737) today announced the FlexScan SX2762W, a 27-inch monitor for professionals in graphic design, CAD/CAM, DTP, and digital photography.

The FlexScan SX2762W uses an IPS (in-plane switching) LCD panel with a native resolution of 2560 x 1440 (16:9 aspect ratio). This is more pixels than produced by two 19-inch monitors with a 1280 x 1024 native resolution which allows ample space for displaying graphics applications and tool palettes. It has a maximum brightness of 270 cd/m2, contrast ratio of 850:1, 6 ms gray-to-gray response time and 178° viewing angles.
DVI-D, DisplayPort, and Mini DisplayPort are included. DisplayPort and Mini DisplayPort accept both video and audio signals simultaneously while Mini DisplayPort offers connection with Macintosh and Windows-based notebook computers.
The FlexScan SX2762W includes several features to ensure accurate color display.
 
Wide color gamut reproduces 97% of the Adobe RGB color space.
10-bit display allows the monitor to show 1.07 billion colors simultaneously from a 16-bit look-up table (LUT).1
Digital Uniformity Equalizer (DUE) compensates for fluctuations in brightness and chroma uniformity that are characteristic of LCD panels.
EIZO-patented technology stabilizes the brightness after start up or coming out of sleep mode.
Integrated sensor counteracts the influence that changes in ambient temperature have on the display of color tones.
The FlexScan SX2762W is the first model in the FlexScan series with a new cabinet design and the first to come with the new FlexStand 2. The cabinet design maintains the distinct look of EIZO monitors while introducing a more smoothly rounded feel. The FlexStand 2 complements the new cabinet design with its curved neck and solid round base while still offering very versatile positioning with 151.5 mm height adjustment, 25° tilt, 344° swivel, and 90° rotation for portrait mode viewing.
Eight preset modes are included to ensure the color settings are ideal for any application. Three of the modes are customizable so the user can set values for brightness, color temperature, and gamma. The other five modes are Paper, Text, Picture, Movie, and sRGB. With the bundled ScreenManager Pro for LCD utility software2, any mode can be assigned to an application so that mode automatically becomes active whenever the application is in use.
The FlexScan SX2762W is compatible with the new EIZO EasyPIX Ver. 2 color matching tool which includes software and the EIZO EX1 color sensor. EIZO EasyPIX Ver. 2 retains the simple color matching features for amateur digital photographers, but now offers hardware calibration for more advanced users. With hardware calibration, the monitor itself is calibrated rather than the computer's graphics board. This ensures no color tones are lost in the calibration process and results in more predictable on-screen color.
EIZO has equipped the FlexScan SX2762W with several of its "EcoView" functions for optimal power usage and improved visual ergonomics. EcoView Sense detects when the user is absent and prompts the monitor to enter power saving mode. When the user returns the monitor resumes normal operation. A brightness sensor called Auto EcoView reads the ambient lighting and adjusts the screen's brightness so it is always the ideal level. An on-screen gauge called EcoView Index indicates power savings that result from using Auto EcoView.
Additional Features
On-screen button guide for easy adjustment in dark work environments.
USB 2.0 hub with one upstream and two downstream ports.
Consumes less than one watt in power save mode and no power when turned off.
Simulation of two types of red-green (protanopia and deuteranopia) and one type of blue-yellow (tritanopia) color blindness.3 This allows designers to ensure their color schemes can be recognized by people with all types of color vision.
Limited five-year manufacturer's warranty.4
See product page for more details.
 
Availability
The FlexScan SX2762W is scheduled to go into mass production in February. Date of availability and pricing will vary by country so please contact the EIZO subsidiary or distributor in your country for details.
A graphics board and software which support 10-bit output are necessary for 10-bit display.
ScreenManager Pro for LCD can only be used with the Microsoft Windows Vista/XP/2000 operating systems and requires a USB connection between the monitor and the PC.3
Requires use of EIZO's UniColor Pro software. This software is compatible with Microsoft Windows 7/Vista/XP and Mac OS 10.3.9 or later and can be downloaded free of charge from www.eizo.com.
The usage time is limited to 30,000 hours or less, and the warranty period of the LCD panel is limited to three years from the date of purchase
All product names are trademarks or registered trademarks of their respective companies. EIZO and DuraVision are registered trademarks of Eizo Nanao Corporation.