EIZO Announces 17" Multitouch Monitor for Businesses, Libraries, and Hospitals
Hakusan, Japan, January 16, 2014 – EIZO Corporation (TSE: 6737) today announced the release of the 17-inch FlexScan T1781 multitouch monitor. The FlexScan T1781 combines 5-point multitouch capability with superb image quality and an ergonomic and durable design for offices and public access areas such as libraries. Furthermore, it complies with IEC60601-1 standard for medical equipment, making it suitable for hospitals and clinics.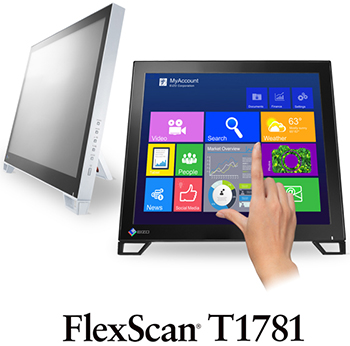 The FlexScan T1781 features a flat surface from edge-to-edge that enables seamless touch operation. The 17-inch screen uses projective capacitive technology which provides excellent finger touch response when tapping, scrolling, dragging, pinching, spinning, etc. The multitouch interface is supported by Windows 8.1, 8 and 7.
The monitor has a native resolution of 1280 x 1024 and an IPS panel with almost no color shift or change in contrast when viewed from different angles. The wide 178° horizontal and vertical viewing angles ensure two people can comfortably view the screen.
With a maximum brightness of 350 cd/m2, the screen remains visible when used in a brightly lit environment. A non-glare screen reduces eye fatigue by dissipating reflective light. A "Paper" mode preset simulates the look of printed paper to help prevent eyestrain when reading documents and eBooks by adjusting the brightness of the monitor and reducing blue light. The FlexScan T1781 also prevents eye fatigue by regulating backlight brightness to reduce screen flicker that is perceivable by some users.
An overdrive circuit reduces gray-to-gray response time to only 6 ms when viewing video which ensures a clean and sharp image.
The FlexScan T1781's reclining stand makes placement and positioning simple and comfortable for office work and multitouch applications. The bottom of the bezel rests on the desktop like a notebook PC and tilts back freely from 15° to 70°. This allows the user to touch the monitor comfortably without having to extend his/her arm.
Additional Features
DisplayPort, DVI-D 24 pin, and D-Sub Mini 15 pin inputs
USB hub with one upstream and two downstream ports for connection to USB devices
Headphone jack
10-bit look-up table for smoother color gradations
Optional touch pen
Black or gray cabinet options
EIZO's ScreenManager Pro for LCD (DDC/CI) utility software for adjusting the screen size, position, color, etc. with the mouse and keyboard.
EIZO ScreenSlicer screen partitioning software which allows users to align multiple windows into partitioned areas
Three-year manufacturer's limited warranty
Product Information
About EIZO
Founded in 1968, EIZO Corporation is a leading global manufacturer of high-end visual display products. The image quality, long-term reliability, and innovative features of EIZO monitors make them the products of choice in many financial trading rooms, back offices, hospitals, air traffic control centers, and design studios throughout the world. EIZO is based in Japan and listed on the first section of the Tokyo Stock Exchange. It is represented in over sixty countries by a network of group companies and exclusive distributors.
For more information, please contact:
EIZO Corporation
153 Shimokashiwano
Hakusan, Ishikawa 924-8566
Japan
Phone: +81 76 277-6792
Fax: +81 76 277-6793
www.eizo.com
All product names are trademarks or registered trademarks of their respective companies. EIZO and FlexScan are registered trademarks of EIZO Corporation.