EIZO Enhances All-in-One Professional Color Calibration Display Solution for Photographers and Graphics Professionals
Cypress, CA – August 10, 2015 – EIZO USA today announced the new ColorEdge® CS270/CS240 Professional Photo Kit – an all-in-one, color management display solution package for photo professionals, designers and creators who need accurate and consistent color throughout their RGB workflow.
Each ColorEdge Professional Photo Kit includes all the essential hardware and software, aimed at removing common roadblocks when users try to obtain accurate, reliable and consistent color on their monitors.
Package Includes:
EIZO ColorEdge CS270/240 - Wide Color Gamut Display with Adobe RGB 99% coverage
EIZO EX2 Sensor - Color Calibration Photometer
EIZO ColorNavigator 6 - hardware calibration software that supports both Windows and Mac OS platforms
Adobe® Creative Cloud® Photography - one-year 20% OFF membership offer (Coupon Card in the box)
For most photo professionals, designers, and creators, understanding color management, calibration, profiling, and a properly configured ICC profile are quite technically challenging tasks. The Professional Photo Kit is designed to simplify those challenges and aid in a more accurate calibration and monitor profiling system with simple and intuitive operation, freeing up time for creativity.
20% Off Adobe® Creative Cloud® Photography plan
EIZO teamed up with Adobe® to make this complete package that enhances extremely simple but accurate RGB color workflow. In partnership with Adobe®, this ColorEdge® CS270/CS240 Professional Photo Kit comes with a special 20% discount offer off the industry leading Adobe® Creative Cloud® Photography plan (Limited to U.S. only. Offer valid until December 31, 2015).

Shipping Information
EIZO USA will launch the Professional Photo Kit through authorized resellers and will begin shipping on Aug 24, 2015.
Product Information
Product
ColorEdge CS270
Professional Photo Kit
ColorEdge CS240
Professional Photo Kit
SKU
CS270-BK-PHX
CS240-BK-PHX
Size
27 inch, 2560 x 1440 pixel resolution
24.1 inch, 1920 x 1200 pixel resolution
MSRP
$1,214.00
$964.00
Annoucement
Aug 10 2015
Shipping
Aug 24 2015
Learn more about ColorEdge Professional Photo Kit
To learn more about the EIZO ColorEdge® CS270 and CS240 Product Specifications,
call +1(800) 800-5202 or , visit www.eizo.com/products/coloredge
Product Information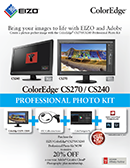 About EIZO
EIZO, which means image in Japanese, is a visual technology company that develops and manufactures high-end display solutions. EIZO integrates hardware and software technologies with consulting, web hosting, and other services to help customers in business, graphics, gaming, medicine, maritime, and other fields work more comfortably, efficiently, and creatively. Headquartered in Hakusan, Japan, EIZO has R&D and manufacturing facilities in Japan, China, Germany, and the US, and representation in more than 80 countries.
Media Contact:
Annie N. Rivera, M.A.
Marketing and Public Relations Specialist
(800) 800-5202 x140 | annie.rivera@eizo.com
All product names are trademarks or registered trademarks of their respective companies. EIZO and ColorEdge are registered trademarks of EIZO Corporation.